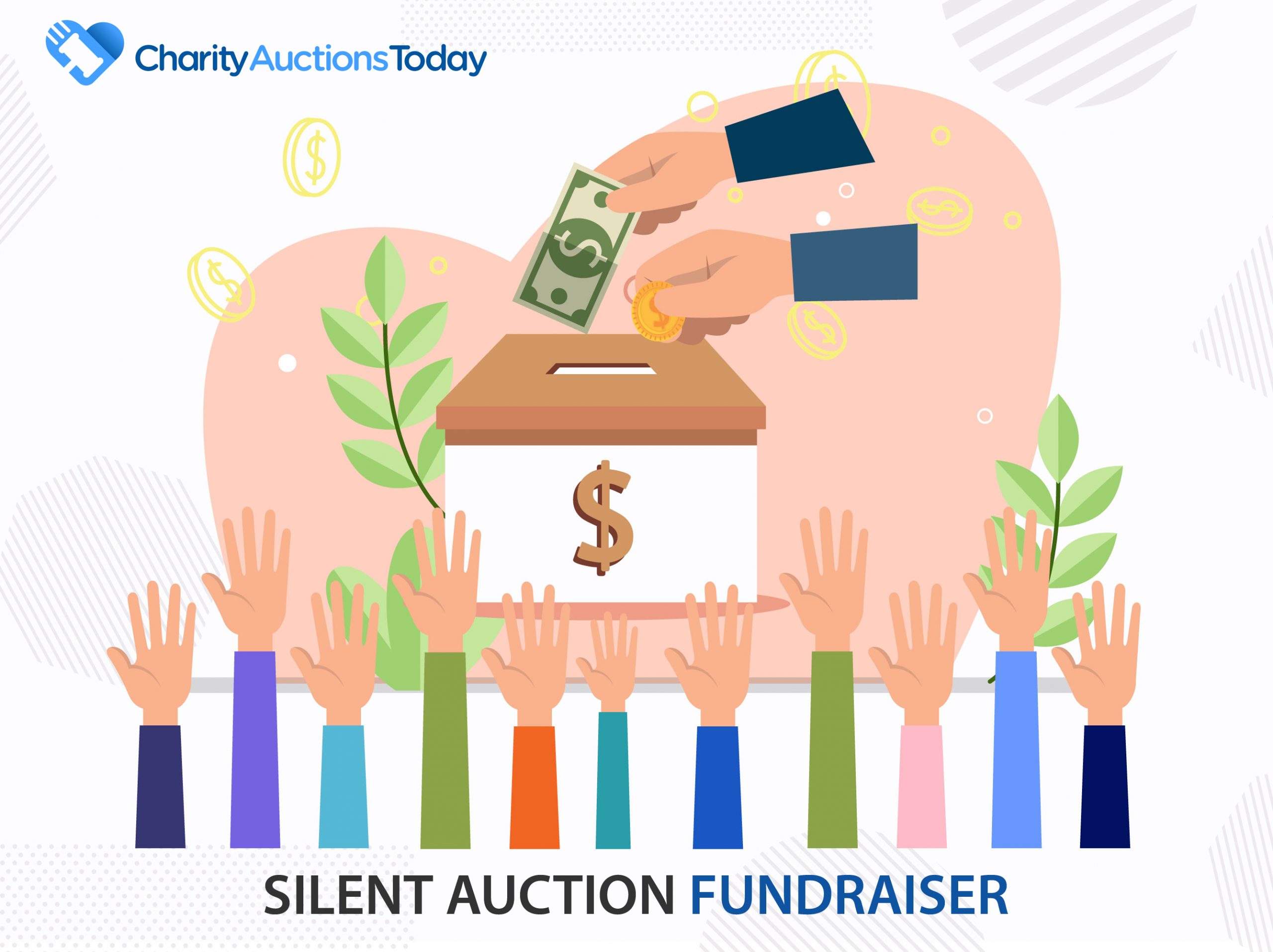 Silent auctions are a great way to raise money and support a cause

Organizing and running a charity event is pretty easy, especially if you are hosting your auction online as part of your fundraising strategy.
Exclusive Bonus: Auction Profit Blueprint™ – Grow your bidding pool. Re-engage bidders who didn't take home auction items in the past.
Start by checking out this simple step-by-step guide on how to run a silent auction fundraiser:
Step 1: Create an auction committee
First, you will need plenty of enthusiastic volunteers to help you plan and run the event. Assign each person a task – it's not possible to do everything on your own.
Choose a group of strong, dedicated individuals and assign leadership roles to those who will be in charge of managing and publicizing the event.
Step 2: Solicit donation items
To maximize your profits, have your team ask co-workers, friends, and family with local businesses and services to donate items for your auction. To avoid confusion later, collect items immediately or get donation offers in writing. In exchange for their donation, you can offer free publicity and advertising during your marketing campaign and at the event itself.
You'll want a variety of items from low to high in price that are as diverse as your audience. The more variety you have in price and products, the higher your chances of success. Check that all donations are clean and in good condition.
In the current climate, you may wish to focus on contactless items like gift cards and vouchers.
Step 3: Determine a time and place for your event
If you intend to host your event in person, you will need to find an appropriate and affordable space. In general, school auditoriums and cafeterias are perfect for such fundraisers. However, if you're social distancing, you might look to outdoor venues or online options. Charity Auctions Today makes online auctions easy to execute without a physical presence.
Tip: Whether you are doing a school fundraiser or not, check with your nearest school and see what spaces they have available. Depending on the event they will often rent or even donate the space.
Also be sure to:
Find a place where doors can be locked or hire security
Make sure the room has enough space for your guest to circulate freely, especially around auction items
Ensure that their facility rules won't interfere with your event plans, such as mandatory end times, noise limits, alcohol restrictions, etc.
Step 4: Choose an activity
Make it fun! You want your attendees to be engaged and entertained from the moment they arrive.
As they walk in, filled with anticipation, they might be greeted by:
Music from a live band
An emcee or DJ beckoning them to grab a drink and join the fun
A raffle table with a bonus goodie or two that anyone can win
Great food set up on tables or being passed among guests
Beautiful flower arrangements from a local florist that they can win
A projection screen showing warm, sweet, and funny images of your beneficiaries
And, of course, your beautiful silent auction tables laden with tempting bid items
In short, you want to make sure your guests are engaged and entertained so they stay at your event as long as possible.
Check out this list of lively, fun, flexible elementary school fundraising event ideas to get your creative juices flowing!
Step 5:Publicize your silent auction
To maximize your profit, be sure to actively advertise and market your event. Encourage your team to spread the word. Create flyers and leverage social media to promote the great stuff you have on auction, and advertise on sites like NextDoor with a hyper-local focus. In some places, the online newspaper Patch allows you to post a free local press release. Be sure to mention your sponsors and event donors whenever possible.
You want to use all the resources you have to let people know the when, where, and why of your event.
Step 6: Organize the silent auction
It's crucial that your auction is well organized. Be sure to plan every step so that you and your volunteers know exactly what to do and how to do it – this prevents any last minute surprises.
If you're holding an in-person event:
Arrange auction tables around the perimeter and in the center of the space to allow for maximum exposure
If your auction is an online addition to your event or online only, be sure to:
Beautifully package and showcase your items
Make sure all items are clearly labeled with their number
Vary the costs of starting bids for different items. Have high priced as well as inexpensive items
Have diverse items that appeal to men, women and children
Step 7: Prepare bid sheets
Once you have organized your items it's time to prep the bid sheets:
Each item gets its own bid sheet
At the top of the sheet list the name of the item in bold
Beneath the name, include a short description of the item and the name of the donor
From there to the bottom there should be a series of numbered, blank lines for bids
Support the sheets with a clipboard so people can easily write on them, and hang a pen on each one
Be sure to have duplicates of each sheet and extra blank sheets for any last minute auction items
Establish minimum bids on all items using whole dollar amounts so people will not bid in smaller increments
Step 8: Determine bidding rules
Set bidding rules ahead of time and post them where supporters can easily see them.
For example:
Bidders can only bid up from the previous bid
Bids that have been changed or crossed out must be initialed by the bidder
No bids will be accepted after the auction ends
Step 9: Close the silent auction
You can either have the silent auction end at a pre set time or have a "spontaneous" ending close the bidding. Just make sure your team knows exactly when the auction will end so they can be prepared.
Once the bidding has ended, committee members should immediately collect the bid sheets. Go through every sheet and get the name and amount for the winning bidder.
Next, you'll announce the winning bidders and have them come to a pre-set area to pay for their items. They'll receive a ticket for their item and set up a delivery time/place where they can collect the items they have won.
Make sure you have plenty of cash in hand for change. If possible, set up a way to accept credit cards for your event, which can increase your sales volume tremendously. PayPal is always an easy option, but the school or nonprofit organization may be able to set you up with their method of collecting credit card payments.
Good Luck!
Let's get started, it's super easy.
Oh yeah, you don't need a credit card to get started either.