CharityAuctionsToday is widely reviewed as a top online auction site, but it's not the only one with strong user approval. We encourage you to explore other top online auction sites to ensure you select the one best suited to achieve your fundraising goals.
Why Take Your Charity Auction Event Online?
The magical thing about online auction sites is the ability to reach bidders from all over the country, increasing the bidding pool—and profits. Physical limitations of traditional auctions, such as geographical or timing issues, are past worries, thanks to online auction sites.  
There are dozens of online auction sites for your fundraiser. Any platform you choose will work, but know that some work better than others, which is why we have reviewed 12 of today's top online auction sites for you.  Of course, we'd like you to choose ours!

What makes one online auction site better than another? 
It depends on your goals or what's important to your organization. Cost may be a crucial factor. Others may want to work with a partner who is a charity auction expert.
Browse the top 12 online auction sites below to get a feel for what's available. You'll find that every one of them will "do," but the hard part is determining how to differentiate them to select the best charity auction site for your fundraiser.
Considerations while reviewing online auction sites
Cost of platform – Assess these risks when using free auction software
Beware of free auction software. More specifically, a site that is free to use for your charity auction. Friends, there are no free lunches, even in the charity auction business. No auction site is truly free. There are costs to cover to run an auction app.
Those costs may be explicit or implicit – think about the added time you need to spend to work with a poorly maintained piece of software— the perfect reason to explore the software with a test drive.

Think about security and privacy laws – do you want your bidders' contact details (and payment details) sold to a third party, be available to a determined hacker, or simply not comply with current regulations in the first place?

Think about availability and reliability – will the website be online when you host your auction—ask to see their uptime percentage. An ideal uptime percentage is 99.999.
We recommend an auction site that has no up-front costs, which is different than free. That's important. In fact, no costs until your auction is over, like CharityAuctionsToday. This way, you never have to spend any money until you have money to spend.
This is what we call risk-free software, as you will never have any costs if you don't sell anything. With CharityAuctionsToday, costs are in the form of a percentage of the money you raise.
No up-front costs, plus a long list of benefits to support your auction's success, are features that our clients trust. Choose wisely, friends. 
Buyer's Guide to Charity Auction Sites
Check off this list as you read these key points to assist with decision-making:
Ο How high are performance fees, transaction fees and/or one-time fees?
Ο Ask about other/hidden fees!
Ο Is it customizable in such a way that the auction fits your organization or goal? Or does it just work out of the box?
Ο Can it integrate with other software? If so, is it plug-and-play?
Ο Does the software not only allow me to bring my own bidders but also boost (not replace!) my efforts by bringing in people browsing auctions, too?
Ο Is live support available, or is it an online knowledge base only? Is support free or paid? Do I only get support when I ask for it, or does a trained, experienced customer success team help me raise as much money as possible?
Ο Is a credit card needed to take a test drive?
Ο Ask them what their server uptime is. It should be "up or live" 99.99% or 99.999% of the time, which is as close to a guarantee that it will be live as you can get.  
Those are the top considerations. If you have specific needs such as event tickets, customized invoices, or popcorn bidding—just ask the auction site if their platform has these customizations.
PRO TIP: If you want to go a step further, read their Google reviews to learn what users like and don't like. Read Ours!
If you don't want to take the time to review the top 12 online auction sites that we have researched below, then jump right in and take a test drive of our easy-to-use online auction platform, CharityAuctionsToday. No credit card is required to begin.
Top 12 Charity Auction Sites to Consider
1. CharityAuctionsToday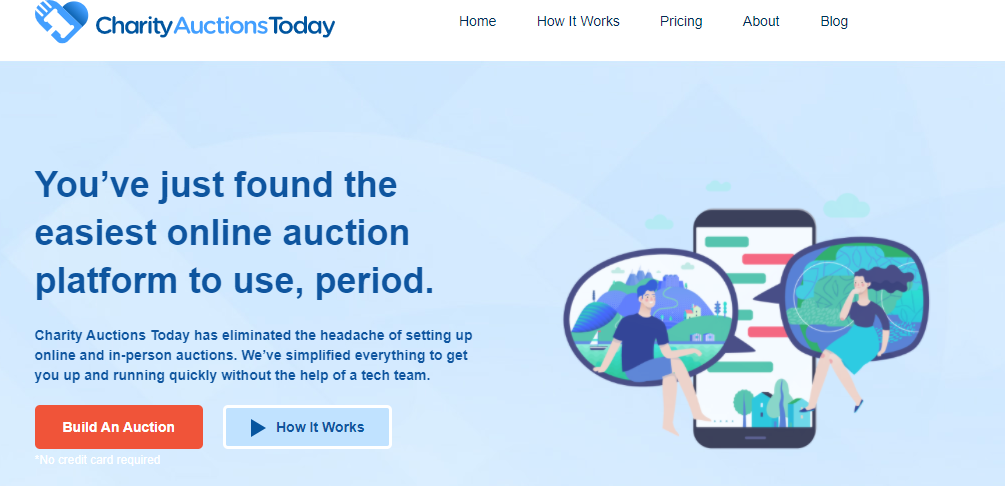 Let's start with us as the benchmark: A versatile online charity auction site, CharityAuctionsToday supports individuals, nonprofits, schools, and businesses in their fundraising experience so that they can raise even more funds for the causes they care so much about. We are proud of our stellar reviews and are continually improving our platform.
The top two features that users love are our incredible live support, and that set-up takes less than five minutes!  If you want to run a smaller auction, our flex plans are for you – they are risk-free with no money upfront, as you will be charged a commission on the amount of money raised as payment.
If you set your sights on a bigger auction, opt for a prepaid plan, and we'll waive the commission fee. Whichever way you choose to go, our Auction Success Managers will be there to support you every step of the way.
Key Features:
Preconfigured: Our default fundraising auction asks you for a title, a beneficiary, and an item. It's easy to do—anyone can do it and there is no technical experience needed. Everything else is pre-set. You are good to go!
Online, mobile, and live in-person bidding to enable hybrid and remote fundraising auctions: Reach more bidders easily.
Manage your auction and items (and add risk-free items sponsored by our partners), and collect payments in one platform. Spend time promoting your auction instead of configuring it.
Fast and friendly support included: Our Auction Success Managers have helped thousands of fundraisers make the most for their charity.
Not only are our charity auctions easy to set up, but CharityAuctionsToday offers seamless functionality across all devices and auction types, like silent auctions. This simplifies the management process and bidding for the users, making it easier to raise money and capture donor information. Finally, fundraising auctions without headaches!
The best part? 
You don't have to do any of this alone. The CharityAuctionsToday team is your safety net, ensuring a smooth setup and successful fundraising. Plus, we're a pretty darn nice group of people!
2. 24Fundraiser joined forces with CharityAuctionsToday
Always seeking to improve our platform, we acquired 24Fundraiser to improve the platform's functionality—mainly the feature to create fundraising teams to encourage healthy competition among your volunteers, as they strive to be the team that raised the most funds. Other features and benefits from the acquisition help to improve your experience by creating an easy and powerful online auction. CharityAuctionsToday acquired 24Fundraiser.
How easy is this? You can register and collect donations, monitor attendance, sell sponsor ads, and run a mobile auction from one page. Easy! 
Bonus: The integration of 24Fundraiser allows you to collect dues for your organization. From free online auctions and donation forms to donor management and processing, we have a new and improved array of services to make your charity auction run smoothly and stress-free.
3. SchoolAuction.net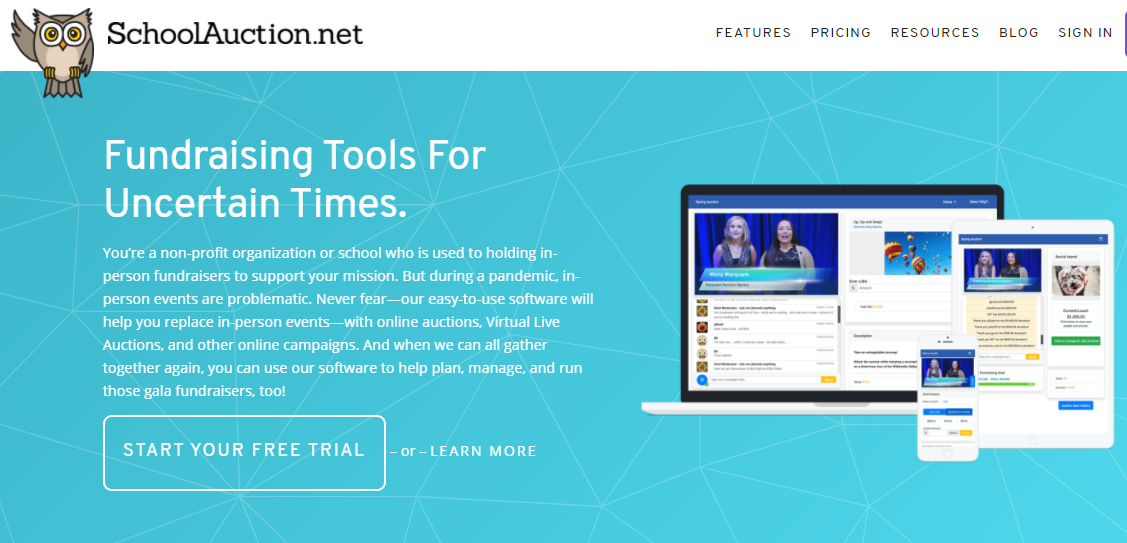 For non-profit and corporate clients, SchoolAuction.net can be an online auction lifesaver with plans running between $79 to $3000 per year. SchoolAuction.net offers auction software to aid your fundraising efforts and help you double the donation without doubling the effort. 
While they cater to different types of auctions, from traditional to digital and fusion, their pricing is not as flexible for smaller auctions (like CharityAuctionsToday, for example, offers a commissioned auction option with no prepayment). If you do not have a pre-assigned budget for your auction, then SchoolAuction.net is not the way to go. Custom plans are also unavailable if you choose SchoolAuction.net to host your auction.
4. BiddingOwl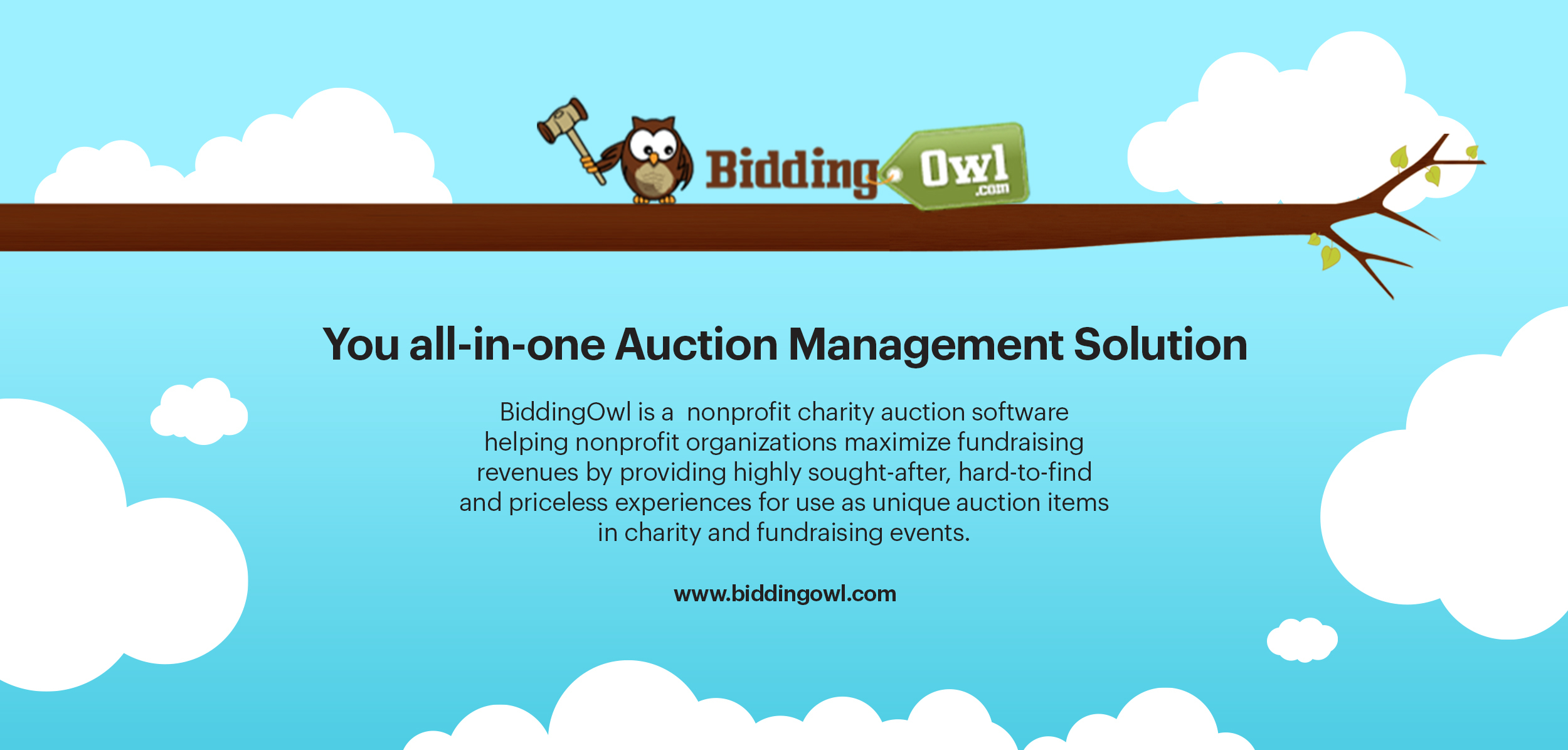 BiddingOwl is one of the top charity auction sites. You get a comprehensive auction management system that caters to all your needs, whether planning a silent auction, live or online auctions. They offer free auction management software where a 5% performance fee is paid at the close of the auction.
One caveat we noticed in their Google reviews was varying confusion from bidders and organizers.  BiddingOwl and CharityAuctionsToday offer a free set-up option. but CharityAuctionsToday includes advantages, such as promoting the auction to the entire bidder pool to maximize your auction profits.
5. Auctria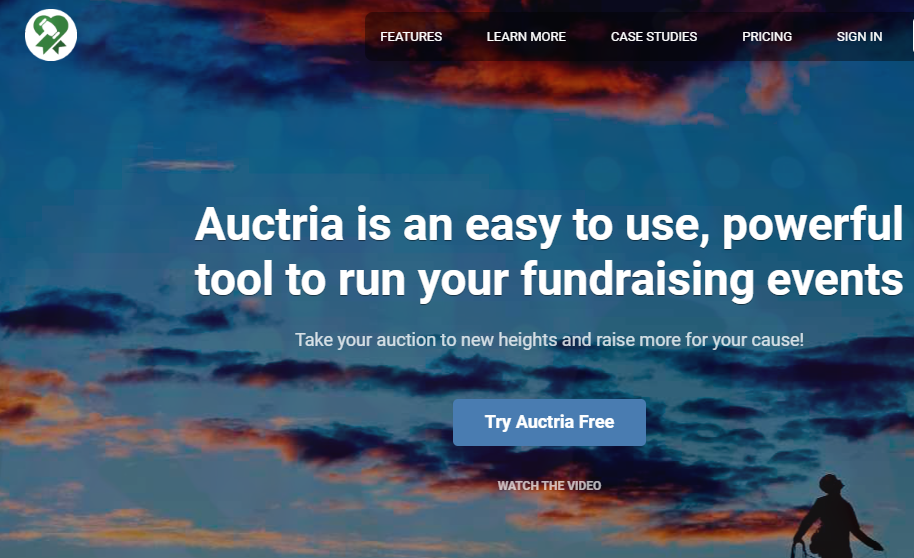 Auctria is a charity auction software company dedicated to providing affordable tools to help nonprofits of any size run successful fundraising auctions. Their charity auction site and software were born out of the need to simplify real-time fundraising efforts by offering an affordable solution that provided their customer with a reliable, efficient fundraising tool. 
Auctria offers a powerful, easy-to-use auction with your choice of affordable silent, live, or virtual auctions. Users enjoy real-time monitoring, streamlined inventory management, detailed donor tracking, and the option for bidders to "buy now."
Two issues plaguing the platform fall within customer support and site design. Some users claim customer support is hard to reach, and phone calls are not included in every package tier. Unfortunately, their website design is not their main focus and can affect bidders negatively. 
Some users overlook these issues.  Those who won't look beyond these flaws prefer a platform focusing more on customer support and web design, such as CharityAuctionsToday, which can create a more satisfying auction partnership.
6. ClickBid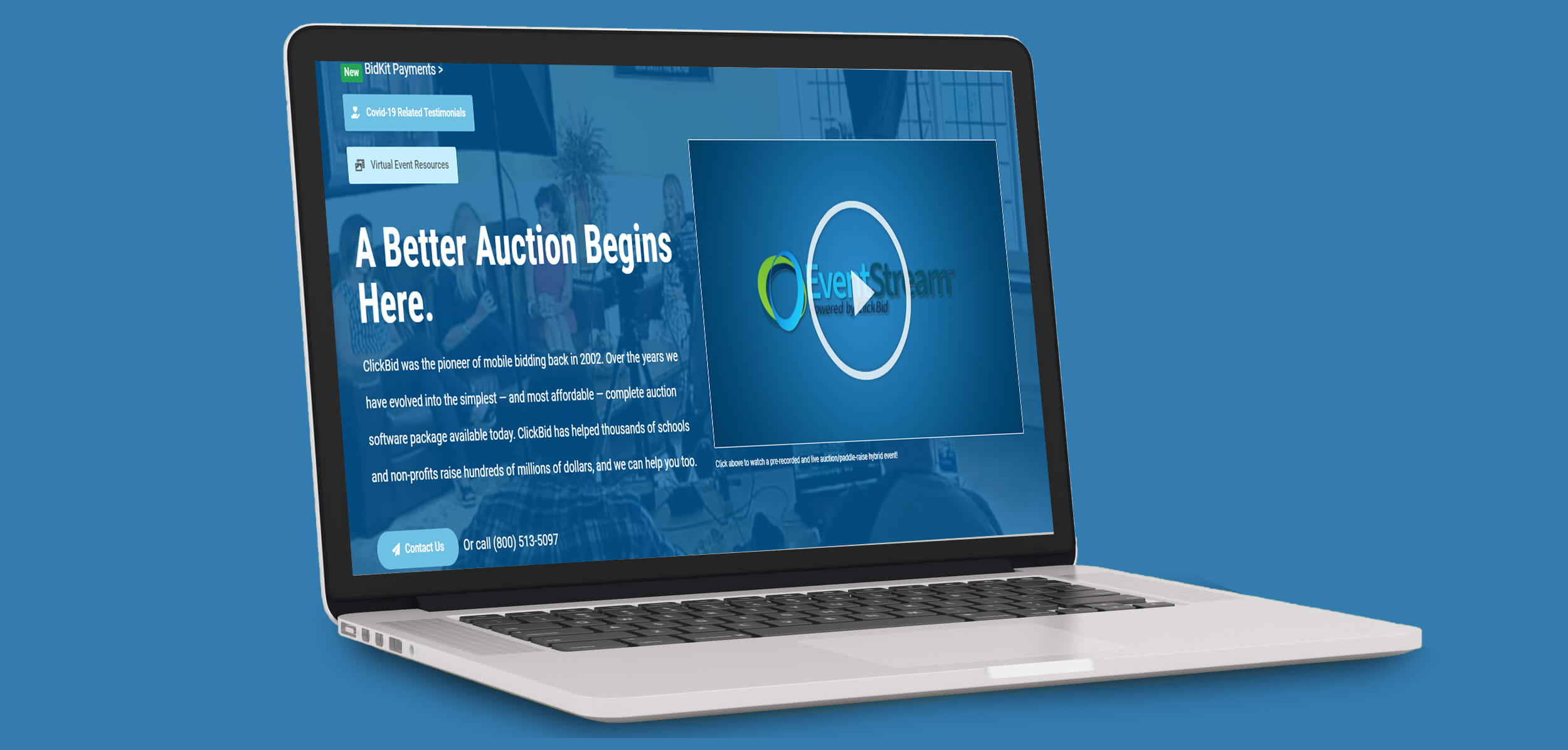 ClickBid is one of the charity auction sites that allow schools and nonprofits to raise funds through hybrid events. Using their live auction and video services, organizations can run a variety of fundraising events through a mobile bidding app. A basic annual event license runs $795 for unlimited events.
ClickBid does offer many great features at a fixed price. You can pitch your auction plan to your superiors, knowing no hidden costs await behind the curtain. However, this also means it is not a free auction site. While the initial pricing seems like a steal, you will soon realize that many paid add-ons might be necessary to get the full effect – and that can be quite an effort for smaller auctions and smaller initial budgets.
7. SilentAuctionPro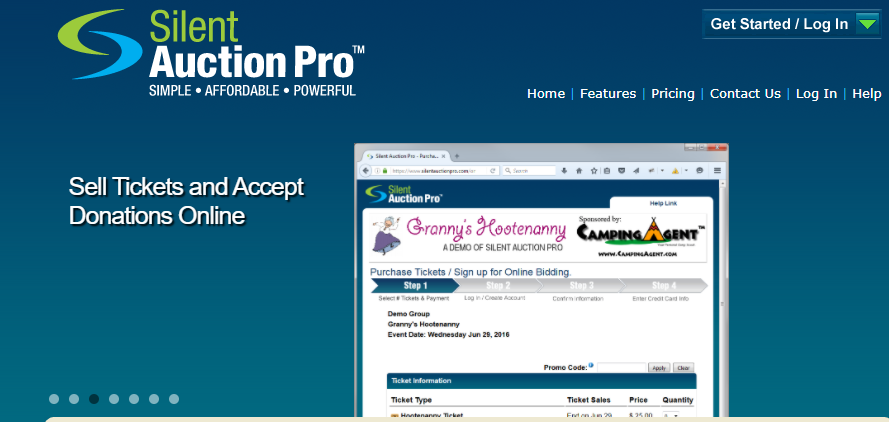 SilentAuctionPro is a web-based multi-user team environment designed to allow for the creation of an online, hybrid, or even in-person auction event. The platform ranges in both pricing and offerings, their services varying from branded receipts to bid sheets and much more.
While they claim to offer hybrid auction options, their plans are either Mobile plans or bid sheet plans – exclusive to either virtual or in-person bidding. That can prove to be a deal-breaker for those looking to organize hybrid events. 
With their vast features and successful software, there is only one thing that could make SilentAuctionPro so much better: customized plans, such as CharityAuctionsToday offers, so all auctioneers (including those looking for hybrid options) can be satisfied with their events.
8. ReadySetAuction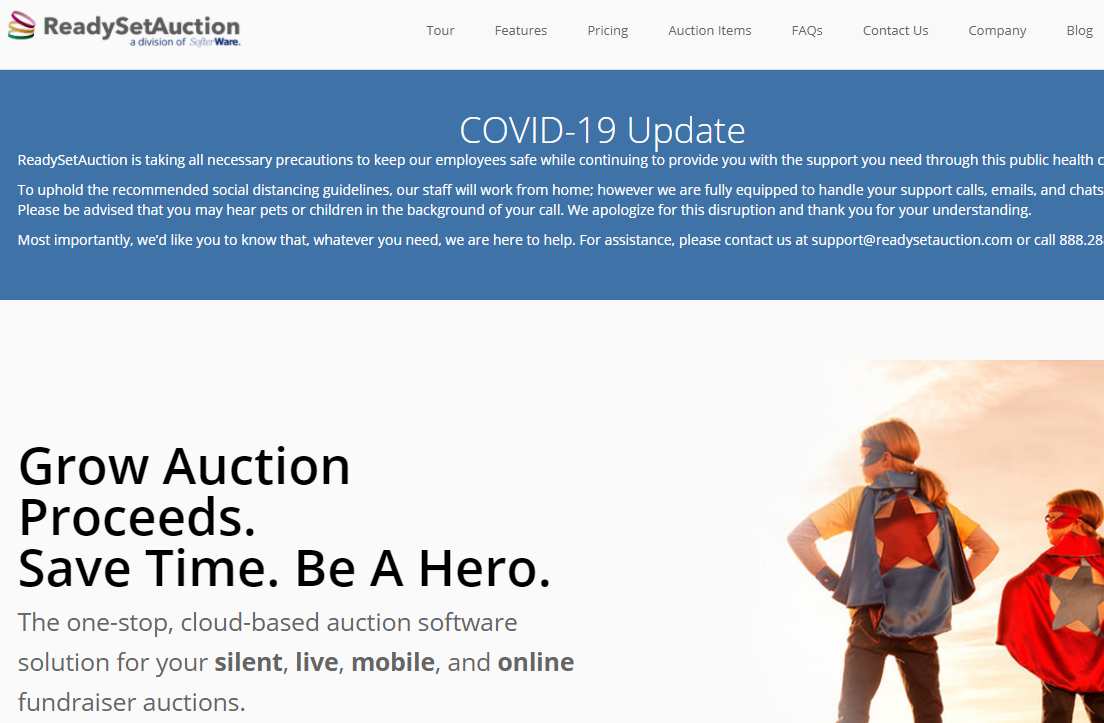 ReadySetAuction provides solutions for organizing fundraisers, keeping track of bid sheets, and everything in between. It's time to allow professionals to keep track of your auction items so that you can focus on other important aspects of the auction organizing.
They offer training and support, something incredibly important for any software, especially more complex ones with many features. That is precisely why we put so much focus on training at CharityAuctionsToday. 
While their features work well, they are definitely on the pricier side. At first glance of the plans, you may think the cheapest package is a steal – but after looking at all of their top features that are not included, such as self-check-out, hosted website, and online bidding, you may want to reconsider.
9. 32auctions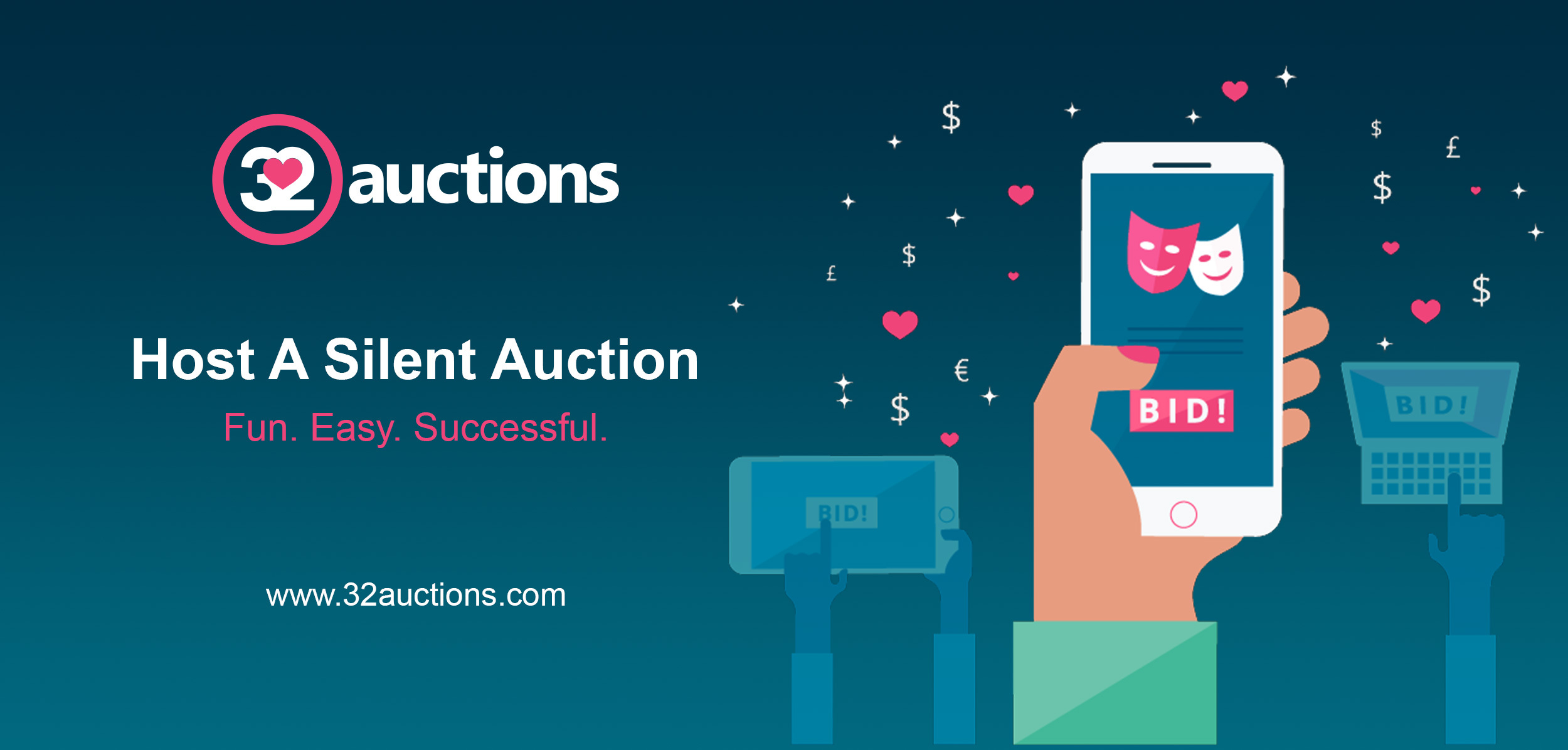 One thing that 32auctions has that other charity auction sites don't is the ability to restrict access to your auction event, eliminating the hassle of uninvited bidders. Some users will never use this feature, but it may come in handy to others.
At CharityAuctionsToday, we work on building a trusted community of bidders by using users' sanctioned lists, including past bidders from their previous auctions. We find that most nonprofits welcome anyone who wants to participate.
As with many other free online auction sites, 32auctions offers tiered pricing from free to $370 for each auction. An ala cart menu allows users to select only the options they want.
Keep an eye out for those pesky transaction fees*. There are two sets of transaction fees, not performance fees, added. The first set is 2.9% + $0.40 per online payment or donation. The second set is from your payment processor, PayPal or Stripe. The charge depends on the payment account connected to the auction but is typically 3.49% + $0.49 per transaction for PayPal and 2.9% + $0.30 per transaction for Stripe, or lower if their non-profit discount is applied.  There are no transaction fees if you collect the payments instead of doing it online.
Just a heads up, the third-party ads on the free plan have been reported as confusing to bidders, unsure whether they were part of the auction or not. We think the only ads that should be on the auction site are your organization's and those of your paid sponsors.  
FYI:  *Those pesky transaction fees were found on the 32Auctions website in October 2022.
10. GiveSmart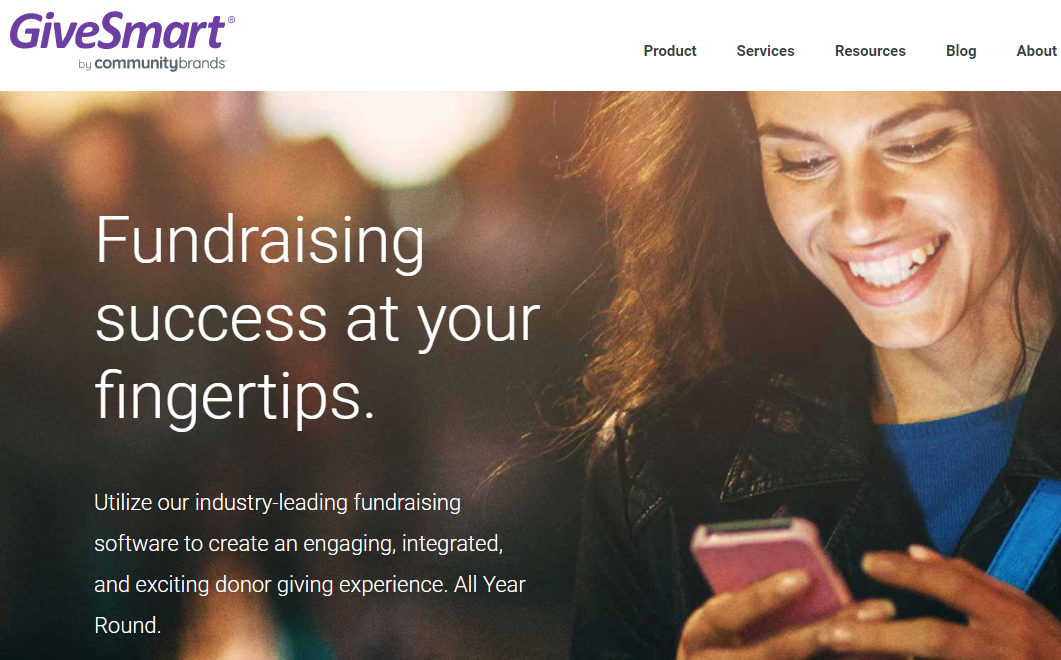 GiveSmart is invested in an auction, from brainstorming to training to ending the auction ahead of goal. They consider themselves a partner with skin in the game.
They support the fundraising process by assigning a dedicated event coordinator when auction planning begins, providing valuable advice on everything from selecting and pricing items to establishing an event timeline. It's just like our Auction Success Managers. 
And if that wasn't enough, once the auction is planned and ready to go, GiveSmart will secure, collect, and protect all payments made at your event and release funds in as little as ten days.
The reporting tools are robust and provide actionable insights to make their next auction even better.
Many users are pleased with the ability to customize their auction site design.
11. OneCause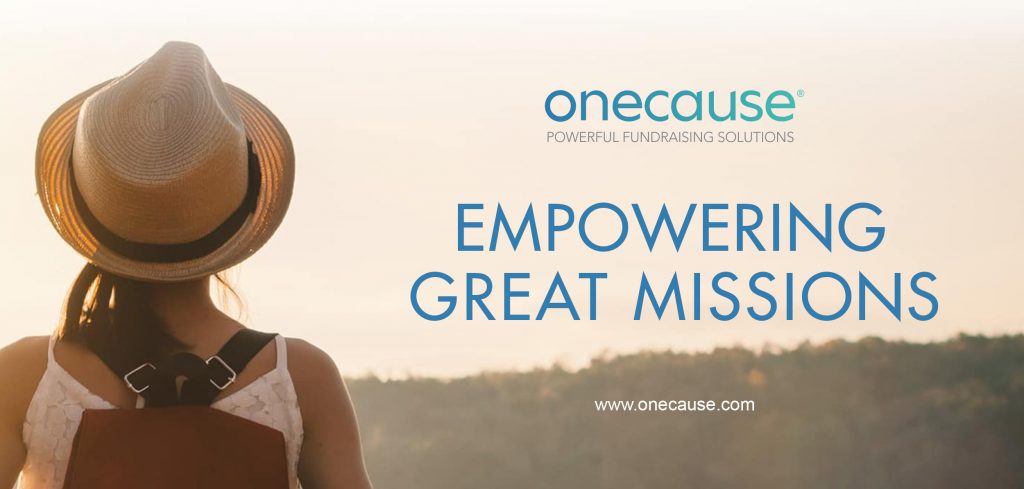 OneCause is a pioneer of the online auction, alongside CharityAuctionsToday and 24Fundraiser, with over eight years of industry experience and 250 fundraising professionals up their sleeves. They are a great choice if you are looking for more than just auction sites, as they offer guidance via phone, email, and an online knowledge base that includes virtual guided tours.
There are no free trials or free options.  For traditional auctions, they might be the perfect fit for you – but keep in mind that reverse auctions are not a feature offered by OneCause. 
12. BiddingForGood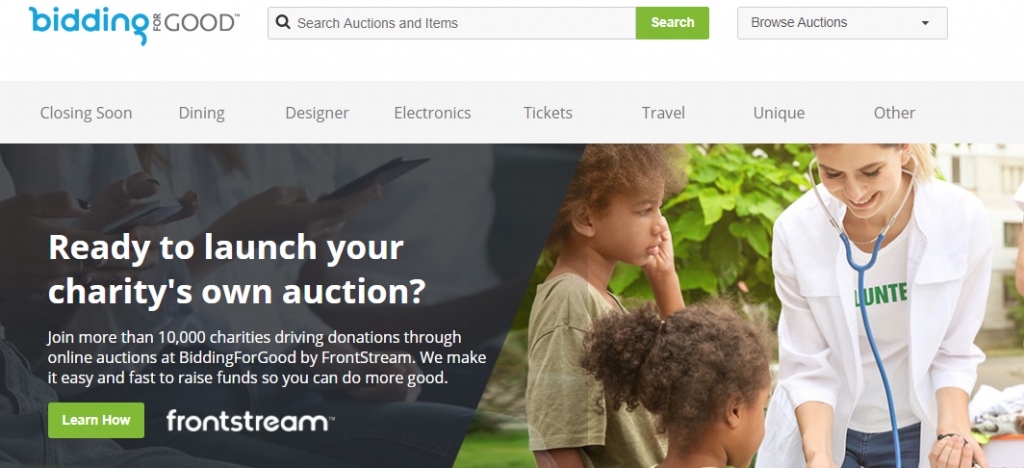 BiddingForGood is a charitable eCommerce organization that offers a cloud-based auction platform where consumers can create fundraising events for their organizations. 
For a fee, they will design the site for you, build your auction, plus provide onboarding and training. This solution is perfect for organizations short on volunteers and/or time.
Pricing starts at $249, but remember that their credit card processing fee is higher than most (3.8% compared to 2.9%), and they charge a 9% fee for auction proceeds – both higher than CharityAuctionsToday.
Want to go for a test drive with us? 
You've just reviewed 12 of the best online auction sites and would probably appreciate some help on next steps. The best way to decide which online auction site is best for your fundraising event is by test-driving it. 
Test drive CharityAuctionsToday and use it as your benchmark. Sound good?
Let's go for a test drive! In less than five minutes, you can create a CharityAuctionsToday demo site. That's all it takes, and you'll get a hands-on feel for the features and the intuitive ease of use. Plus, you'll be driving solo as you test it. If you'd like us to walk you through the test drive, schedule a demo here. That's how easy it is!