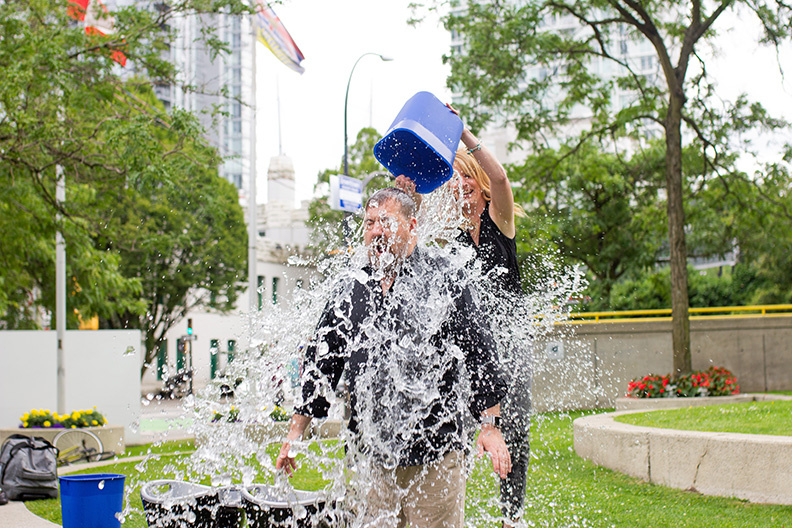 Fundraising ideas for nonprofits
Looking for new fundraising ideas for your nonprofit?
There are endless fundraising ideas for nonprofits. Your fundraiser doesn't have to be complicated or expensive. It takes a committed team and a solid plan, coupled with compassion for your cause. If you have that, you're in great shape to embark upon your fundraiser, but you will need a sounding board or guide.
CharityAuctionsToday is a terrific guide for your auction's success.
Below are 10 fundraising ideas for nonprofits that will put money in your fundraising bucket. We recommend that you consider an online auction fundraiser not only because it's the most popular fundraising idea for nonprofits—it garners a high return on investment. We have thousands of success stories—read our Google reviews!
The following fundraising ideas will help raise money for your online auction's operational expenses. Choose one or more of the 10 fundraising ideas for nonprofits below and start raising money fast .
1. Online Auction Fundraiser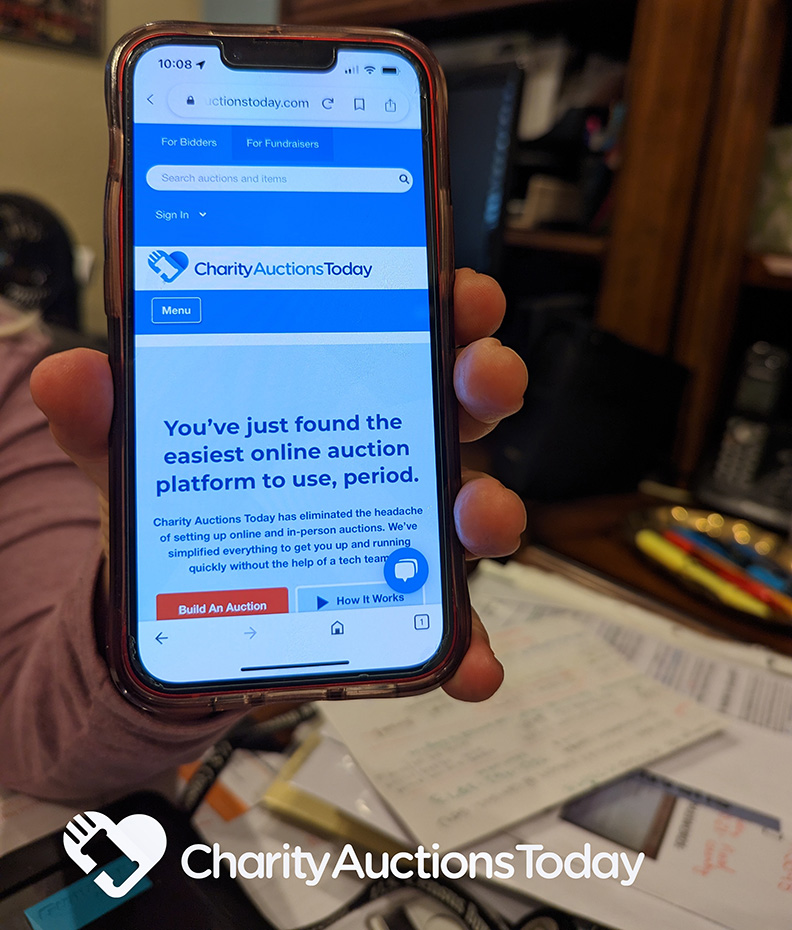 An online, or virtual, auction is the number one fundraising tool for raising money via an online event. Your auction can be created on a desktop or mobile phone in less than five minutes.
Choose from a silent online auction where no venue is required or add elegance by having a gala auction at your favorite venue. A gala auction event allows your organization to meet and greet donors so that you can build rewarding relationships for future donations.
2. Sporting Event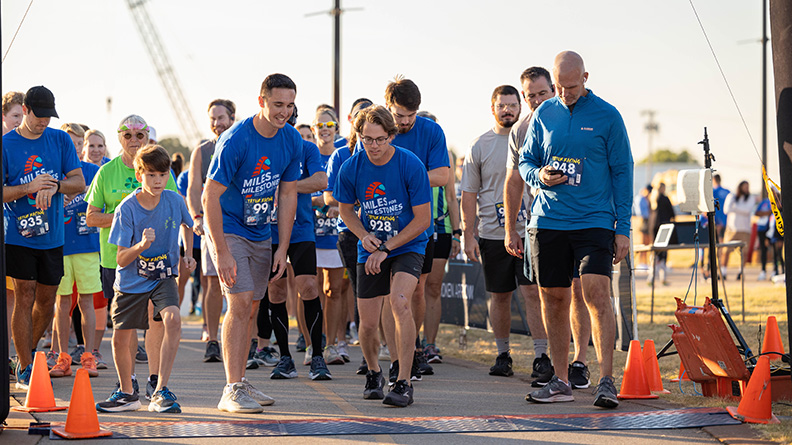 Sports-related fundraising events for nonprofits are creative fundraising ideas that are always well-received. When recreational runners hear about a competitive race, they're in! And they spread the word to fellow runners. Sporting goods stores, shoe stores, and gyms, to name a few, are excellent candidates as sponsors.
A football game, a basketball game, a running event, swimming, unicycle races, rock climbing races at the rock gym, drone scavenger hunts, or anything else your community deems popular are terrific fundraising events to capture donations. They can be very exciting events! (Remember the gift baskets? This is how you earn money to pay for them.)
With competitive sporting events, there is much opportunity for sponsors to get their name and logo in front of the community. You've seen the t-shirt guns that shoot the shirts into the audience—that's an excellent way to sell a sponsorship to a local business.
Another sports-related idea when it comes to fundraising events for nonprofits is organizing a game between established sports teams—a charitable football game or even a boxing match. It's guaranteed to sell tickets, especially since people will know it's also for a good cause.
Something to consider is the time it takes to complete a sports event. Spectators get thirsty and hungry, so be sure to set up food and drink booths, as you can make a lot of money selling easy-to-serve food and drink.
There are plenty of ways to use sports to raise funds. You can read our article for some of the best sports fundraising ideas.
3. Charity Dinner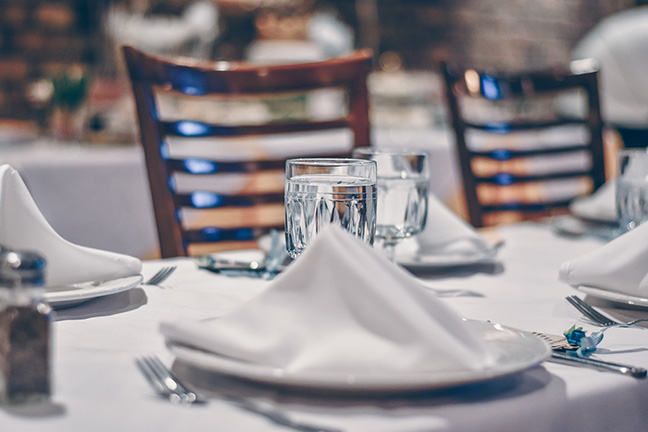 This is a classic fundraising idea for a reason. It's relatively easy to organize, not necessitating any extraordinary fundraising efforts. Instead, donors pay a price to attend and enjoy a pleasant night meeting new people and dining on delicious cuisine.
Suppose you also want to keep guests entertained by something other than each other's company. In that case, it's a great idea to invite a musician or a comedian, or a popular public figure to host.
It's also an opportunity for sponsors to hold a raffle or have a quick round of trivia to keep the audience entertained. You can take a few minutes to talk about your cause and then see who can answer three questions about it to receive prizes.
The key to successful charity dinner fundraising is finding a restaurant owner who would donate the dinner or at least discount it heavily so that you raise considerable funds. Someone on your committee or within your organization surely has a connection with a restaurateur. Just ask!
4. Art Show
Do you have a local artist or two who might want to donate some time or art or both? That would be ideal, as they typically have a following and will attract much interest. You might ask the artists if they'd hold a workshop to teach budding artists.
If you don't have any artists available, you might check a local university for students or professors who enjoy donating their time to help your fundraising cause.
Another idea that also draws a lot of interest is a "learn to paint" business. These typically hold a class of six students who paint on a canvas through teacher instruction and all students go home with a painting.
You can ask the painting business if they'd attend your event and donate their time to your cause. The class cost will cover supplies with plenty left to put in your fundraising bucket.
Do you know a potter who might bring their pottery wheel and throw a few bowls for the attendees? Then, invite them and also have them bring their pottery to sell. You can negotiate to receive a percentage of their sales or even all of it, depending on the artist's philanthropic outlook.
Since this isn't the Museum of Modern Art, it's okay to ask artists who may be considered "crafters." Quilters, crocheters, jewelry makers, etc., will have plenty of products to sell. You can ask any of them to do a workshop, too. Charge an admission for the workshop that is reasonable enough to draw a crowd.
Ask a local gallery owner to donate a piece of art and hold a raffle. Also, ask them if they could recommend any artists who would like to display their work at the show.
Have a coloring contest for kids to ensure you get all ages to attend. That's a sure way to get moms and dads to your event and spend money.
Be sure to sell drinks, food, and sweets. This is a great way to raise funds.
5. Game Night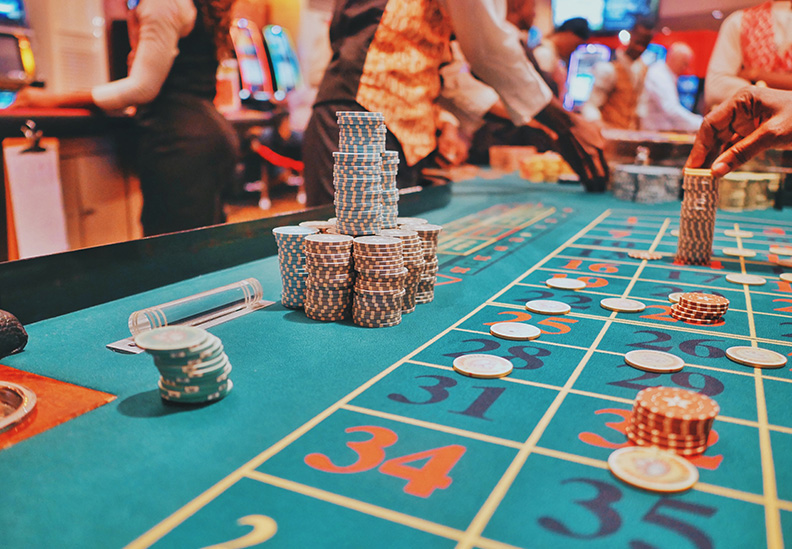 The easiest fundraising ideas for nonprofits include a game night event. Charge each participant an admission fee.  You can also set up a donation box at the event to encourage more contributions, possibly near the food and beverage areas.
Who doesn't like to play games? That is exactly why game nights are so well attended. One of the best fundraising ideas for nonprofits.
You'll need a large space, such as a school gym or cafeteria to set up game stations. You can have tournaments for board games like backgammon and chess or multi-player games such as Life, Monopoly, or Rummikub. Poker stations, dice games, and even made-up games like who can uncork a wine bottle the fastest!
Don't forget the kiddos—set up a station for them to play and color while the parents have fun with friends, meet new people, and play board games.
You can charge an entrance fee, have prizes for tournament winners, and have a donation box. Invite the media and blast the event live on social media. Have an emcee who provides updates from the stations throughout the evening to build excitement.
You'll need to promote the game night well. Use social media, email, flyers, and word of mouth plus it never hurts to ask the local suburban newspapers to publish a blurb about the event.
Can you get the mayor to chime in? Be as creative as you can with the promotion of game night—someone on your committee might be a marketer or perhaps someone knows a communications professional who will help spread the word.
A lively and fun game night is one of the most rewarding creative fundraising ideas for nonprofits.
One more thing—have drink stations with soda, water, and juices. Consider a cash bar. A food truck or table will make donors happy and put more money in your fundraising bucket. And don't forget the popcorn for the kiddos!
6. Peer-To-Peer Fundraising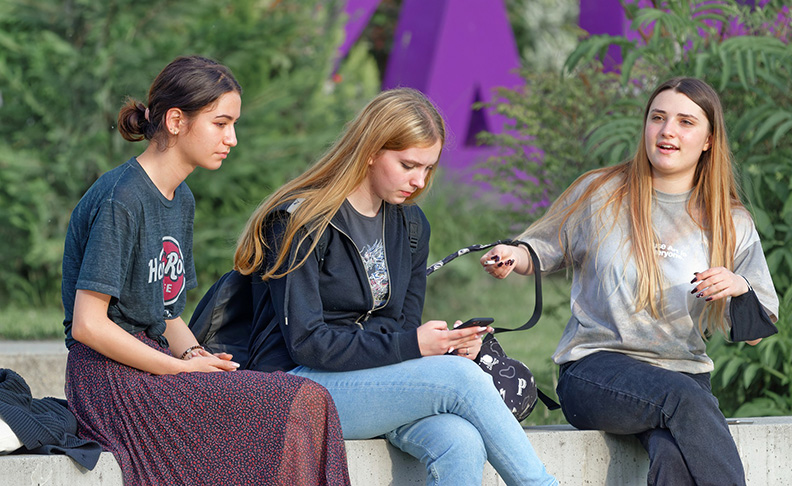 Peer-to-peer fundraising is one of the most popular tried-and-true fundraising ideas for nonprofits.  It gives people the power to raise funds on their behalf.
Social proof, the idea that your supporters' networks are more inclined to contribute merely knowing their friends or dear ones support the mission, is the driving force behind peer-to-peer fundraising.
In other words, asking your friends, coworkers, and family to donate will garner more donations than if a stranger asked them. Makes sense, right?
In such a social media-driven world, it can be as easy as encouraging people to share a link or repost one of your posts to generate a domino effect that will boost your fundraising campaign. Facebook, Twitter, Instagram, and LinkedIn are conduits to successful fundraising!
Here's an easy guide to promoting your fundraisers through social media. You'll learn that each social media platform has a personality of its own and how to write posts for them.
Including social media is a key fundraising idea for nonprofits.
7. Trivia Night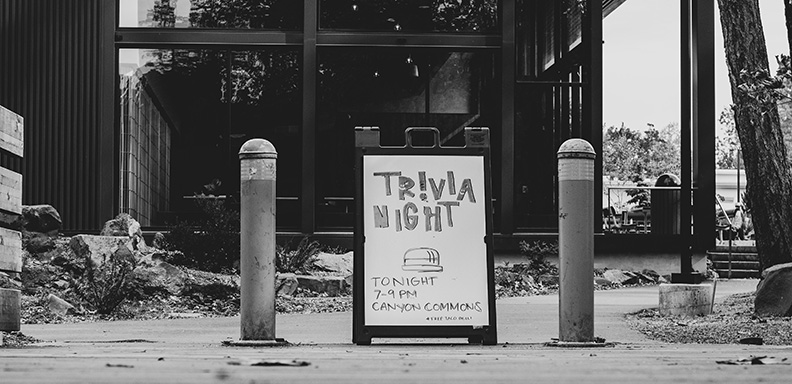 Trivia Night is a winner! It's a great fundraising event for nonprofits. Why? it's fun. Super fun. Adults love to show off their trivia chops to win rounds and prizes. They have a fun evening—sip a few cocktails, socialize, and relax a little while supporting their favorite nonprofit.
Think big. Think Jeopardy on a smaller scale. Charge admission to the game by individuals or teams. It's more fun when you get several competitive teams going for the win.
Consider having a 50/50 raffle draw during the game's last quarter, as this draws crowds. Have donated raffle prizes available between rounds. Sell "mulligans" for teams to use when they get the answer wrong. Ask businesses to sponsor categories.
A big money maker is selling food and drinks. See if a restaurant will sponsor the venue and provide the food/drink for the night as their donation, or at least donate a percentage of the food and drink spend. Use your community connections to create an amazing fundraiser.
8. Community Talent Show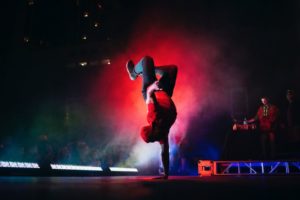 Ask people of all ages to perform in your talent show. See if local high schools or theaters will donate their theater for the event, or rent it out at a lower price. Depending on your talent and intended audience, consider holding auditions. For example, if your performers are all kids, their parents will likely enjoy the show regardless. But if you're planning to attract a wide range of people, it might pay to make sure that acts are under a certain length, appropriate for all ages, and able to commit to the performance date. 
Make sure you get people experienced running lights and sound for shows, too. There's a lot of moving parts in a fundraiser like this, but ticket sales can pay off big time.
9. Raffle Prize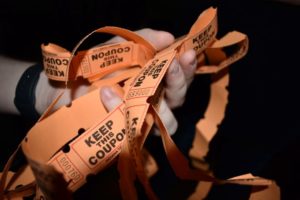 Think big with this one: everyone loves gift baskets of course, but if you can raffle big-ticket items you'll raise a lot more money. Work your relationships with local businesses. See if you can't raffle off free coffee for life from the most popular cafe, dinner at the fanciest restaurant in town, or even a car. Big prizes will attract more attention and more donations.
10. Pancake Breakfasts, Bake Sales, Potlucks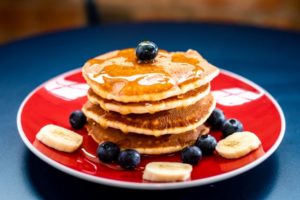 It's hard to go wrong with food. Although fundraising dinners are often more formal affairs where you can charge $100 a plate (or more!), these other events are a great way to bring in families and people who can't afford pricier events. Remember that even folks who don't have as much to spare will want to support their communities, and sometimes getting a lot of smaller donations can have as much or more impact as a few large ones. 
Bake sales and potlucks can include prizes for the best dessert or dish, as voted by guests. Pancake breakfasts can help bring people together and are relatively inexpensive in terms of ingredients and cooking know-how. 
Think Outside the Box
There are thousands of ways to raise funds. We recommend thinking of your intended audience when you're brainstorming fundraising ideas. Has your town had a rough couple of years? Keep it simple and affordable to attend. Are you able to target big spenders? Plan your event meticulously to meet their high expectations. Make sure you take a look at our other articles on more specific fundraising ideas for different events and groups:
Are you Ready to Raise Funds for your Nonprofit?
CharityAuctionsToday is happy to answer questions or give advice as you plan and perform fundraising to create operational funds for your charity auction fundraiser gala that's just around the corner. 
See what an online auction can do for you
Our platform is free to start: we don't get paid until you get paid. Learn how you can enhance your virtual or in-person events with us.