If you are planning a fundraiser at your high school or college, you'll need fundraising ideas. It's helpful to select fitting incentives to get high school and college students involved. Most are busy with studies, extra-curricular activities, or may not be interested in helping with a school fundraiser. But many students have passion for issues close to their hearts and also desire a sense of belonging and purpose, which is exactly what volunteering for your fundraiser offers. The good news is that you CAN get students involved by offering fundraising incentives that appeal to them. Below are excellent tips to get students excited about volunteering. These tips just might ignite a few of your own ideas, too!

So, how do you get students involved in fundraisers? It all begins with unique fundraising ideas for schools.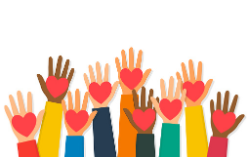 Think like a student
When you are building a fundraising team, one thing is for certain: you can't pay them money for their help, so you have to think of new "currency" as their pay. Ideally, the new currency doesn't cost money, and if it does, the spend is minimal.  Think of what you can offer that no other organization can.  We'll go into more detail in the next paragraphs, remember that to get students involved in your fundraising event, you need to think like a student.
Make it Fun
First, plan fundraising events that are fun for students. Make them exciting and newsworthy so that students want to be involved and bring their friends. Check out these fundraising options at Charity Auction Ideas that Rock. It's a good idea to befriend a student mentor who can help you create fundraisers and be able to identify incentives that resonate with them. If you have time and resources, consider a student focus group to learn what incentives will motivate students to help with your fundraiser.
Incentives to encourage students to help with your fundraising
Brainstorm with your school principal or college dean to create incentives that can only be approved by them, which we have mentioned below. If you have a student mentor helping you, run your ideas past them to get their input. The incentives, or currency, we've shared below will thrill high school students. College students will likely need more tangible incentives, but give these a try.
• Students who participate get to eat lunch with the school's teachers in the teacher's lounge.  For college student incentives, try getting local restaurants to donate lunches, and in return, advertise them, or place their logo on fundraiser advertising.
• High school students who help will get their own parking space for a month. For college students, a one week or a month of free on-campus parking.
• Have donuts delivered to high school volunteers' home rooms every week for a month. Ask local donut shops to donate them as a part of the fundraiser, and in return, advertise the donut shop on fundraiser materials.
• Have a pizza party for all participants and their friends after the event.
• High school students who volunteer for your fundraiser get a "Get Out of School Free" card to take a day off school after the event without it reflecting on their attendance records.
• If your high school dress code is uniforms, give the volunteers a week on no dress code,um…within reason!
• Give each high school student a pass to miss one homework assignment in any class. Given students are getting an education, you don't want to interfere with their progress, so feel free to include a caveat on the pass that ensures they can't miss important homework such as a ten-page paper.
• For high school students, guarantee you will write a letter of recommendation regarding their volunteer performance so they can include it on college applications.
• Quizzes are facts of life in high school. Create a "drop the lowest quiz grade" pass for volunteers.
• Consider creating a "management" volunteer position for college students that satisfies internship requirements for college students. This will help you have a more stable hand in the process of creating the fundraiser. Similarly, some high school students are members of national societies or organizations that require students to perform a set number of volunteer hours—contact the national organizations to see if your fundraiser qualifies to fulfill the volunteer requirement.
• For both high school and university students, see what you can do in terms of sporting event tickets. Free tickets, great seats, name on the leaderboard, announcement at half-time about the fundraiser, etc.
• Under the wing of a faculty member, have a college student create a Facebook campaign to promote the school's fundraiser. This can be documented on their college application, not to mention great experience taught by a professional.
• Select ONE college volunteer who has excelled in their volunteer role, in attitude and performance. That special student will earn a seat on a committee where they can elevate their voice, opinions and ideas in an impactful leadership role.
• This is a win-win incentive for the college student and the university department. Offer a feature article with photos of the fundraiser on your department's blog. It's an outstanding way to promote the student's achievements publicly. Because it is online, it can be shared with friends, mom and dad, family, the university community and more, especially if it goes viral. It may even get picked up by local media who ask to interview the student. Another option is to have the student write a story about their experience and hot it affected their life.
• Offer college students a day of being chauffeured from class to class via a golf cart!
• Have each student receive a handwritten note from the university president or high school principal.
• Principal for a Day. Have one high school student be named "principal" for a day.
• Have the high school volunteer team do the morning school announcements.
• Ask local businesses for gift certificates and discounts to give to students. Think movie tickets, water slides, go cart tracks, mini golf, etc.
Never stop promoting your fundraiser
Don't forget to remind students who haven't signed up. How will you do that? You can use the usual ways—social media, email, chat, video, IM, announcements on the PA, but the best thing to do is create a marketing campaign using social media and school email (if allowed). Begin your campaign and have the students share the social media blurbs on their feeds to reach an even larger audience.  This article is about how to promote your fundraiser with social media, and it will help you create a social media campaign for last call.
Just in case, for younger elementary or middle school student involvement, check out this article: How to Improve School Fundraiser Participation.
📞 844-234-2335  • Mon-Fri 8am – 9pm CST