It's safe to say that everyone loves winning coveted items at charity auctions. So, wouldn't it be smart to include an array of complimentary items in one basket instead of just offering individual items? This way, the prizes' value increases, and donors are more likely to offer more.
Besides, you can center your gift baskets around any number of themes, so there will be some fundraiser basket ideas suitable for every kind of audience and niche.
Ready to upgrade your next fundraising event with gift baskets? Then, our guide to raffle basket ideas for fundraisers is exactly what you need. 
Fundraising Basket Ideas by Theme 
From foodies and sports fans to travelers and self-care gurus…we have some fundraiser basket ideas for any type of event. Not only are they appealing to most bidders, but they can also be used in multiple types of charity auctions. It doesn't matter whether you hold a silent auction, a live event, or even a virtual one…the possibilities are endless.
Unsure about the most suitable fundraising auction for your organization? Then, check out our article on the five different auction types. Keep in mind, however, that a mobile bidding software like ours will make planning and running your auction easier. Try CharityAuctionsToday and see for yourself.
Still, no matter the type of auction you decide to go for, we've got you covered when it comes to fun, high-end or inexpensive raffle basket ideas.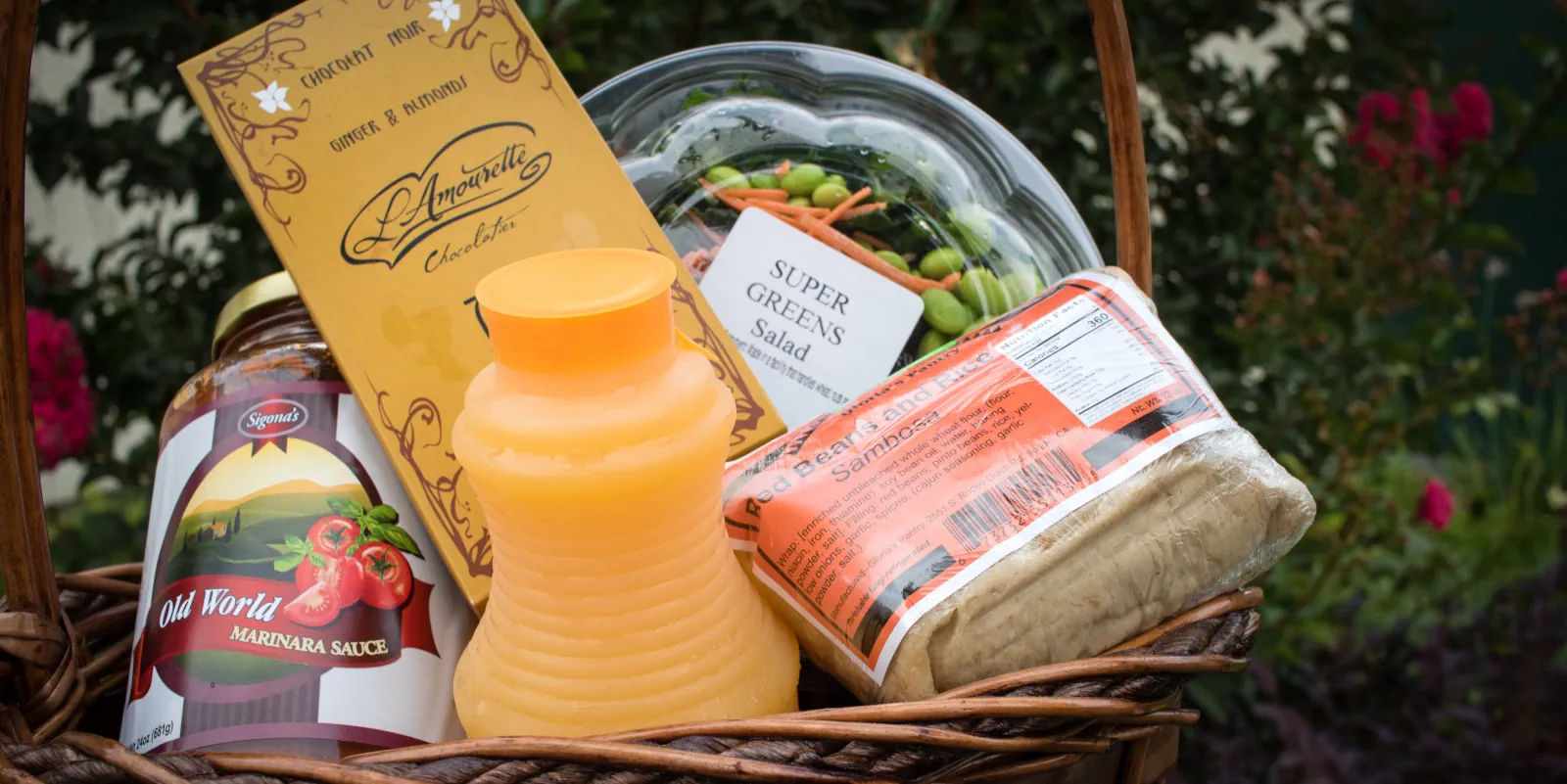 Fundraiser Gift Basket Ideas for Foodies
1. The Baker's Basket
Give your bidders everything they might need to make some Instagram-worthy baked goods. Throw in a popular cookbook, baking mixes, and some cute cookie cutters. 
The baker's basket is not only a family favorite, but it can also be the start of a fun date night. 
2. The Chocolate Lover's Basket
Chocolate is a favorite of those with a sweet tooth. So, why not put together an assortment of gourmet chocolates or chocolate muffins and cookies? Get creative and throw in some locally-sourced chocolate products.
Or, even better, you can surprise the audience with some unusual chocolate flavors. For example, you can try chili chocolate. You can thank us later…
3. The Gourmet Basket
Why not offer the guest with the highest bid the chance to become a gourmet chef for one night?
Here are some auction items ideas for those food "connoisseurs":
A voucher for a local cooking class

An evening with a personal chef

Gift certificates for local restaurants
4. The Vegan Basket
Since veganism is on the rise, including a vegan gift basket at your charity auction is a must. Toss a vegan cookbook into a basket with some vegan treats, and maybe a gift card to a local plant-based restaurant.
5. The BBQ Basket
Another crowd favorite. A variety of barbecue sauces and marinades, cooking utensils, and some specialty seasoning will grab the attention of any grill enthusiast.
Gift Basket Ideas for The Family
1. The Bundle of Joy Basket
This is always a fun one to throw together.
From swaddling blankets and toys to parenting how-to books, you can mix multiple items to create "the bundle of joy" gift baskets. In fact, you can make this even more adorable by throwing it all into a baby bathtub.
2. The Movie Nights Basket
From movie passes to movie theater gift cards, you can ask your local cinema for donations to create the perfect raffle basket for those cinephiles.
Don't have a theater nearby? No problem. Bidders can create the ideal movie night at home with gourmet snacks and Netflix or Amazon gift cards.
3. The Rainy Day Basket
Rainy days don't always have to get you down. A single basket can bring the whole family together for a game night.
Here are some items you can add to a raffle basket:
Puzzles

Board games

Card games

Microwave popcorn or baking mixes

Family-friendly books from a local bookstore
Fundraising Basket Ideas for Sport Lovers
1. The Gym Rat Basket
Some of your bidders might be on a quest for a healthier lifestyle.
Help them get into the gym by putting together a basket with gym essentials such as running shoes or resistance bands. You can also offer a trial gym membership. In fact, many gyms will often throw in a voucher for a personal training session with new memberships, too.
2. The Bicyclist Basket
This one does not have to be specific to cyclists, you can always pick another popular sport in your area and build your basket around it.
Cyclists, for example, might enjoy gift cards to bike shops, cycling helmets, new water bottles, and tire pumps.
In fact, have you thought about organizing a more "active" charity event? If you think this would be suitable for your audience, check out our tips for organizing a successful walk/run event.
3. The Basket "Fore!" Golfers
Do you have any golfing enthusiasts attending your charity fundraiser?
Then, here are some items you could include in the gift basket:
Golf balls

Golf tees

Golfing magazines

Gift certificate to a local sporting goods store

A free session with a golfing instructor
4. The "Ultimate Fan" Basket
Create a fun basket by including items such as team jerseys, binoculars, and event stadium seats.
Gift Basket Ideas for Tech Lovers
1. The Gamer Basket
You could start by selecting a video game to build your theme (like Minecraft or Fortnite) around and then fill a raffle basket with the most popular gaming gear.
However, you could also just throw in an Amazon gift card so that bidders can purchase their own gaming items.
2. The Traveling Tech Basket
Having the right tech accessories when traveling has become a must. From mobile power banks to outlet converters and USB cords, these are just a few of the items that will make your bidders' journey easier. https://mashable.com/article/best-tech-gadgets-for-traveling
Fundraiser Basket Ideas for Travelers
1. The Camping Connoisseur Basket
In order to make overnight camping more comfortable, you can include an ultralight sleeping bag, a glamper tent, and even a portable grill.
Here are some other physical items you can add to this basket:
Flashlight

Compass

Local hiking guide

Lantern

Outdoor cooking pot and utensils

A gift certificate to a local sporting goods store.
2. The Adrenaline Junkie Basket
Include travel vouchers for skydiving, white water rafting, amusement parks, or any other adventure-filled local activity to create the perfect summer basket.
3. The Day-at-the-Beach Basket
Who doesn't love a good beach day? With these items, you can help bidders have a chill weekend getaway by the beach:
Beach towels

Frisbee

Water bottle

Beach toys

Pool floats

Speaker
Want to upgrade this basket in order to make it even more appealing? Then, add the items to a beach bag. 
4. The Survival Kit Basket
Are any of your bidders eager to take a walk on the wild side?
Then, they might appreciate items such as:
A first-aid kit

A water purifier

Walkie-talkies

Flashlights

Freeze-dried food

A lightweight blanket
Take this fundraiser gift "basket" to the next level by adding the items in a hiking backpack instead of a basket. 
Fundraising Gift Ideas for Self-Care Gurus
1. The Spa Day Basket
Bath bombs, face masks, bath salts… This fundraiser basket sounds like a dream, doesn't it? 
Give bidders, even more, to think about by tossing in a bathrobe, luxurious towels, essential oils, and even a bottle of wine. 
In fact, you could even add a gift card to the local salon for a massage. 
2. The Hair Care Basket
Save bidders a trip to the salon by including top-rated hair dryers and curling irons. Don't forget the professional shampoo and conditioner. 
3. The Makeover Basket
Since makeup is quite a personal thing, you should steer away from including specific products. Instead, you could consider makeup brushes, mirrors, a gift card to a local cosmetics store, or a one-on-one session with a highly-rated makeup artist. 
However, you could add some skin care products to the makeover basket because who doesn't love a good cleanser or a refreshing face mask? 
Take Your Auction to The Next Level by Adding Gift Baskets
Whether you are running a silent auction online or offline, great prizes are crucial for the success of any charity fundraiser. So, why not switch the run-of-the-mill single auction items with some gift baskets?
This is one way to take your charity auction from ordinary to extraordinary. Not only is this a great way to highlight local businesses and bring the community together, but bidders will also feel compelled to bid more due to the perceived added value, rarity, and limited supply. It's a win-win.
We hope some of these fundraiser basket ideas make planning your next charity auction easier. We love helping every auctioneer succeed.
Having said that, a charity auction software will make running auctions easier by eliminating the physical limitations of traditional auctions and saving you time. So, what are you waiting for? Try our auction builder today and create your demo auction in five minutes flat.