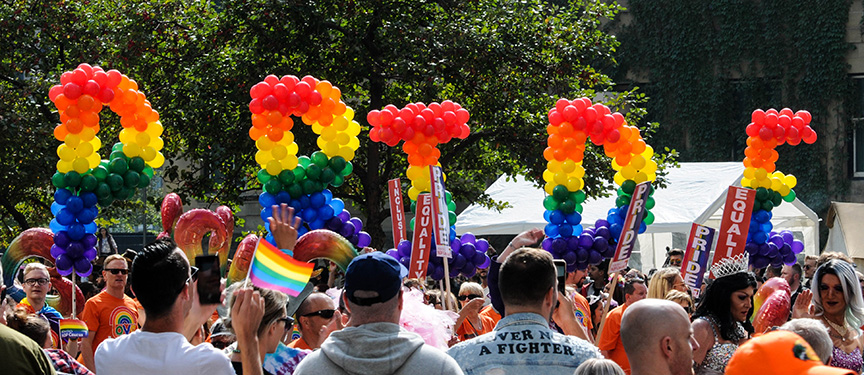 What Is Gay Pride Month?
Gay Pride Month is celebrated throughout June, culminating in what local LGBTQ+ communities call Pride—a two to three-day festival typically held in downtowns worldwide. The celebrations honor the freedom to be themselves by promoting self-affirmation, dignity, equality, and increased visibility.
The catalyst for Gay Pride began in 1969 at the Stonewall Inn, a gay bar in NYC's Greenwich Village. When the police raided the bar, which was a frequent occurrence, they dragged patrons outside. Tensions quickly escalated as the police tried to make arrests. The crowd grew outside the bar and began throwing bottles at the police. Finally, a lesbian in handcuffs was taken to a police wagon, complaining about the handcuffs being too tight. She was hit in the head with a billy club and heaved into the back of the wagon. The crowd decided they weren't going to take it anymore. That was the tipping point and the official start of the Stonewall Riots, which lasted three days.
The LGBTQ+ civil rights movement has come a long way since the Stonewall Riots. The Stonewall Inn was declared a historic landmark by New York in 2015 and later named a national monument by President Barack Obama in 2016.  

Gay Pride Fundraising at Your Local Pride Festival
Perhaps you're on the Pride Committee in your city this year and need to help with fundraising.  As a part of the LBGTQ+ community or an ally , you may be seeking gay Pride fundraising ideas.  Either way, you're in luck. We've got an eclectic lineup of fundraising ideas that are fun, inclusive, and memorable. Pride festival goers will have fun while helping you reach your Gay Pride fundraising goals. 
Don't forget a couple of opportunities—one is finding a large, friendly, local business to attend Pride, and the second one is to remember the local human services that help the LGBTQ+ community when life isn't going well. The local business will fare well with support from the gay community. And the human services will benefit greatly by donations and helping others, face to face, especially trans youth in jeopardy..
Gay Pride Merchandise Booth
Typically, there is a Pride Committee that coordinates the event. Their big money-maker is a  merchandise booth boasting a fresh new Pride logo design donated by the Pride logo design contest winner. The merchandise includes hats, t-shirts, tanks, jewelry, art, kerchiefs, laces, key chains, bumper stickers, temporary tattoos, games, kitsch, underwear, and even Pride clothing for your dog. And more. For the kiddos, they have a collection of t-shirts,  hats, books, arts and crafts, games, and stuffed animals kids can't live without! The inventory requires up-front money, which is worth the investment as the Pride and LGBTQ+ merchandise sells like crazy. People buy merchandise to support the festival and to have a token keepsake that lasts a long time—at least until the next Pride festival! Also, it's hard to find brick-and-mortar stores in many communities that sell gay swag, which is another reason the swag usually sells out.
Raffle
Every Pride festival needs a raffle. There are two ways to have a raffle. You can use CharityAuctionToday's raffle feature for people to play using their phones, which is super easy. Or sell raffle tickets at the entrance and all the booths with signs indicating when the winners will be announced. These are big money-makers. You can have one winner, two, or even three or more. In addition, you can buy nice, higher-end prizes for the winners. Headphones, earbuds, tablets, and similar electronics are popular prizes. The only other expense is a roll of raffle tickets from an office supply store. You'll have to create signage and get a container to drop the tickets in for the draw. 
You can also do both—have an online raffle and an in-person one. 
Drag Bingo
What respectable drag queen wouldn't love to host Drag Bingo? You'll need ample space to set up tables and chairs to hold a few dozen players. Charge a fee for each bingo card, and the winner splits the pot with the house. The fun part is playing bingo while drag queens entertain the crowd. Try it with drag kings, too! And don't forget to take a lot of photos! Get your local gay media to cover the event.
Drag Queen Lip Sync Competition
Have an evening competition judged by the audience. It works when two drag queens lip-sync to the same song, and the audience votes on their favorite one. Once all the teams have performed, start a second round with the winners and continue until you have one final winner. To get more of a buy-in from the contestants, consider having secondary categories the audience can vote on, such as best dressed, sassiest, best personality, best hair, and best make-up. Charge an entrance fee to the show and reiterate to the audience that the show is for charity. 
Face Painting
By the time the festival ends, everyone should have a Pride symbol or logo on their cheek! Get a booth, two or three face painters, and you'll raise funds fast. Charge a flat fee for a face painting and consider a discount for two. Kids go crazy for face painting. The spirit of Pride often appears on the cheeks of all ages of festival goers!  
Kids Rainbow Craft Tent
Teaching our kids about inclusiveness, particularly the gay buzz-phrase, "love is love," is essential to a feeling of safety as they grow up. Have a booth full of fun rainbow crafts: kids can select a craft to make and sit down with other kids to assemble their Pride jewelry, wallets, purses, friendship bracelets, or embellishments. They'll make new friends and have a favorite treasure to take home that reminds them of the fun day at the Pride Festival and that love is love. You'll need to buy the crafts from a wholesaler. 
GoFundMe
GoFundMe offers an online fundraising conduit that can easily reach millions of people to raise funds for your non-profit organization. With a bit of knowledge of digital marketing, you can reach far more donors than you can at a Pride Festival. This is something you may consider doing concurrently with gay Pride fundraising.
Online Garage Sale
You're raising money for your organization. Maybe you need to raise operating capital for the upcoming Pride Festival or something special you have planned for your LGBTQ+ group. An online garage sale is a terrific way to fundraise without spending a dime. Each of your members can donate something from their home that you can resell online. Scooters, bikes, artwork, dishes, a laptop or tablet, your old Dr. Martens—anything you'd like. Once you have your cache of goods, photograph them, write product descriptions, and upload them to your online garage sale platform at CharityAuctionsToday. Suddenly, your audience just got exponentially bigger—far bigger than a weekend garage sale, and it can target the LGBTQ+ community.
Better yet, take a free test drive (no credit card required) and create your online garage sale in three minutes. Then, feel how easy it is to create an online garage sale.
HRC Gala Dinner Online Silent Auction
In major cities nationwide, Human Rights Campaign members host annual gala dinners to raise money for the organization. It's a dress-to-the-nines black tie event with a celebrity emceeing the evening events. Part of the fundraising is a silent auction. If you'd like to take the fundraising a step further, enhance the evening by using CharityAuctionsToday's software for your silent auction. It's easy to use, alerts you when you're outbid, and can accept cash donations, to name a few favorite features. This removes the need for a person to monitor the bid sheets and notify people when they've been outbid. Also, instead of hovering around an auction table, attendees can place bids while sitting at the dinner table, enjoying the evening. 
Be sure to take a test drive to see how you can have a branded auction site for your HRC gala. Since HRC has gala dinners in cities throughout the US and is always looking for ways to improve fundraising outcomes, having the same design for each auction would be a good idea. But, again, that's something to talk to your HRC representative about.

Your Pride is Showing
After the Stonewall Riots, the gay community realized they didn't have much power, but they did have unfettered Pride. So on the first anniversary of the Stonewall Riots, June 28, 1970, they put their Pride to work and created a voice called the "gay Pride" movement. It was also the date of the first gay Pride parade in the U.S., held on the streets of New York.
Pride matters. Everyone should feel comfortable and safe being who they are, wherever they are. Being present and active in your own life is the only way to become comfortable with who you are and live your best life. Part of being present is celebrating who you are during Gay Pride Month and every day.
Happy gay Pride fundraising. One of the perks of fundraising at gay Pride festivals is that every attendee is invested in supporting the LGBTQ+ communities and is ready to donate to their favorite causes.
Build Your Fundraising Auction Today
Simple and free to start, you'll pocket more of your funds than on other platforms.