Knowledge Base > Bidding FAQ's > How do I Place a Bid?
Placing a Bid: A Step-by-Step Guide
Whether you're using a computer or a mobile device, our platform ensures that bidding is an effortless process. Here's how to get started:
---
1. Selecting an Item:
Begin by clicking on the item that piques your interest. This action will open a detailed view, providing comprehensive information about:
Current high bid
Required amount for the next bid
Time remaining for bidding
---
2. Placing Your Bid:
To place a bid, enter the desired amount. Remember:
No need for cents! Bids are in whole numbers.
If someone outbids you, don't worry. We'll send you both an email and a text message with a direct link to the item. This allows you to promptly counter with a higher bid if you choose.
---
3. Bidding on Mobile:
Bidding on our mobile platform is just as seamless.
Tap on 'View' to delve into item details.
Press 'Bid' once you decide to make a move.
Note: Beneath the 'Bid Now' box, you'll find special notes from the auction organizers. This can include crucial information about Buyer's Premium, Reserve Price, and Popcorn Bidding.
---
Have a Different Plan in Mind? Donating Cash
If you'd rather contribute directly, that's absolutely appreciated!
Opt for the 'Make a Donation' button found on the main auction page. It's a straightforward way to support the cause with a cash donation.
---
Navigating our bidding process is designed to be straightforward and intuitive. With these steps, you're all set to participate actively and make a difference!

You can now see all the detailed information about the item including current high bid, next bid amount requirement, and time left for bidding.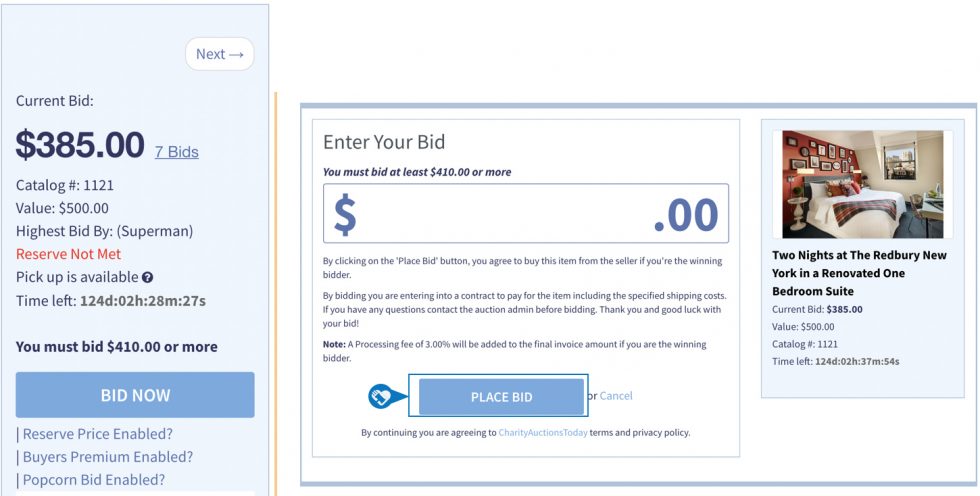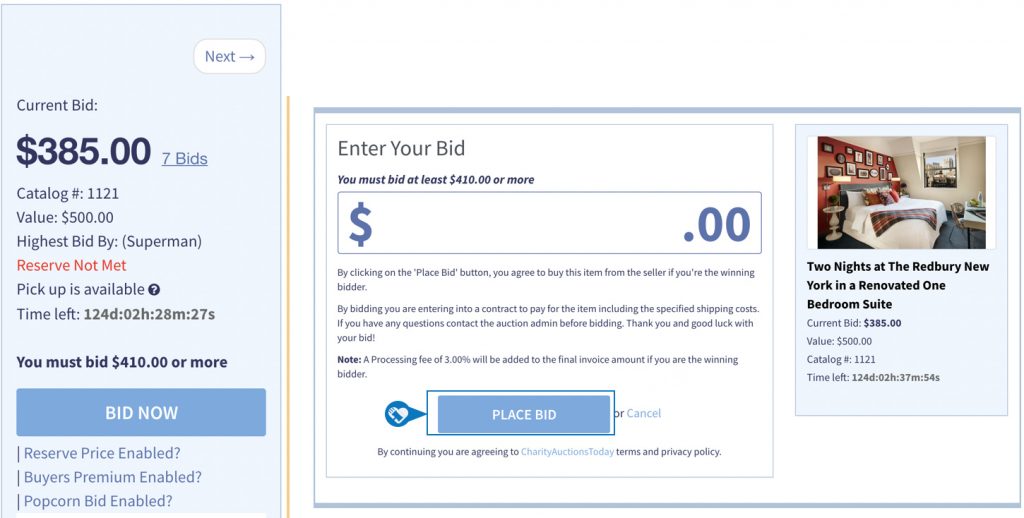 If you are outbid, you will receive an email and text message with a link back to the item to increase your bid. There is no need to add any cents. All bids are placed in whole numbers. 
Our mobile interface is very similar. Click View to see details about an item, then hit Bid when you're ready.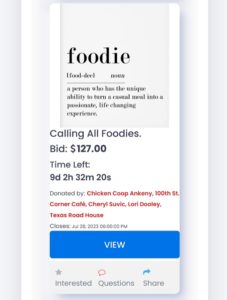 Note: Under the Bid Now box you will see additional bidding notes that the auction organizers want you to know about such as Buyer's Premium, Reserve Price, and Popcorn Bidding.
Question: What if I would rather donate cash?
Answer: You can make a cash donation by clicking the Make a Donation button on the auction landing page.