Knowledge Base > General FAQ's > What is Popcorn Bidding?
What is Popcorn Bidding?
Popcorn bidding is a feature implemented in our charity auction website to ensure fairness and opportunity for all bidders, especially for high value and popular items.
How Does It Work?
Time Extension: If a bid is placed during the last five minutes of an auction, the closing time will automatically be extended for an additional five minutes from the moment the last bid was registered.
Continuous Extension: This extension will keep occurring if bids continue to be placed during these additional five-minute windows. For example, if a bid is made at 1 minute left, the auction time will extend by another 5 minutes.
Closing the Auction: The auction for the item will finally close once there is a period of five minutes without any bidding activity.
Why Do We Use Popcorn Bidding?
Popcorn bidding serves a dual purpose:
Fairness: It ensures that bidders have ample time to reconsider and place another bid if they truly desire the item. This feature prevents situations where a bidder might feel they lost an item simply because they didn't have enough time to react.
Strategic Bidding: It discourages last-minute, or "sniping", strategies where bidders wait for the final moments to place a bid, hoping others won't have time to counter.
By incorporating popcorn bidding, we aim to provide a fair and exciting auction experience for all participants.
How to Turn Popcorn Bidding On and Off
Step 1) Click "Auctions," then "Manage Auctions."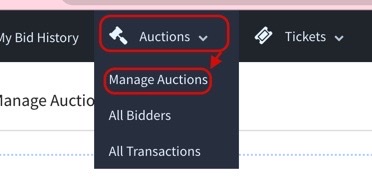 Step 2) Click on the name of your auction.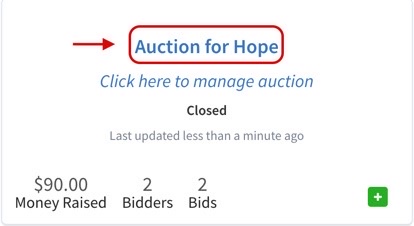 Step 3) On your auction's Dashboard, click on "Items," then "Add Items."
Step 4) Scroll down until you see the "Popcorn bidding" option. Click either "Yes" or "No" to turn that function on/off. Once all changes have been made, click "Save and exit."