Knowledge Base > Auction How-To's > How to Use Point of Sale Listing Type
What is a Point of Sale Item?
A Point of Sale item, commonly referred to as POS, is an item sold by and visible to your volunteers only. Examples of POS items include raffle tickets, carnival games and drink tokens.
A Point of Sale Listing Type is a setting that you utilize during your item set up process. A POS Listing Type will ensure the item remains hidden from public view and will only be accessible by your volunteer team through a dedicated link.
You can use Point of Sale to assist with live event Check-in. View guide here.
Other features available through the Point of Sale link are listed below:

Donate Items Tab
Easily enter donor information, item specifics and upload photos to add items to your auction.
Items Tab
View all of your POS items on one screen and/or easily perform a search by name, catalogue number or category.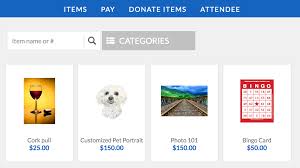 Pay Tab
Winning bidders or POS purchasers can easily access and pay their invoices from the Pay tab. Search by username, email, bidder number or guest name to retrieve all invoices and submit payments.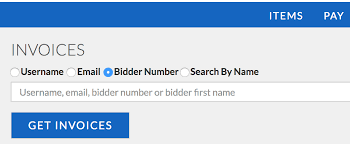 Quick Register
Easily register attendees from your volunteer device by clicking the Quick Register button. Your guest can enter his/her details and pre-register a credit card for an expedited check out process.
Attendee Tab
An at-a-glance view of your guest list. Search, check guests in, swiftly edit guest data or add attendees and assign bidder numbers instantly.