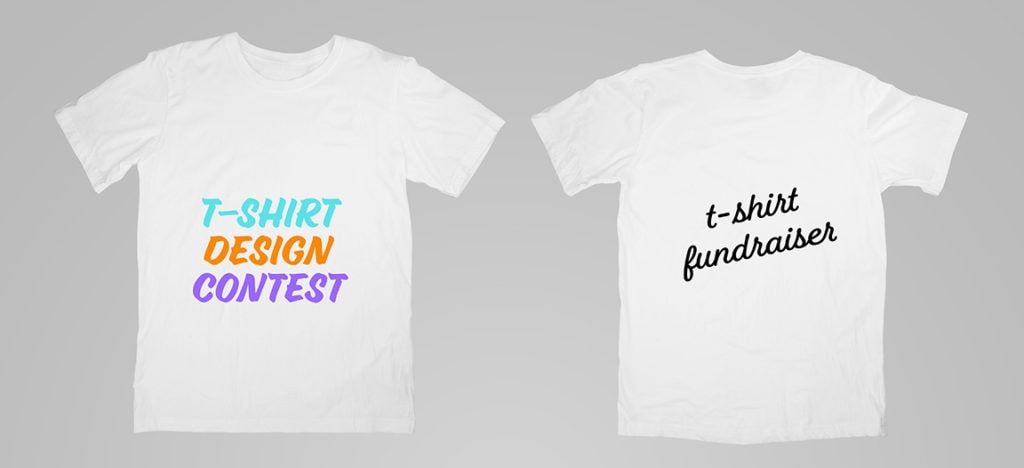 Everyone loves T-shirts, especially when they have a special meaning or represent an event or favorite place. Do you have an old favorite T-shirt you can't live without? There's another aspect that creates even more buy-in on T-shirt fundraising ideas—and that's having a T-shirt design contest. For example, if you represent a school, have students enter the design contest. If you're a local nonprofit, what a great way to involve the community—you can promote a call for people to enter the design contest. Local media, especially TV stations, love to get involved in a feel-good story—an excellent opportunity to take advantage of the PR opportunities for your T-shirt contest.
Making a T-shirt fundraising idea successful is both an art and a science. It involves understanding your target audience, creating compelling designs, and executing effective promotional strategies.
Leverage Online Platforms for T-Shirt Fundraising Ideas
A successful T-shirt fundraiser starts with a good design. And online platforms have revolutionized T-shirt fundraising for nonprofits. They offer print-on-demand, where a T-shirt is printed only when ordered.
The print-on-demand companies offer a selection of merchandise you can add your design to and sell, along with T-shirts, like water bottles, coffee mugs, and ball caps, as an opportunity to raise even more money for your cause.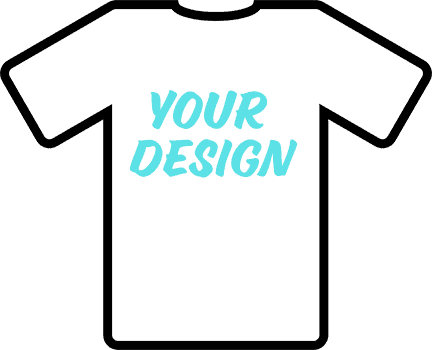 Risk-Free T-shirt Fundraising Ideas with No Upfront Costs
Taking a T-shirt fundraising idea and putting it in motion can be scary for nonprofits, especially smaller ones. But with online T-shirt fundraising platforms that print-on-demand, you can eliminate the risk of investment concerns.
Platforms like CustomInk, InkToThePeople, and BonfireFunds.com offer a no upfront cost model. They handle production and shipping once a T-shirt is purchased from your online auction or sales page—the print-on-demand model.

Selecting a suitable online platform is crucial for a successful fundraiser. Look for one that offers design tools and excellent customer support. Read the reviews, especially the ones on Google.
The alternative to print-on-demand is using a traditional T-shirt printer where you give your design to them, and they print T-shirts in the quantity and sizes you request. You have to pay upfront for the T-shirts. You can also expect a hefty set-up charge to get the design ready to print on their press.

How Many T-shirts Should You Order?
If you're going to order T-shirts from a printer instead of using print-on-demand, you'll need to order the correct amount so you don't lose money by having too many leftover sizes. Unless you can see the future or have a crystal ball, you'll undoubtedly have a few left over to sell later.
TheAdairGroup.com is an online printer with a handy formula to use when ordering T-shirts to be printed. Here's a typical size breakdown in terms of size popularity:
Here's the ratio of sizes to use as a handy guide for ordering T-shirts: 1-2-3-3-1
How the ratio breaks down when ordering 100 shirts: multiply each number by 10 to determine how many T-shirts to order for each size.
1 Small • 2 Medium • 3 Large • 3 Extra Large • 1 Extra Extra Large
For example:
If you need 100 shirts total, multiply each number by 10.
If you need 200 shirts, multiply each number by 20.
If you need 1,000 shirts total, multiply each number by 100.
And so on.
Maximizing Profits on T-shirt Fundraising Ideas
To maximize profits, set reasonable prices, manage campaign duration, and leverage social media channels effectively. Consider complementary fundraising efforts like raffles to encourage participation.
Take advantage of no upfront cost models to generate substantial funds for your cause without the usual risks. It's democratization at its best in the world of nonprofit fundraising.  

Effective Promotion Strategies for T-shirt Fundraisers
Want to make your T-shirt fundraiser a success? Promote it like a boss. Here are some tips to help you get the word out:
Craft Unique Promotional Emails for Maximum Impact
Refrain from settling for boring emails that get lost in the crowd. Make your emails stand out with eye-catching photos and compelling stories. Tell people why your cause matters and how their purchase can make a difference. Check out these examples for inspiration.
Use Social Media to Spread the Word
Social media is your friend when it comes to promoting your fundraiser. Use Facebook, Instagram, and Twitter to reach a wider audience and create buzz around your campaign. Here are some tips:
Facebook: Create an event page and post regular updates on your progress.
Instagram: Use relevant hashtags and showcase your designs with engaging visuals.
Twitter: Engage your followers with polls and gain valuable feedback.
Remember to tailor your content to each platform and maximize its unique strengths.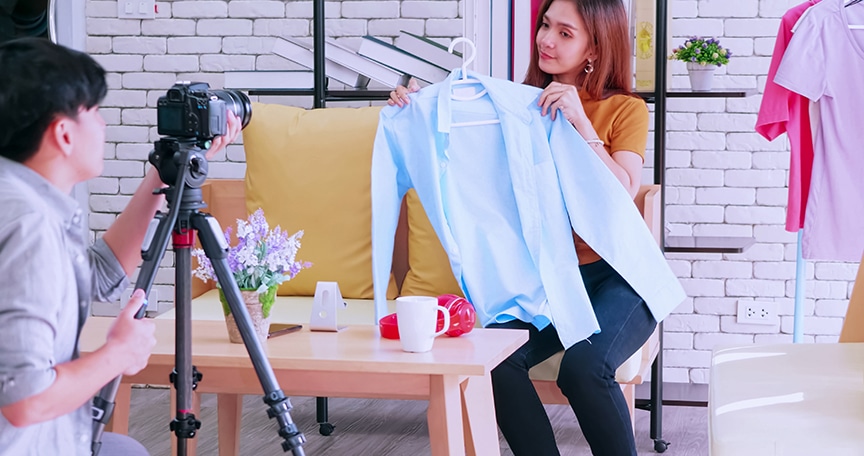 Partner with Influencers to Boost Visibility of T-shirt Fundraising Ideas
Bolstering your brand's visibility by teaming up with influencers can help you expand your reach and increase trust in your fundraiser. Seek out influencers who possess similar ideals and have a fan base that mirrors your intended demographic. Connect with influencers, offering a complimentary T-shirt in exchange for spreading the word about your fundraiser.
Success is within reach with these tips – start your T-shirt fundraiser off right. Happy promoting.
Creativity and Community Involvement in Campaign Execution
Get creative and involve the community. It generates excitement and a sense of ownership among supporters. Depending upon the nature of your nonprofit, why not send the governor a T-shirt? If you're promoting a walk or run, send a T-shirt to a local coach who can help promote it.
Engage with Stories Around Your Cause
If you're going to get others to help spread the word about your T-shirt fundraiser, you need to polish your story or pitch. Make your campaign relatable and engaging by incorporating storytelling. For example, "Keep Calm and ____" slogans are adaptable to any cause or event. Create a unique narrative that resonates with your audience and inspires action.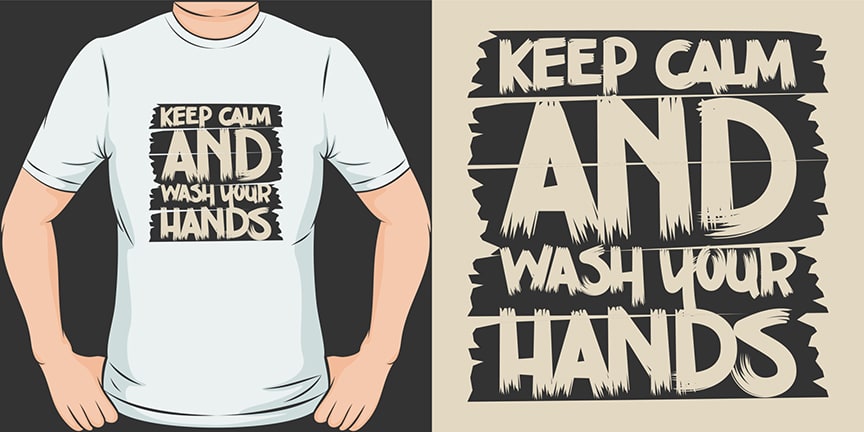 Involve the Community in Your Fundraising Strategy
Partner with friends, family, or local businesses who share your passion. Recruit volunteers, leverage local companies, and create partnerships to expand your reach. Don't hesitate to reach out to radio stations that align with your audience or movie theaters premiering the new Pele story movie as you promote your intramural soccer teams. Consider your cause and who or what would be a national companion to promote it. 
Creativity sets you apart, but building strong community relationships ensures sustainability over time. Both are equally important for successful T-shirt fundraisers.
Common Mistakes to Avoid on T-Shirt Fundraisers
Don't let common mistakes ruin your T-shirt fundraising campaign. Avoid pitfalls like choosing the wrong platform or misjudging pricing strategy.

Vet your printer, and touch a T-shirt sample to ensure it doesn't look or feel cheap—you want to save money, but not at the T-shirt's expense.

For the design contest, be sure not to select a winning design that might have a copyrighted image on it. For example, don't use a design that has "Just Do It" on it.

Planning and executing properly can help you reach success.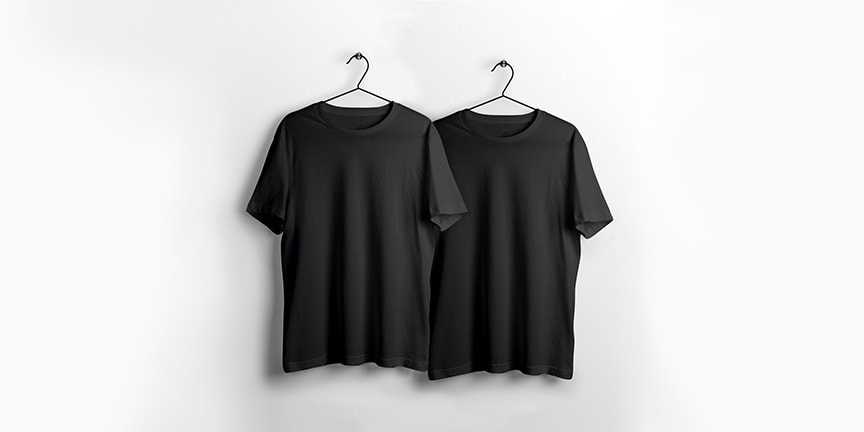 Set the Right Price Point for Your Shirts
Don't scare off donors with high prices, but cover production costs and leave room for profit. Find a balance that's affordable for most people while still allowing you to raise significant funds for your cause.
Integrate Complementary Fundraising Efforts
Consider adding raffles, silent auctions, or crowdfunding campaigns to your overall strategy. These provide additional opportunities for supporters to contribute towards your cause.
Raffles: Offer prizes like gift baskets, experiences like dinner at a popular restaurant, or event tickets.
Silent Auctions: Combine with live events where attendees bid on items without knowing what others have bid until the auction ends.
Crowdfunding Campaigns: Use online platforms to raise money from large numbers of people via social media channels.
Remember, success in T-shirt fundraising requires creativity in design, meticulous planning, strategic decision-making, community involvement, and effective promotional strategies. By avoiding common mistakes, aligning yourself with the right partners, and leveraging multiple forms of fundraisers, achieving your desired results becomes much more manageable.
That was your road map to a successful T-shirt fundraiser. Now that you know how to create a T-shirt fundraiser, the next step is to select what type of T-shirt fundraiser you'll create. We've identified seven types of T-shirt fundraisers where you can raise a lot of money and have fun while you're doing it.

Look at these, share them with your team, or select the one that resonates with your mission and cause.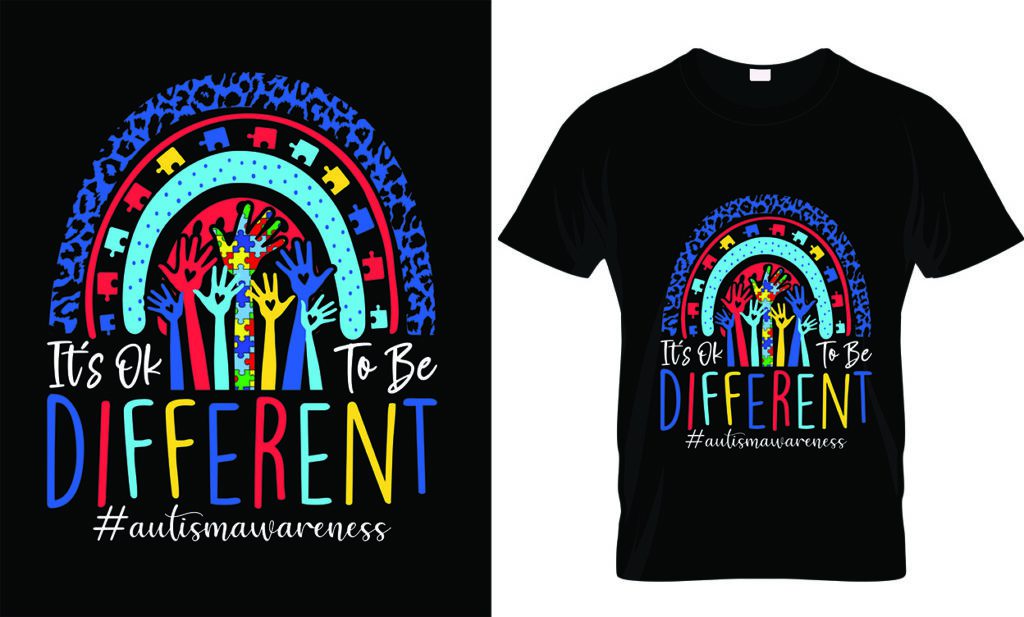 7 FUN T-shirt Fundraiser Ideas
1. 5k Walk or Run CharityT-shirt Fundraiser
A charity 5k run (or walk or bike!) is a great way to raise money. You can make custom T-shirts as part of their registration. It doesn't have to be a run. Create other events of interest for your group or organization to unite people for a good cause.
2. Commemorative event shirts
Capture the essence of special events like festivals, conferences, or gatherings by designing and selling custom T-shirts as fashionable souvenirs. These T-shirts can sell on-site or online, providing a stylish memento supporting the event or a chosen charity.
3. Corporate sponsorship tees
Encourage local businesses or corporations to sponsor custom T-shirts featuring their logos, which can be sold to raise funds for your nonprofit or cause. This partnership provides a valuable marketing opportunity for the sponsoring company while supporting a good cause.
4. Social media challenge T-shirts
Design a T-shirt for your fall event! Ask influencers and social media users to support your nonprofit event by designing custom T-shirts. Make it a social media challenge to raise awareness, engage followers, and generate funds through T-shirt sales.
5. Ugly T-shirt Fundraiser
This is a super fun T-shirt fundraising idea for a nonprofit. Today, the ugly sweater contest during the winter holidays is real. Why not turn it into an ugly T-shirt contest to get a dozen or so designs and promote the sale of the T-shirts on CharityAuction'sToday's online auction platform?

All you have to do is promote a call for ugly holiday T-shirts, pick a dozen or more winners, and put them online for people to buy. Just promote the heck out of it! It will be fun, and your nonprofit will make money.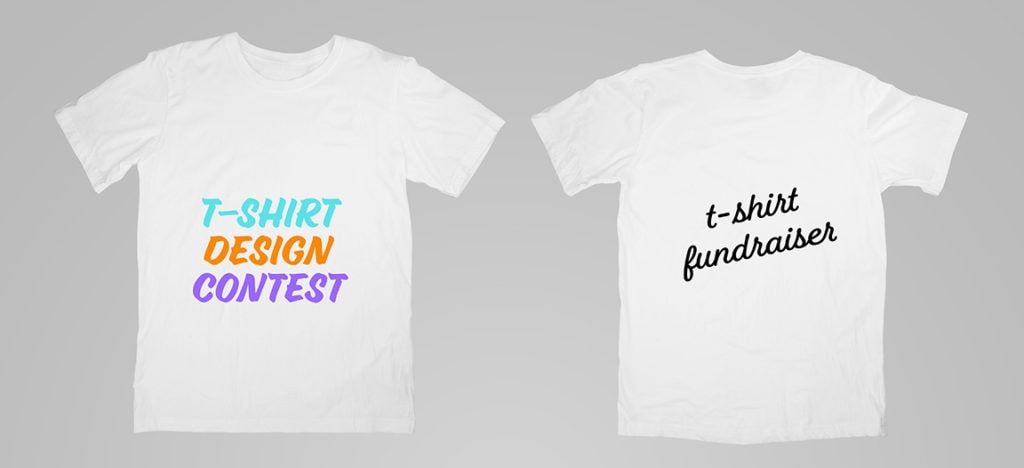 6. NEW T-shirt Fundraising Idea: Subscription Memory Box
This is a terrific idea for an elementary school classroom fundraiser where students share what they learn and accomplish in class with their families and friends. The idea is to send a paid subscription box (similar to a Bark Box for dogs) to each subscriber (parents, grandparents, relatives, and friends) twice a school year. The recipients get a T-shirt designed by a student with each box.
Set up the T-shirt design contest
The first step is to set up a T-shirt design contest among the students. You can name your program anything you'd like, but make it something like feedback or learning with my fam, etc. The emphasis should be on the relationship between the students learning and the parent's listening. Once you determine a name for your program, you can launch the T-shirt design contest so kids can get to work.
Sell the subscription memory box program
Start your campaign at the beginning of the year to sell subscription boxes to parents, grandparents, relatives, and friends.
The contents should promote and improve communication among teachers, students, parents, family, and friends. Additionally, this innovative project will turn heads in school administration offices, and focus on communication with parents regarding student development, while raising money for the classroom.
Create a flyer for the students to take home to explain to their parents.
To set a price for the subscription, consider the costs related to the items in the box. The T-shirt should be the only cost. Double the cost of the T-shirt to get the resale price. If you paid $15 for the shirt, sell it for $30, and have 30 students in your class whose parents buy the subscription box, that's $450 for your classroom. (Do the same thing for the second half of the school year.)
What to include in the subscription box
We recommend the following but add/subtract anything you'd like.
• T-shirt
• Drawings and bookmarks made by the kids
• Homework, school papers, spelling tests, other tests, quizzes, etc.
• Teachers can create their own "Special Student Award" and be sure every student has one of these in their boxes. Describe what makes them special—let parents see what you see in their little angels!
• Box or bag to put everything in (you might partner with a local box company or local store to provide the boxes for you in exchange for having their name and logo information on promotional materials and website, auction site, or page)
• Consider putting stickers on the outside of the box as decoration to make it look appealing, school-ish, and fun. Or have the kids decorate it
• Kids can make cards for their parents to include
• It's possible that the contents will fit in a large envelope rather than a box
• A letter from the student thanking the person for subscribing and telling them what they hope to achieve this school year, their favorite subjects, what they want to be when they grow up, and a picture they drew of the recipient and family. This will give the recipient a look at their handwriting, thoughts, and imagination to save and compare at the end of the school year's next subscription box.
• If you have a syllabus, include it in the box so the recipients and the students can discuss it during the year.
• Any important instructions or guides the teacher would like the parents or other family to see.
Make it easy for parents to subscribe
Use CharityAuctionToday's online auction platform to display all the entries into the T-shirt design contest to make voting easy. Once you've selected a winner, switch gears and put the subscription box on the platform and have the parents, grandparents, relatives, and family friends purchase the subscription here. They can also select a size for their T-shirt. How easy is that?
7. Community-wide T-shirt Design Fundraiser
Engage your community with a T-shirt design contest. Whether you're a nonprofit helping homeless families or a third-grade classroom, you can host a T-shirt design contest for the designers to create a T-shirt design related to an event you're having or as a design to represent your nonprofit.
Use social media to promote the contest. Let media outlets know what you're doing; they like to pick up feel-good stories.  Members of the community display their original designs while you choose a winner. The winning design is printed and produced in collaboration with a T-shirt company. Individuals can express their artistic talents while supporting a specific cause, project, or organization. Be sure to promote the winning design on social media as well.
Again, CharityAuctionsToday's online auction platform is a terrific way to display the design contest entries for voting, and once a winner or winners are selected, sell them there too.
 Ready, Set, Go
So, what idea did you pick? Whatever you decide, a t-shirt fundraiser is always a lot of fun to put together and even more fun for the participants. Have fun, promote the heck out of your fundraiser, and feel free to take a quick test drive of CharityAuctionsToday's online auction platform to help raise money for your t-shirt fundraiser.
---
Go Ahead, Take a Test Drive!
Have your auction site ready for bidding in 5 minutes.
Not kidding! Give it a try by taking a test drive of our auction platform. It's easy to use and does not require a credit card to begin.