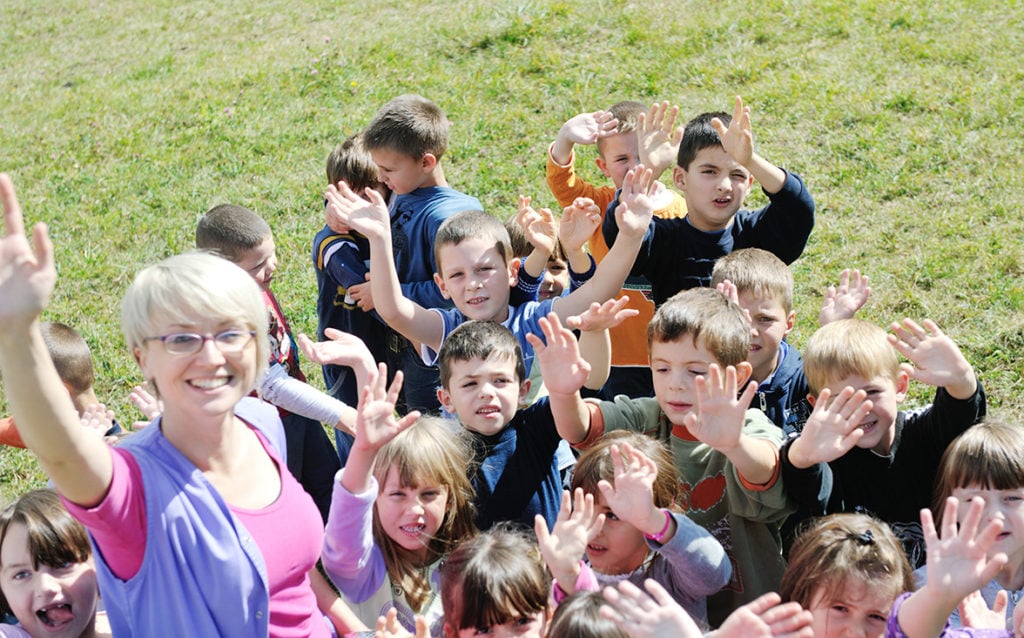 More Than Just a Way to Raise Money
School fundraising ideas are more than just a way to raise money for various school needs. They are also valuable opportunities for students, teachers, parents, and the community to work together and learn from each other. The 21 fundraising ideas for schools you're about to discover benefit schools in other ways, like strengthening communitiy ties, offering learning opportunities, and fostering a sense of pride and accomplishment. 
We have some broad tips that apply to pretty much every school fundraising idea:
Make tech work for you: Make sure you have an online donation page or portal that's easy to find and use. Make it as simple as possible for people to donate to your school: this page or portal needs to be mobile-friendly, so people can give from their phones.
Make it evergreen: Keep that page or portal up even after your event is done, so that people can donate all year round. Consider creating an Amazon Wishlist for the items your school will need more of every year.
Make it accessible: If you plan a bake sale, make sure you have some options that avoid common food allergies. And make sure that people feel welcome to bring recipes from their culture. Color runs should be set on courses that mobility devices can navigate, and movie night should include subtitles. It's important to show kids that all of their peers and community members deserve to be included.
This isn't just another list of school fundraising ideas. They're a treasure trove of activities that build character, strengthen relationship building, and foster learning about responsibility and leadership. Enjoy your fundraising adventures and all they have to offer beyond money!


21 School Fundraising Ideas that Rock!
Cookie dough sale
Sell cookie dough to parents and community members who can enjoy freshly baked cookies anytime. You can buy cookie dough in bulk or request donations from local bakeries. You can also turn this into a peer-to-peer fundraiser by creating online fundraising pages for each student or class.
What a great fundraiser idea for school age kids! This website helps parents and schools preserve children's artwork and support art education through custom-printed keepsakes. You can choose from various products, such as mugs, magnets, ornaments, and more, that feature your child's original artwork. You can also create an online gallery and order online.
Bake sale
Bake delicious treats like cookies, cakes, brownies, muffins, and pies and sell them at school or online. You can also request donations from parents, teachers, and local businesses. Make sure to label your baked goods with ingredients and prices for this traditional school fundraising idea!
Game night
Host a fun night of board games, card games, trivia, bingo, or video games at your school or online. Charge an admission fee or ask for donations from participants. You can also sell snacks and drinks or have a raffle or silent auction.
Pajama Day and pancake breakfast
Let students come to school in their pajamas for a day and serve them a delicious pancake breakfast. Collect donations from parents and students in exchange for this special treat. You can also have a contest for the best pajamas or the most creative toppings.
Virtual trivia night
Test your supporters' knowledge and have fun with a virtual trivia night. You can use a platform like Kahoot or Quizizz to create and host your trivia questions and charge a fee for participants to join. You can also offer prizes for the winners, such as gift cards or merchandise. Of all the student fundraising ideas, this one is a consistent earner.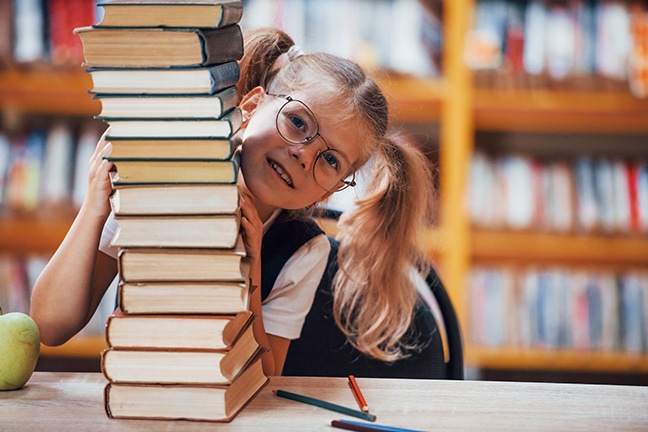 Read-a-thon
Encourage students to read as many books as possible in a given time and ask them to collect pledges from sponsors for each book or page they read. You can also have prizes for the most books read, money raised, or genres explored.
Fun run or walk-a-thon
When we think up school fundraising ideas, there are so many that deal with running that walkers sometimes get left behind. But not with this school fundraising idea. Organize a fun run or walk-a-thon where students run or walk a certain distance and collect pledges from sponsors for each mile or lap they complete. You can also have prizes for the fastest runners, the most laps completed, or the most money raised.
Virtual scavenger hunt
Add some excitement and adventure to your fundraiser with a virtual scavenger hunt. You can create a list of items or tasks your supporters must find or complete within a specific time limit. For example, you can ask them to find something blue, take a selfie with their pet, or make a funny face. Then, you can ask your supporters to submit their photos or videos as proof and award points for each item or task. You can charge a fee for participants to join the scavenger hunt and offer prizes for the winners.
Need a fundraising thermometer?
Download our fundraising thermometer image and add it to your poster in your classroom or school entrance to show your progress.
Color run
Add some color to your fun run or walk-a-thon by throwing colored powder or water at the participants as they run or walk. You can also have stations where they can spray paint their hair or clothes with washable colors. Charge an entry fee or ask for donations from participants and sponsors.
Art show
Showcase the artistic talents of your students by hosting an art show at your school or online. You can display paintings, drawings, sculptures, crafts, photos, or any other type of art your students create. You can also sell or auction the artwork to raise money for your school.
Talent show
Let your students shine by hosting a talent show at your school or online. You can have categories like singing, dancing, comedy, magic, or anything else that showcases their skills and talents. Charge an entry fee or ask for donations from participants and audience members. You can also have judges and prizes for the best acts.
Movie night
Turn your school auditorium or gym into a movie theater and screen a popular or classic movie for your students and their families. Charge an admission fee or ask for donations from attendees.
Dessert Day
Your class can bake treats at home, or you can buy desserts, or both. A simple way is to take the desserts for a trip around the school on a cart. Students pay a small amount to enjoy the treats of their choice.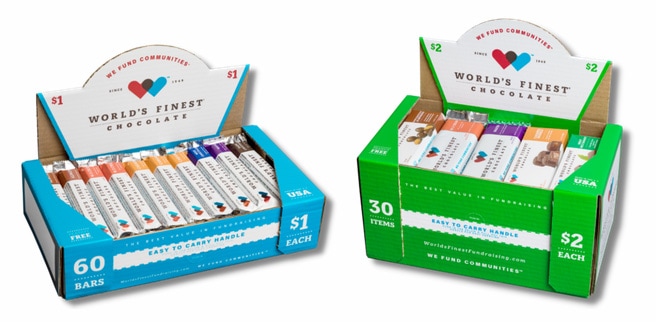 Candy bar sale
Contact a fundraising company that offers chocolate bars your students can sell. Students can sell to friends, family, and neighbors. This school fundraising idea helps students develop their leadership, entrepreneurship, and marketing skills.
Online Garage Sale
Great way for all the grades to pitch in garage sale items to be auctioned off online with CharityAuctionsToday's auction software.  It's a fun and smart way to conveniently make easy money, selling no longer needed items in everyone's houses and garages.
Kids cookbook
What a treasure this is. Another terrific school fundraiser idea! Have moms write down their kids' favorite recipes. Gather all the recipes to have them designed and printed at a print-on-demand website like CafePress to have them printed.  Determine the price of the cookbook and start taking pre-orders. Pro-tip is to have a web page where the cookbook can be ordered directly.  While you're at it, have a contest for students to design the cover.
Fridge Magnets
Make your school fridge magnets with the name of your school, school mascot, sports logo, or funny sayings. Visit websites such as CafePress, where you can try their print-on-demand service to design and purchase stickers in bulk at low prices.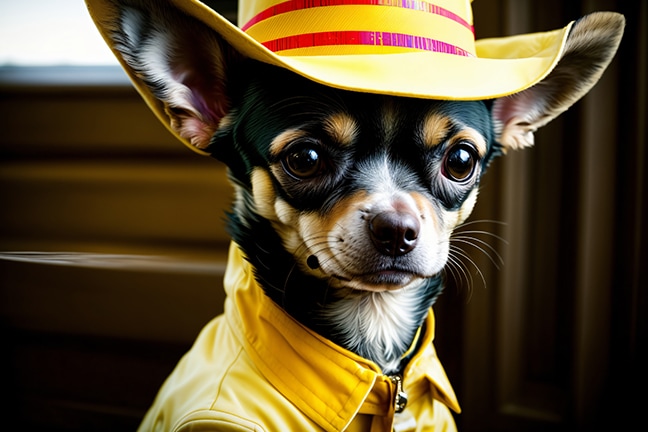 Pet Costume Pageant
Pets of teachers and students dress up and vie for the King and Queen of animal beauty. Local pet stores are prime sponsors. Charge an entrance fee. At the event, sell drinks and snacks. Of all our school fundraising ideas, this is the staff's favorite.
Good grades
Everyone wins in this dual-purpose fundraiser that ensures good grades and fundraising!  Create a pledge sheet for students to approach donors (mom, dad, grandparents) and ask for a donation for each A or B. The higher the grade, the higher the donation. This ensures that students put extra effort into their studies to get good grades. Good grades mean more funds.
T-shirt design contest
Hold a contest for students to design a t-shirt that promotes the school or a school program. After selecting the winner(s), sell the t-shirts at a print-on-demand shop like Printful. Consider selling matching fridge magnets. This is one of our team's favorite fundraising ideas!
Good Luck!
We hope you picked up an idea or three from these school fundraising ideas. The great thing about these is that you have enough leverage that you can put as little or as much into these ideas as you want. Not everyone is trying to make the big fundraising dollars; some are doing it for camaraderie. Go as fast or slow as you'd like on our school fundraising ideas. All the best!
Pretty great school fundraising ideas, right?
---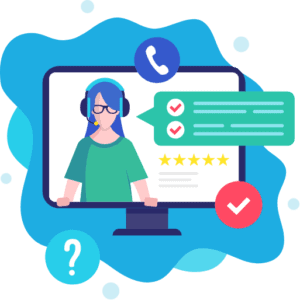 Try the Online Garage Sale or an Online Auction to Jump-start your Fundraising today!

📞 844-234-2335 Mon-Fri 8am – 9pm CST
✉️ support@charityauctionstoday.com