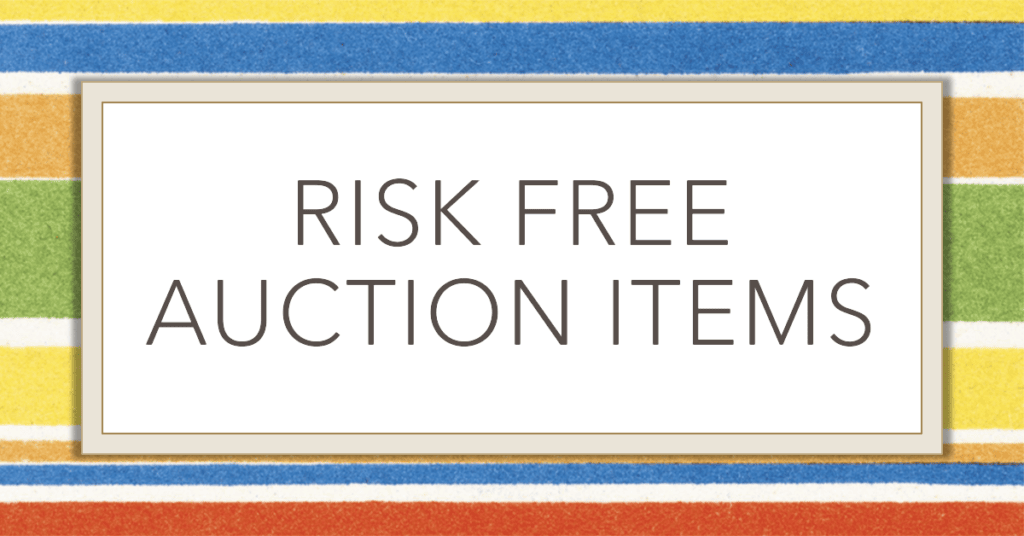 You've probably noticed county fairs or special events giving away some big ticket items. Sometimes they raffle off a motorcycle or an ATV and sometimes they raffle off a trip to an exotic location. These types of items draw a lot of attention and sell lots of tickets, but the organization takes a huge risk. The premise is easy, sell enough tickets to cover the cost of the item and then some, but that doesn't always happen! Many times the charity fundraiser is lucky to break even.
What if the items to be auctioned were risk free? Risk free auction items are the latest idea in fundraising, but where do you find them? What is a risk free auction item? Imagine finding a catalog of risk free auction items that can potentially bring in twice their face value?
Of course, you can always ask for a donation from a local business. Most businesses would prefer to donate merchandise or gift certificates than cold, hard cash because gift certificates might never get cashed. If they are used, the person cashing them will likely buy more than the amount of the certificate, so it is a good way to get new business. Finding risk free items in this way takes a lot of upfront work, fanagaling, and precious time. You never know how much you will get. It is likely that you won't get an item with a large value and, if you do, most donors won't bid much more than face value.
Risk free items are items that cost the fundraiser nothing. Nada. Zilch. If the items doesn't sell, it goes right back into the pool. If it does sell, you get all of the profit. You can't lose. Only the portion of actual cost which is far less than face-value, is required to be paid after the auction closes.
Your organization is only required to purchase packages that reach a minimum auction price set by you and your Winspire Team Member, giving you control over how much you make. If you don't get the minimum bid on a package, you don't pay anything to Winspire. This guarantees you profit on items sold and makes all our packages 100% Risk Free.
For example, a company donates a get-away vacation package at a deep discount of $1500. The trip's actual worth is $3000. In a well publicized auction,the winning bid comes in at $3500. You've just made $2000 for your fundraiser! Let's say the opposite happens, the highest bid is $1000. No one wins because of the minimum bid requirement and you aren't out the cost of the package ($1500). The down side? You don't raise any funds for your charity with this item.
Sometimes packages are so popular you have donors who want to buy them straight out. Our partner's' unique experiences can be sold multiple times (many with no limit) for those who regret they didn't bid or were unable to attend.
We've partnered with Winspireme to help you find the perfect risk free items for your charity auction. How does it work? Read their blog on "Reasons to Use Risk Free Auction Items".
There are other advantages to no chances auction items. Let's say, someone didn't come through on their promise to donate a large ticket item. You were counting on the funds for this item. Without it, your fundraiser is a bust. Hop over and scroll through our list of risk free items for auction. These items are so exciting that everyone will wish they could win the auction. See how easy that was. Crisis averted.
To be sure you are savvy with your fundraiser, we've come up with a definitive check list to make sure your risk free auction is a success:
– Add at least 20% to the non-profit cost.
– Use social media like Facebook to advertise your auctin, and ask your community to share on their pages too.
– Don't list more than 3 or 4 items.
– Make your auction global.
– If one item has multiple bids, contact the other high bidders and offer them the same package at the winning bid price.
– Pick one highball item.
Log in and start adding risk free auction items to your auction today.
Don't have an account yet?
You can set up your first auction and add risk-free items in as little as 10 minutes.