Knowledge Base > Auction How-To's > Edit my Items in Bulk
Do you need to make edits to multiple items at once or bundle items? You can do so on our platform provides many options to accommodate bulk changes. These options are available from the "Items" page.
Step 1) Navigate to the All Items page.
Step 2) Put a check next to each or all item(s) you would like to bulk edit.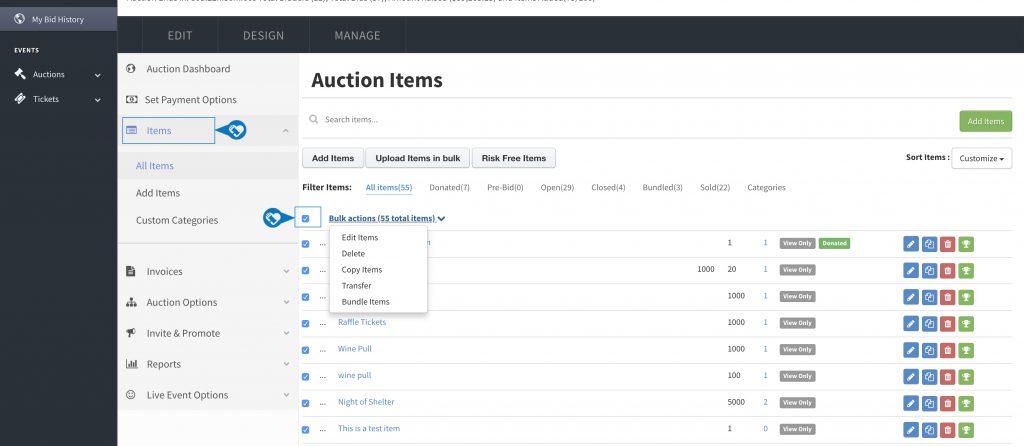 Edit items – Select the items that need to be edited by clicking on the box next to the word "Order" and this will change to "Bulk actions" in the pull down options will appear.
Bundle items: To combine multiple items and bundle as one singular item for bidding.
Copy items: If you want to create an exact replica of an item without having to fill in all the information again, use the copy item option.
From the screen below you have options to change the Listing Type:
Online auction: Making items available for bidding, this is your standard online or mobile auction setting. Our system will choose a winner and create an invoice once the end time arrives.
View only: Used as an online catalog to allow bidders to preview items prior to a live event. This type also allows you to setup items as a pre bid item if you plan to print bid sheets.
You can bulk edit items to be applied during specific time blocks.
Update Starting Bid and/or change items to Buy it now
Decide if Blind bid will be on. More information on blind bid Here.
Change quantity available of item
Add shipping cost (if needed)
Update Bid Increments and enable Popcorn Bidding
You can Hide items in bulk