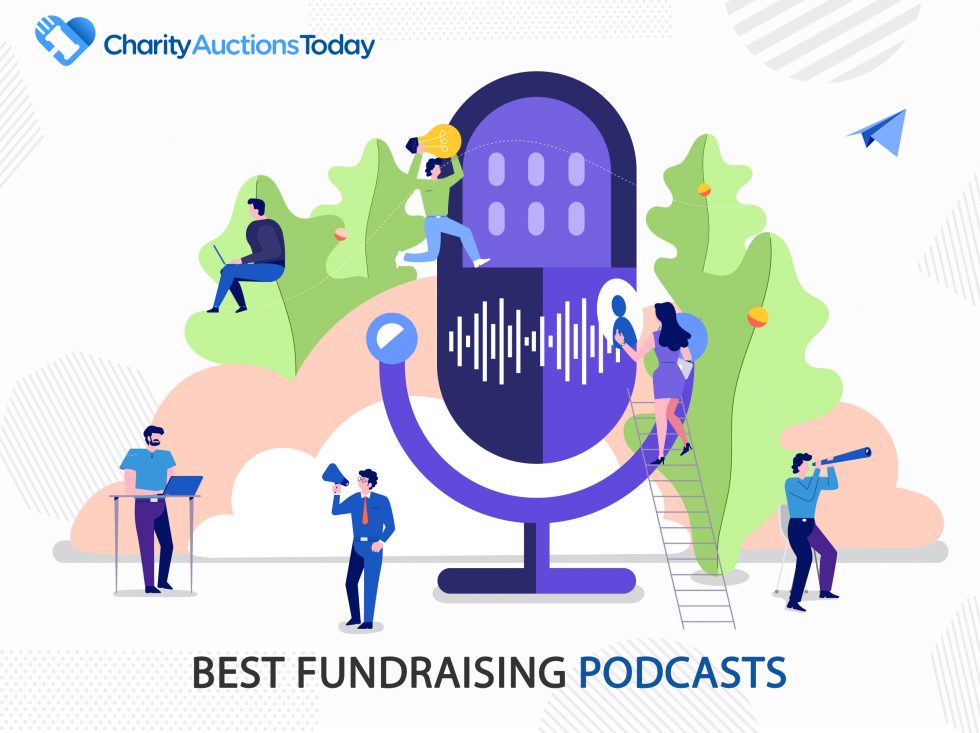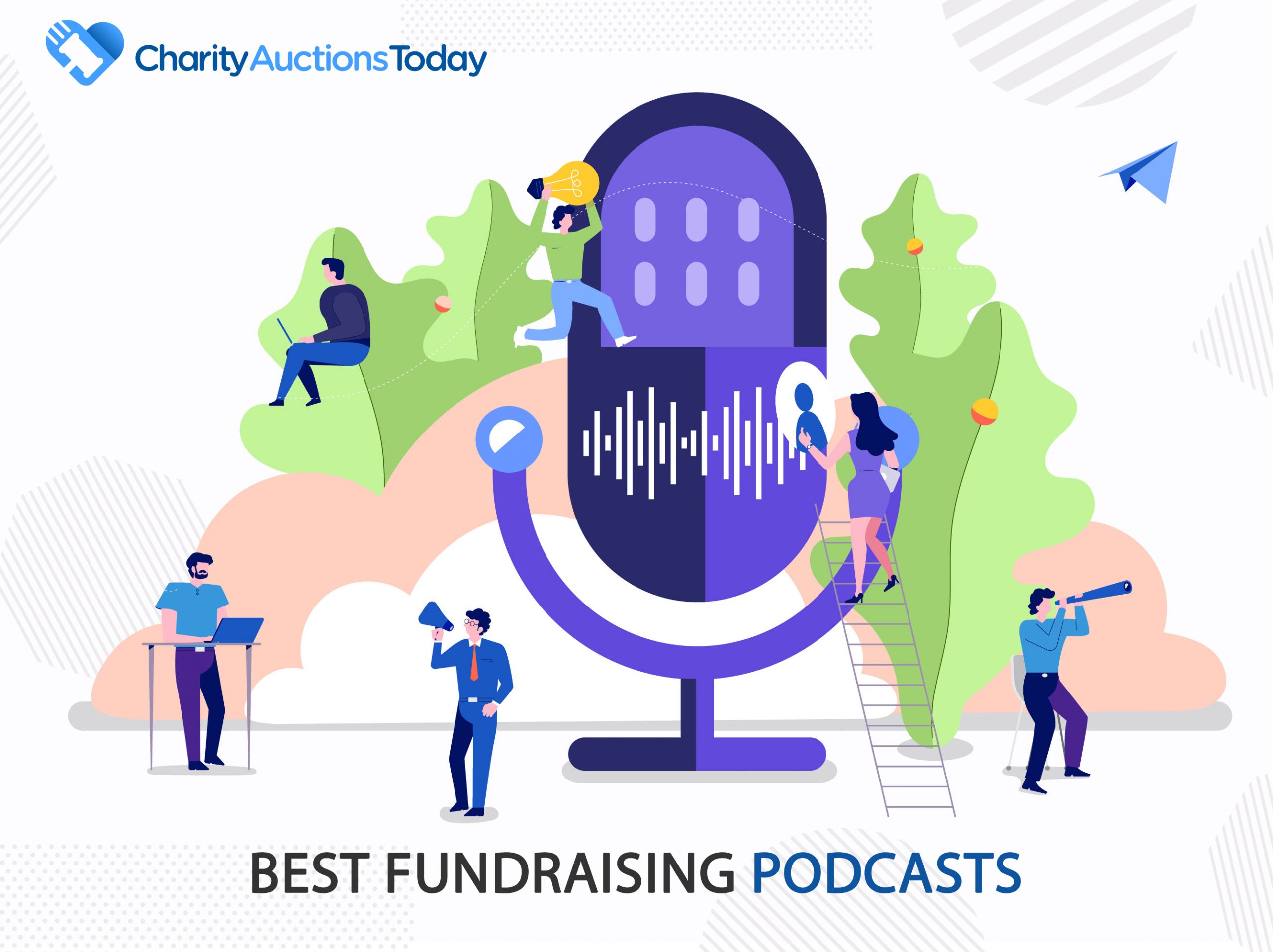 Best fundraising podcasts generate exceptional fundraising ideas, and have the power to give each day new learnings and insights. When you are busy learning new tools and new approaches to fundraising, you will stay on top of your game! CharityAuctionsToday.com compiled this list of best fundraising podcasts so you can nourish yourself while you are building your charity auction or conducting other day-to-day fundraising approaches.
Podcasts are like ripe fruit you can pick each week to upgrade your skillset and discover new ideas.
New fundraising ideas: podcasts are the perfect medium for inspiring new successes in fundraising even during tumultuous times.
1- Prospect Research #Chatbytes with Jen Filla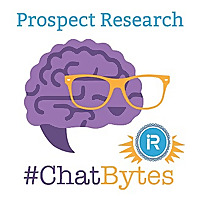 Number of episodes:78
Host: Jen Filla
About
Prospect Research #ChatBytes interviews the leaders in nonprofit fundraising research to bring you expert knowledge and new ideas.
Prospect research professionals share their stories, tips, and commentary on topics that affect our fundraising work and our lives. We also sneak in guests from outside our field to shake up our perspective on fundraising and prospect research.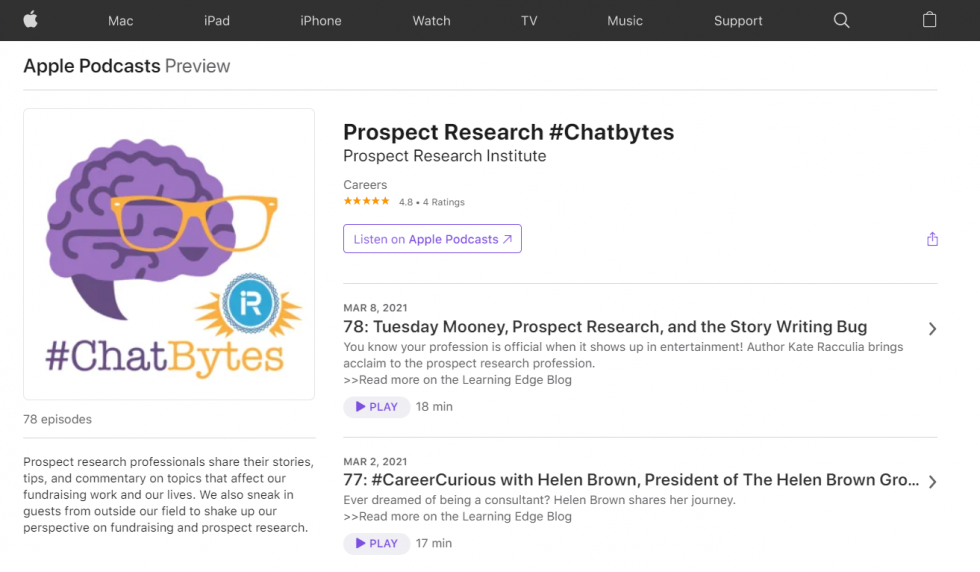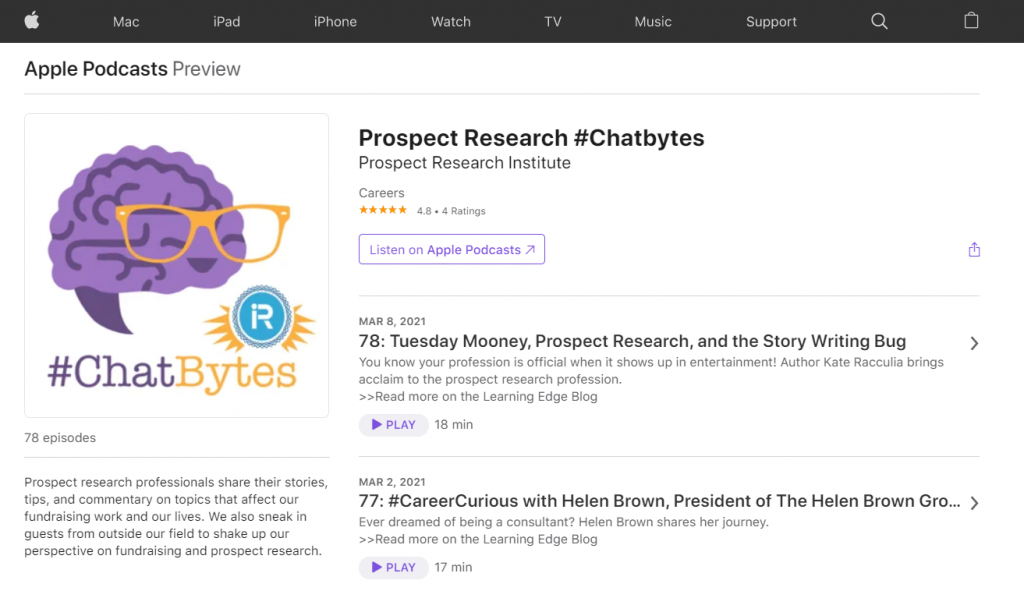 Best episode
55: Accelerate Your Fundraising in Some Surprising Ways With Clean Donor Data Chris LoPresti shares some of the latest technology to keep your donor data clean and productive.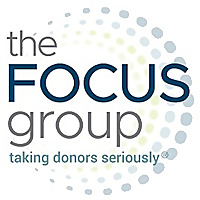 Number of Episodes: 28
Host Brad Layland
About
The Taking Donors Seriously is a time-tested, sustainable framework for relational fundraising. Hundreds of nonprofits and schools have used TDS over 30+ years to successfully raise the funds that are critical to their missions. Brad Layland, CEO of The FOCUS Group shares insight, stories, and tips on this podcast.
with the amazing experience that is in this podcast, get the most useful tips for fundraising, that will give you fundraising ideas to excel with your fundraising campaign.
Best episode
Taking Donors Seriously – TDS – Letting Donors Be Who They Ar‪e
In this episode of the TDS Podcast Brad and Max discuss how best to raise money and spirits in these scary times. Stay safe everyone; you can do this!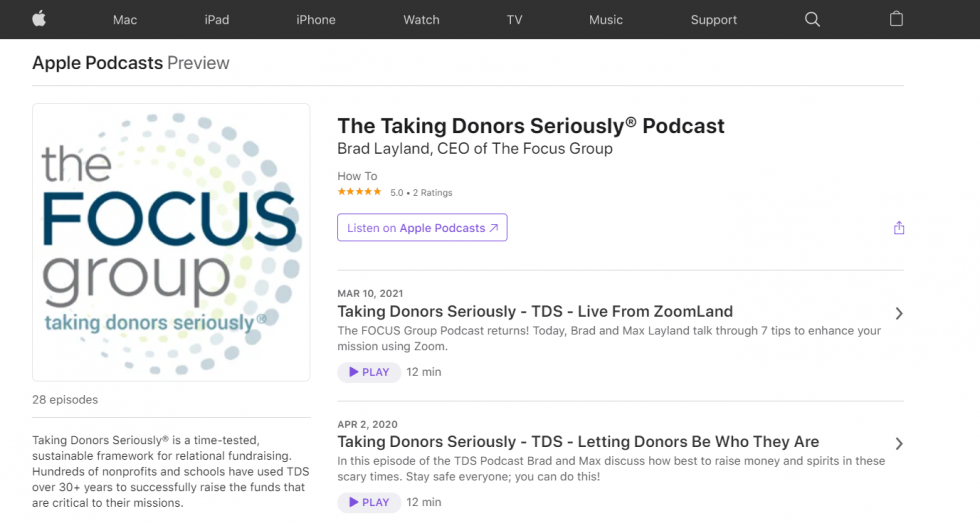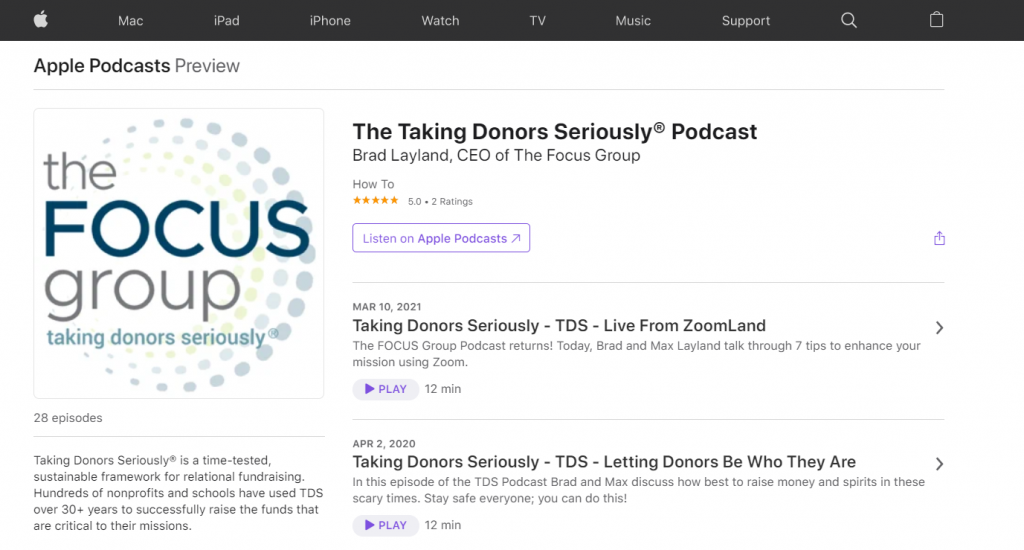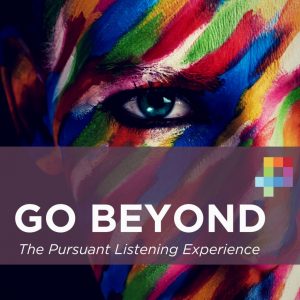 Number of episodes: 85
Host Pursuant fundraising agency
About
If you're in the nonprofit sector, this show is a must listen, The host and guests always share helpful insights and actionable ideas, Great content, well produced, solid guests, each episode has take-away-able action items. Pursuant is a fundraising agency leveraging data, experience, and creativity to help you change the world.
Built by fundraisers and marketers for fundraisers and marketers, we exist solely to help determined nonprofits make an even bigger impact in the world.
Best episode
Capturing Attention In This New Age
We live in a loud, digital world. Capturing the attention of your supporters is more challenging than ever before. In this episode of Go Beyond, Pursuant's Taylor Shanklin sat down with Ryan Quinn, CEO and Founder of Brightguest, a platform focused on creating unique and personal digital experiences. Taylor and Ryan discuss the craft of capturing attention.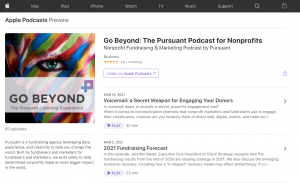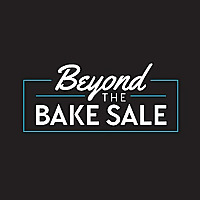 Number of episodes:45
Host Christian Robillard
About
Great podcast to give you fresh and innovative ideas for fundraising initiatives, Christian and his interviewees does a great job of telling stories that drops gems of wisdom, At Beyond the Bake Sale, they are all about how you can give, and raise, more time, talent and treasure for the causes you care about.
They share some tried and true tips, tactics, and tools to help you take your fundraising and cause marketing "beyond the bake sale" without having to have to spend a ton of money to do it, or even having a ton of experience.
Best episode
The $200,000 Birthday Party with Logan Hussei‪n
Logan Hussein was born with a collapsed lung and was immediately taken to CHEO's Neonatal Intensive Care Unit (NICU) in a specialized incubator.
Logan's ultimate goal is to raise $200,000 for a Neonatal Transport Incubator.
Logan is the youngest recipient of the CHEO Foundation's ORDER of the GOOD BEAR. At the 2019 AFP Ottawa Philanthropy Awards, Logan was awarded the Youth Philanthropy Award. Here's how he raised $200K in one day (well, sort of).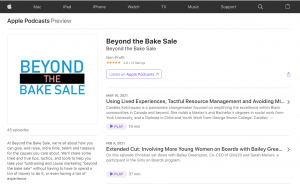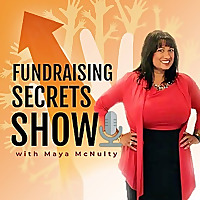 Number of episodes: 94
Host Maya McNuity
About
In the non-profit sector, Maya's podcast is a must-listen, such great content and fundraising ideas shared, Fundraising Secrets brings together the best in the nonprofit sector. Fundraising Secrets will share ideas, teach best practices, learn and listen to the fundraising needs of the nonprofit markets.
Host Maya McNulty is an award-winning business strategist, author and philanthropist.
Best episode
Episode 38 Overcome Fear
Three ways to overcome fear every organization needs to hear. More money equals more programs. Asking for more money from people you will receive. Remember it's the job of everyone in the organization to ask for money.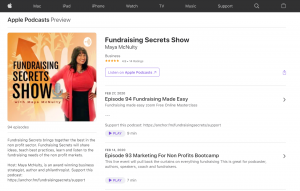 Number of episodes: 48
Host Powered by ViTreo
About
Braintrust Philanthropy is a very informative and amazing podcast to listen to, with many great episodes weekly to tune in for, BrainTrust Philanthropy Powered by ViTreo. Brings you free flowing conversations with top leaders in fundraising, philanthropy, and the nonprofit sector so that you can become a bolder leader, build better relationships, and raise more money for your organization.
Sit back, relax, and enjoy as we share ideas that will transform your nonprofit.
Best episode
Fundraising in the Time of COVID-19
In this episode, we spoke with Kay Sprinkel Grace, author and this year's AFP Global Fundraising Professional of the Year; Angela Chapman, President & CEO, Vancouver General Hospital and UBC Hospital Foundation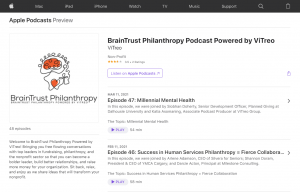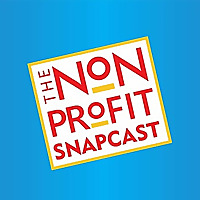 Number of episodes:185
Host Mickey Desai
About
Whether you're a well-established fundraiser looking for tips or simply interested in learning more about philanthropy and some of the amazing non-profits out there – this is a must-listen podcast for you. Nonprofit Management isn't easy. That's why they are here to help. The Snapcast is an interview-based podcast focusing on issues in nonprofit management—from board development, to fundraising, to volunteer management, and everything in between.
They hope to inspire you and to illuminate the path to meeting your mission goals.
Best episode
Allison Budschalow – Grassroots Fundraising
This week we get to talk with Allison Budschalow. Allison has spent over two decades working in the nonprofit sector, based in Philadelphia from which she hails. For the past 10 years, she has been the development director for community based nonprofit organizations, effectively increasing revenue with particular emphasis on diversifying funding streams and securing grassroots fundraising efforts with individual donors of all sizes.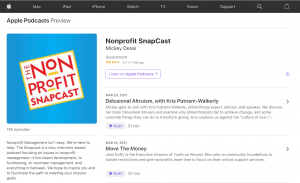 Number of episodes: 53
Host Lisa Clark
About
If you want value in every episode, with great clarity and insights on fundraising, this podcast is great for you, If you're a nonprofit feeling stuck on how to reach your fundraising goals, tired of hosting events that fall short in financial return or feel too nervous to even try one, then this podcast is also for you.
Learn the A-Z of Fundraising Events, so you can finally generate 6-figures of revenue and get a real ROI!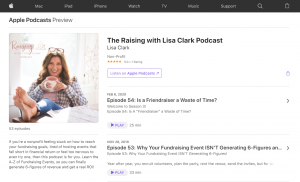 Best episode
Episode 53: Why Your Fundraising Event ISN'T Generating 6-Figures and 3 things you can do to change that foreve‪r
I want you to know that hosting a 6-figure fundraising event is simpler than you think. Notice I didn't say easier so let's be clear about that. And for the next 30 minutes or so, I'm going to dive into three things you need to be doing in order to break that 6-figure ceiling.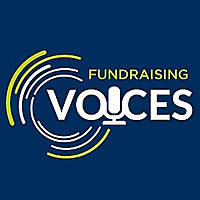 Number of episodes: 100
Host Brian Gawor
About
Whether you're a well-established fundraiser or simply interested in learning more about philanthropy and some of the amazing non-profits out there – this is a must-listen podcast for you, This podcast features conversations with fundraisers, researchers and thought leaders to help propel your fundraising results.
Brian Gawor is dedicated to developing the love of philanthropy and sharing ideas for people to better help people.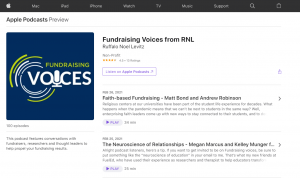 Best episode
Shaun Keister – Full Steam Ahead Donor Engagemen‪t
On this episode, Shaun Keister, Vice Chancellor for Development and Alumni Relations at the University of California, Davis talks to us just a few days before their annual giving day. We discuss maintaining relationship with donors amidst the COVID-19 crisis, how donors are responding, and what we've learned from previous financial crises.

Number of episodes:181
Host Mary Valloni
About
Mary is an invaluable resource for nonprofit and ministry fundraising. You'll hear ideas and learn about mindsets that you haven't heard from most of the other experts in this field, Fundraising Freedom is a growing community of men and women who are raising funds to support the causes they love. In each episode, fundraising coach and award-winning author, Mary Valloni, takes a deep dive into topics like volunteer recruitment, event planning, major gift fundraising, and personal development.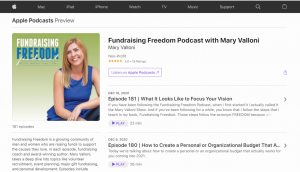 episodes include featured interviews with top experts in each of these areas.
Best episode
Episode 181 | What It Looks Like to Focus Your Vision
If you have been following the Fundraising Freedom Podcast, when I first started it I actually called it the Mary Valloni Show. And if you've been following for a while, you know that I follow the steps that I teach in my book, Fundraising Freedom. Those steps follow the acronym FREEDOM because what I want for you, and what I want for me, is freedom.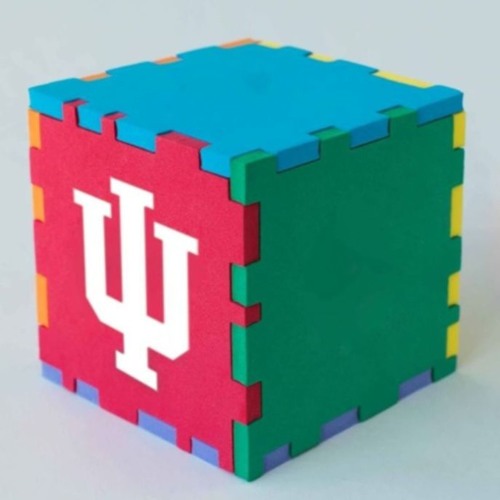 Number of episodes: 161
Host The Fund-Raising School
About
This is a great podcast covers fundraising and all the data and techniques that go into it, this 10 minute podcast provides fundraisers with the latest information in fundraising and philanthropy, Keeps you on the cutting edge and focused on the stuff that actually works and allows you to use data to guide your organization.
Be more informed and stay up to date with the First Day Podcast from The Fund Raising School!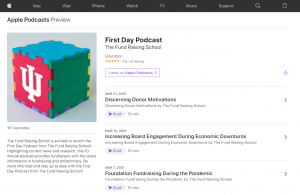 Best episode
Collaboration Among Nonprofit Organization‪s
This is a great episode because it explains how collaboration between nonprofit organizations can lead to more fundraising ideas and success by The Fund Raising School.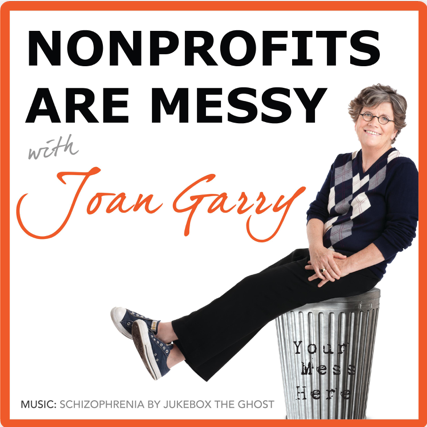 Number of episodes:133
Host Joan Garry
About
you will always find either motivations or tools to help you build and run your nonprofit. Very informative for leaders of organizations of all budgets, Hosted by Joan Garry, the "Dear Abby" of the nonprofit world, Nonprofits Are Messy is a discussion of the most pressing issues faced by nonprofit leadership. Joan and her guests tackle topics like the overhead myth, the best way to run special events, how to make a big fundraising ask, board-staff relations, and so much more.
At times hilarious, uplifting, and frustrating, the stories told in this podcast should feel very familiar to anybody working in a nonprofit today.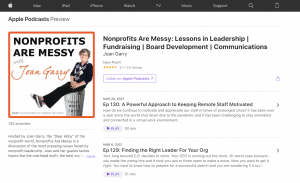 Best episode
Ep 86: An Artful Approach to Social Media (with Robin Cembalest)
this episode is one of the best because it is with Robin Cembalest that has more than 50,000 followers on Instagram (and growing), Described by artnet as "one of the leading lights of art-world social media," Robin Cembalest is a journalist and editorial strategist.
they discussed the most important elements for a successful social media strategy, how to best use social media to tell great stories, and how the various social platforms differ in their messaging and audiences.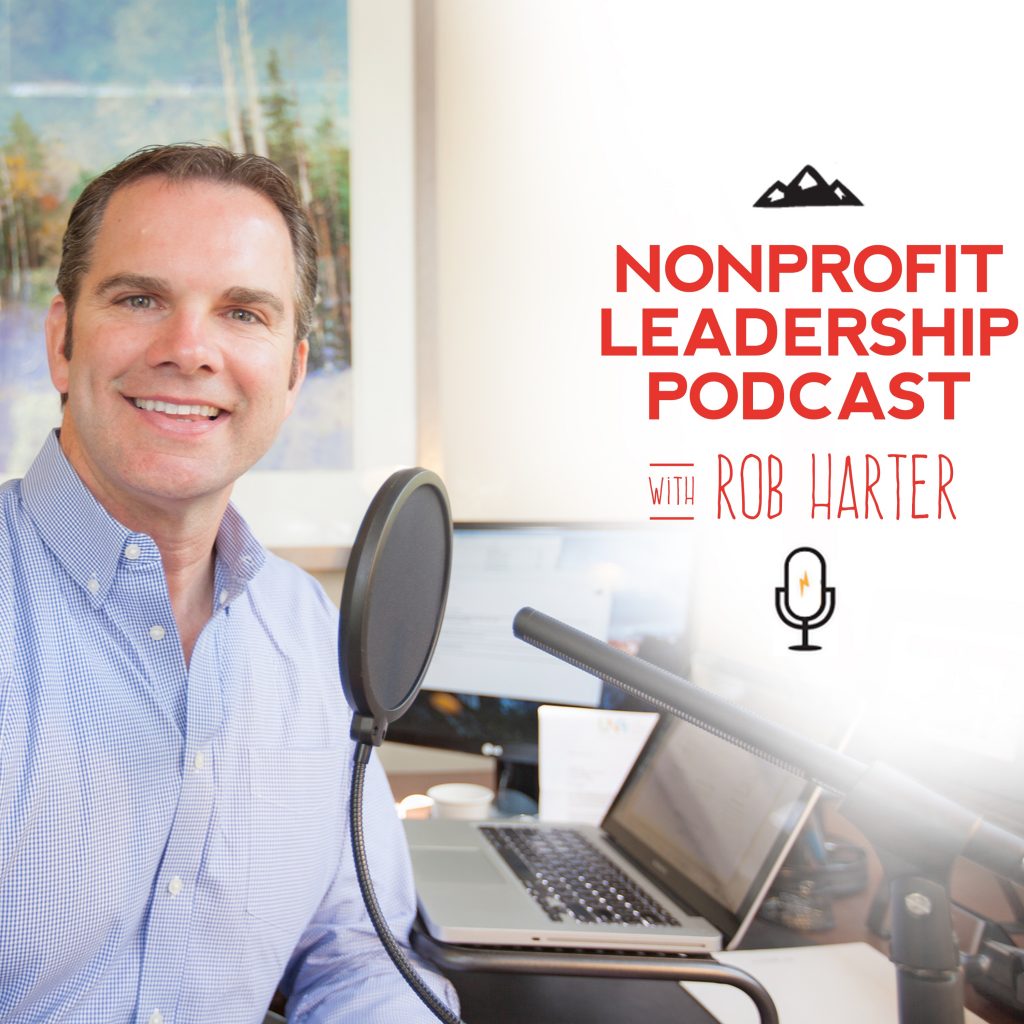 Number of episodes: 141
Host Rob Harter
About
The Nonprofit Leadership Podcast covers so many important topics and dives deep into crises facing our world. Each episode contains a wealth of information and actionable tips about how to improve and move forward, features discussions covering the most critical issues, trends and opportunities facing nonprofit leaders and those engaged in social innovation. Hosted by Dr. Rob Harter, in this podcast you will hear real stories from experienced leaders about what strategies and practices have made them successful.
learn not only what it takes to be an effective non-profit leader but to hear inspiring stories about people and organizations that are successfully making a positive impact in their communities.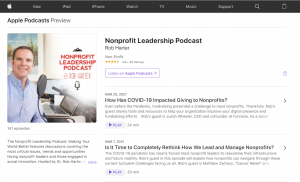 Best episode
Fundraising with Social Media
This is one of the greatest and most downloaded episodes in this podcast because it talk about all aspects of social media and fundraising, Whatever you think of social media, one thing we all know is that social media is ubiquitous in our culture. The question for today's show is: How can you and I maximize social media for the benefit of our nonprofit organizations? Specifically, online giving. How can you utilize social media to increase your funding?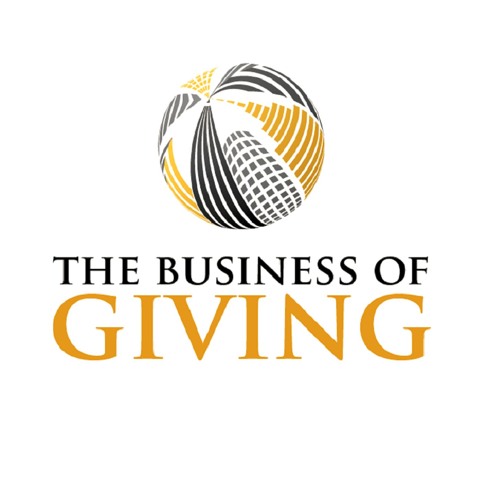 Number of episodes: 302
Host Denver Frederick
About
what is great about this podcast is that it contains a variety of episodes and the super practical takeaways – no matter the topic, you'll gain something from every episode, Denver puts extraordinary effort into finding guests that are authentic and truly care about being a positive force in this world, The program is the only show of its kind that focuses on solutions to today's complex social problems. What's working? Who are the changemakers? How is it all being financed?
The program addresses issues such as global poverty, affordable housing, clean drinking water,
medical breakthroughs, and matters related to education.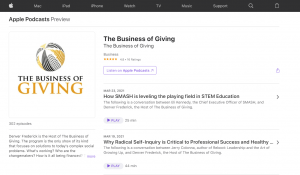 Best episode
Anne Marie Burgoyne, Managing Director of Social Innovation and Impact at the Emerson Collectiv‪e
this is one of the most downloaded episode of this podcast, packs a lot of great information from Anne Marie Burgoyne is a Managing Director at the Emerson Collective where she manages the investment process for non-profit and for-profit social entrepreneurs and innovators in a wide array of sectors, including education, immigration, social justice and the environment.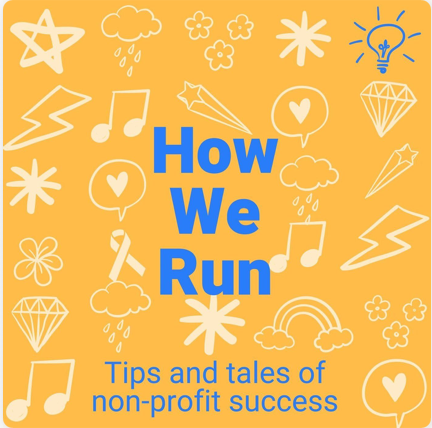 Number of episodes: 20
Hosts Julie Lacouture, Trent Stamp
About
Whether you're well established as a non-profit executive, or just getting started identifying the impact you want to bring to the world through your organization – this is a must-listen podcast for you, Tips and tales of non-profit success in fundraising, board development, and doing good. Each episode features an interview with a non-profit director about the tactics they use to raise funds and have impact.
Hosted by Julie Lacouture (non-profit consultant and founder of Good Ways Inc) and Trent Stamp (founder of Charity Navigator and CEO of the Eisner Foundation).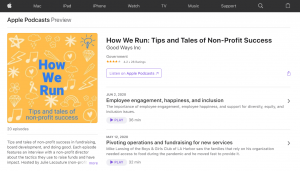 Best episode
What to Do When You Cancel a Fundraising Event
In this episode, Trent Stamp and Julie Lacouture talk to Michelle Gilmore of the Cystic Fibrosis Foundation and Darren Diess, a benefit auctioneer, about their advice to organizations faced with canceling a fundraising event. This episode covers moving events online, redirecting donors to your mission, and the right way to message to your guests.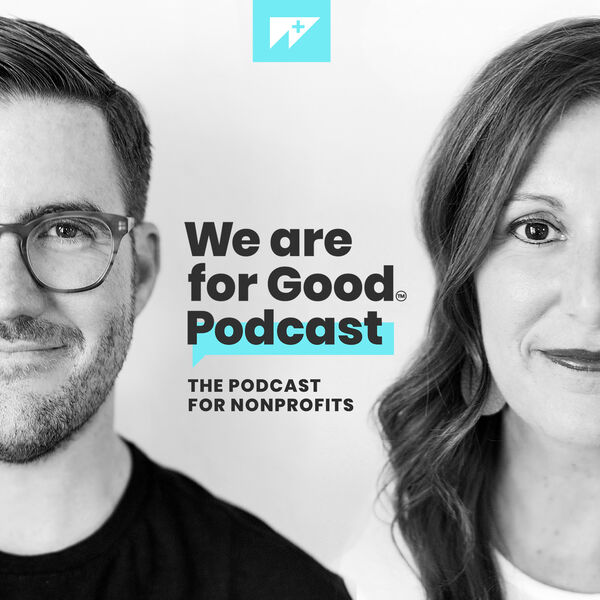 Number of episodes: 96
Hosts Jonathan McCoy, CFRE and Becky Endicott
About
have great insight, care deeply about humanity, understand fundraising, get the challenges of the nonprofit sector and bring tremendous hope and incredible guests, Join Jonathan McCoy, CFRE and Becky Endicott, CFRE as they learn with you from some of the best in the industry; sharing the most innovative ideas, inspiration and stories of making a difference.
Get cozy, grab a coffee, and get ready to be inspired. We are for good. You in?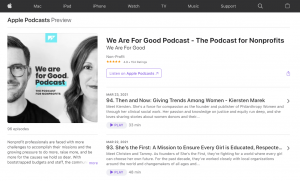 Best episode
94. Then and Now: Giving Trends Among Women – Kiersten Marek
Meet Kiersten. She's a force for compassion as the founder and publisher of Philanthropy Women and through her clinical social work. Her passion and knowledge on justice and equity run deep, and she loves sharing stories about women donors, and their allies who are advancing social change. We're talking 2021 women giving trends and discussing the intersection of philanthropy and gender equity.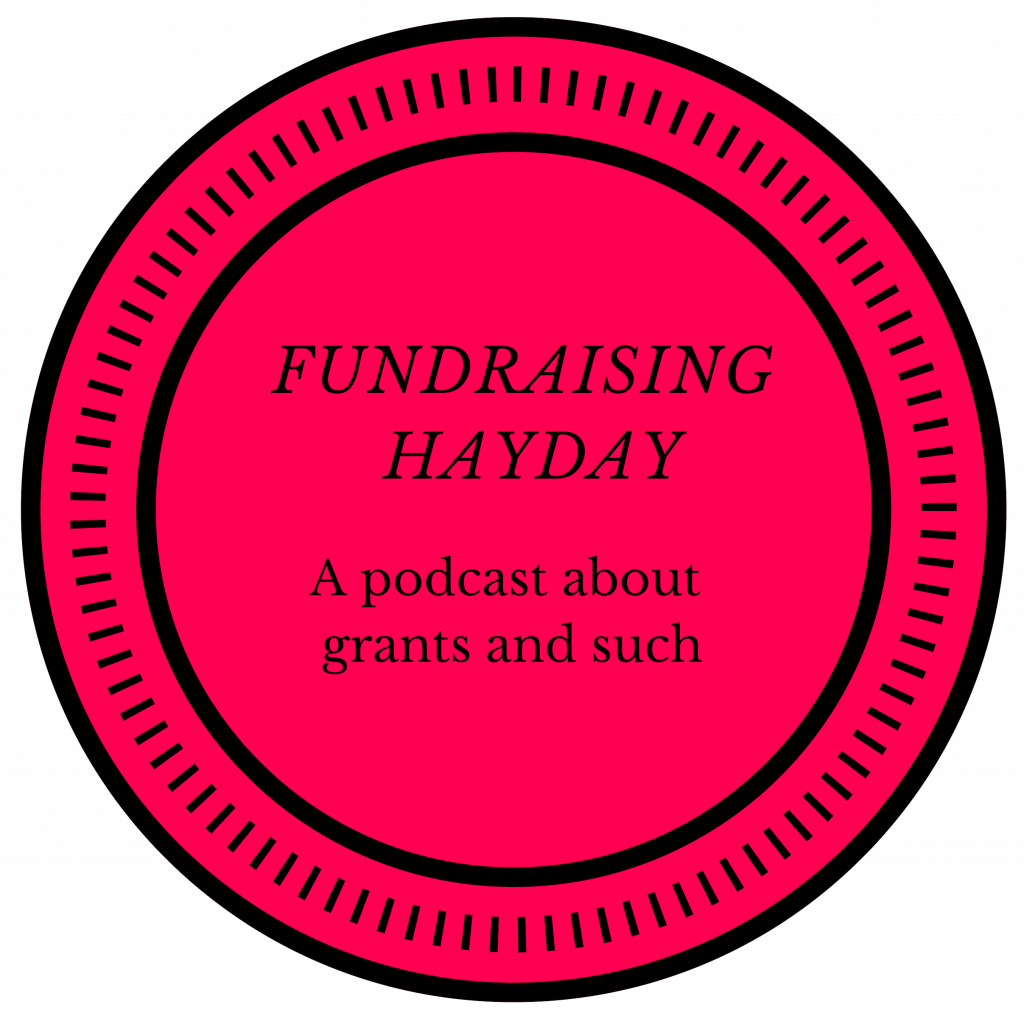 Number of episodes: 55
Hosts Amanda Day and Kimberly Hays
About
Grant information can be dry, but Kimberly and Amanda deliver it with wit! Informative and helpful for anyone who wants to learn more about nonprofit fundraising, Fundraising HayDay is a wonderful addition to the professional development space for grant professionals/grant writers. Whether brand new or more seasoned, this podcast will provide best practices as well as context with some real-world experiences.
Kimberly and Amanda perfectly utilize humor while delivering a solid education about the world of fundraising & grants.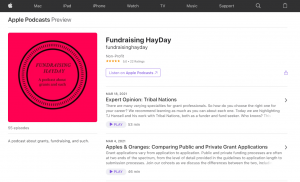 Best episode
Growing Your Loyal Donor‪s
among all the amazing episodes in this podcast this has o be one of the best, talking to Pamela Grow about individual giving. Nonprofits should have a diverse portfolio of funding, and believe it or not, grants are not the biggest slice of that pie. The largest source of charitable giving comes from individuals. Take a listen to learn how to cultivate consistent donors for your organization.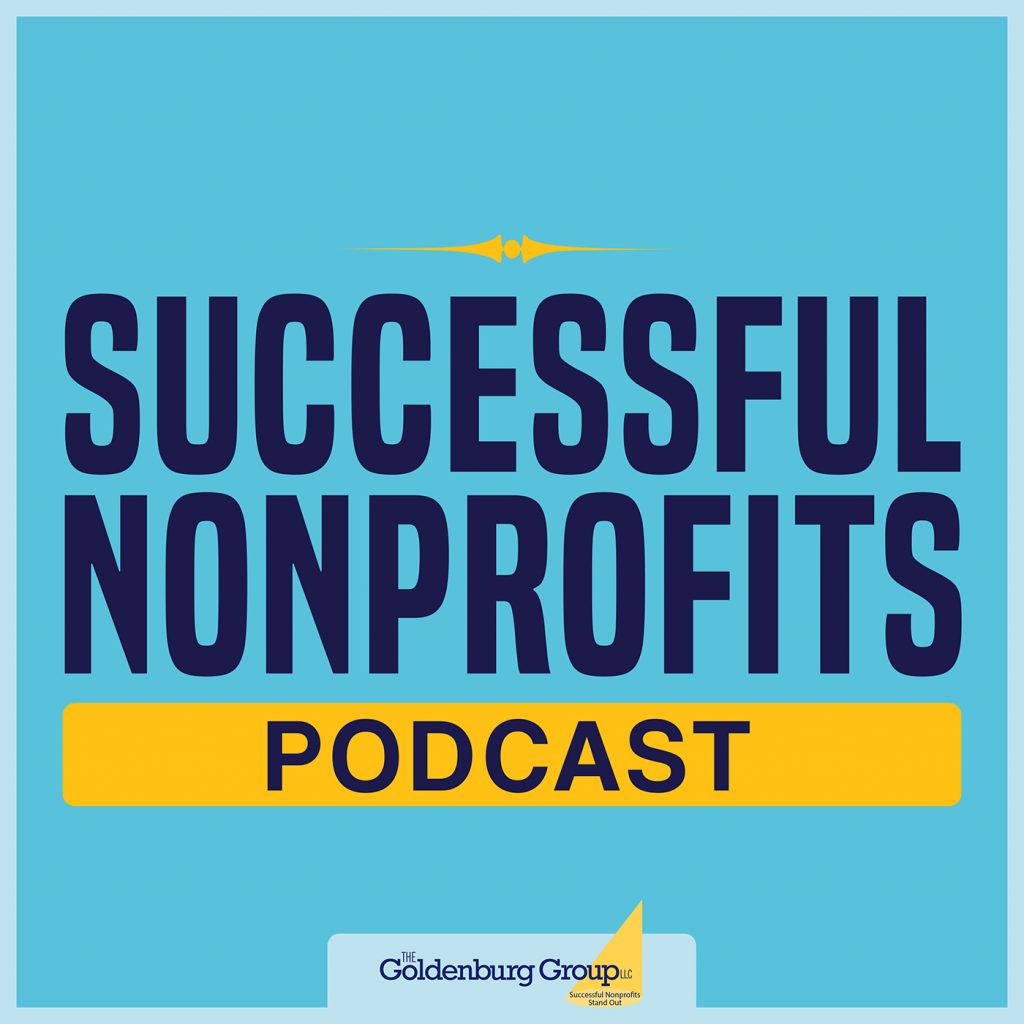 Number of episodes: 180
Host Dolph Goldenburg
About
this podcast is such a treasure trove of incredibly valuable information. Dolph is extremely knowledgeable and picks incredible guests with such care. Every episode has value and the exploration of such a wide range of topics that are all essential to non-profits, If you are involved in the non-profit sector and even if you are not, do not miss this show!
Successful Nonprofits Podcast brings you fresh ideas and featured conversations with nonprofit thought leaders.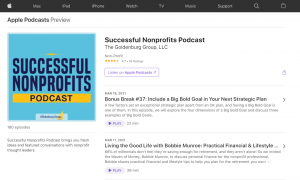 Best episode
Simple Solutions for Complex Problems with Rob Biscegli‪e
this is such a great episode from many in this podcast, Innovative thought leader, Rob Bisceglie, is the Executive Director of Action for Healthy Kids. Rob's leadership has proven that big problems do not need big solutions. Listen in for the two simple steps he and Action for Healthy Kids have taken to address big problems, from hungry kids to keeping an organization thriving during COVID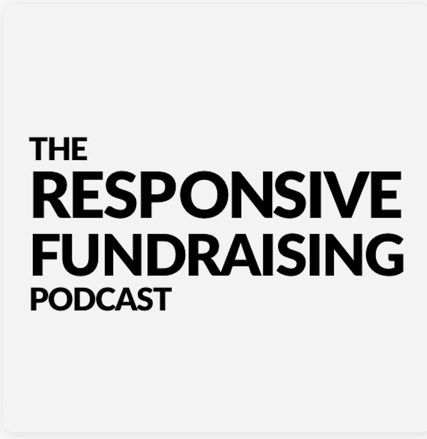 Number of episode:71
Host Noah Barnett
About:
The Responsive Fundraising Podcast is a show where we talk with nonprofit leaders and fundraising experts to uncover how today's top nonprofits craft remarkable donor experiences and build lasting relationships at scale.
it's a tremendous resource for executives as well as fundraisers. With Thoughtful people, and helpful information.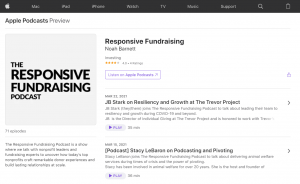 Best episode
JB Stark on Resiliency and Growth at The Trevor Project
JB Stark (they/them) joins The Responsive Fundraising Podcast to talk about leading their team to resiliency and growth during COVID-19 and beyond. JB  is the Director of Individual Giving at The Trevor Project and is honored to work with Trevor's family of donors who support the organization's operations and growth, JB has years of experience working in fundraising and nonprofit leadership in economic empowerment, education, and LGBTQ youth advocacy spaces.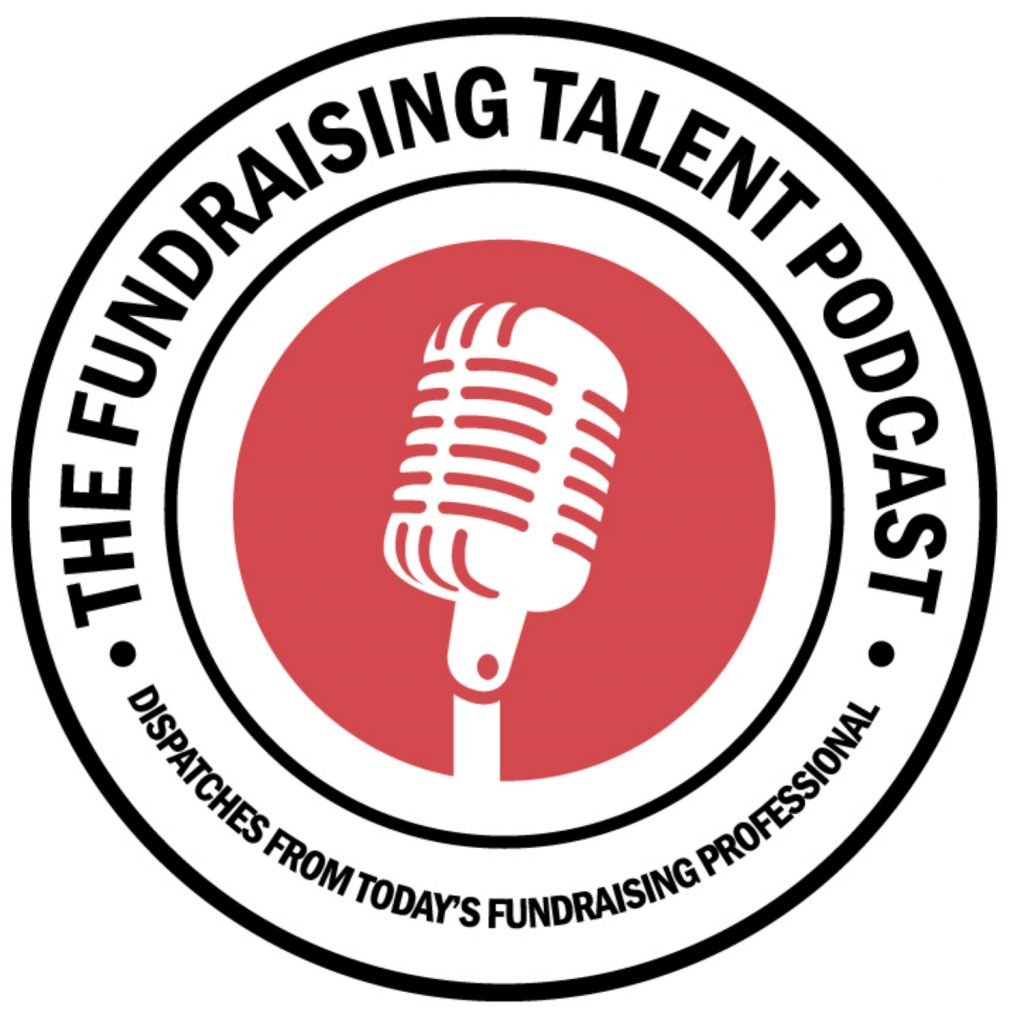 Number of episodes:234
Host Jason Lewis
About
the topics and guests Jason brings on are extraordinary, which makes this podcast a must listen for anyone in fundraising industry, this podcast provides highly developed fundraising insights, which makes it highly valuable for fundraisers, interviewing many great people in the industry and asking hard questions, which gives the audience what they need to hear.
Tune in with the fundraising talent podcast for great content and help, as a fundraiser, or even just to know more about fundraising.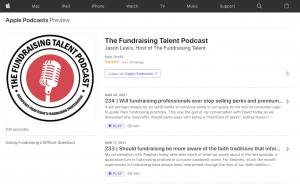 Best episode
#142 | How do successful virtual fundraising events really work?
As Covid-19 has forced organizations to cancel their spring events, many have opted for experimenting with a virtual approach. In this episode, we enjoyed hearing about how Martha Robinson and her team at the Boston Youth Symphony Orchestra turned their event around in three days, reengaged donors that had not planned to attend, and  netted more money than originally anticipated.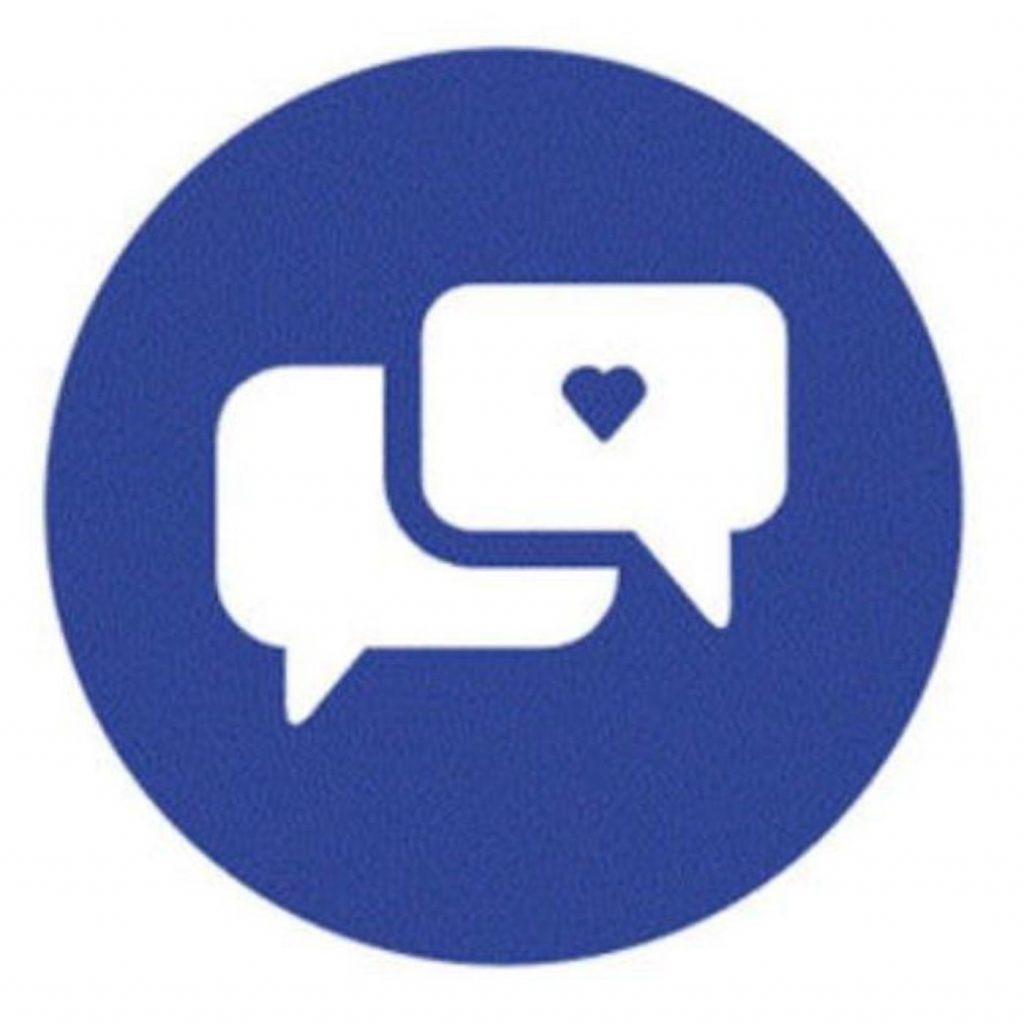 Number of episodes: 230
Host Ted Hart
About
Let Ted and his guest experts help you succeed in the nonprofit world. They share all kinds of tips and strategies to help your organization get to the next level.
Ted Hart is one of the foremost nonprofit thought leaders. His books range from successful online fundraising, to use of social media and how to make your nonprofit green. His guests are leaders in their field who will share tips and trade secrets for nonprofit management, green strategy, and fundraising success.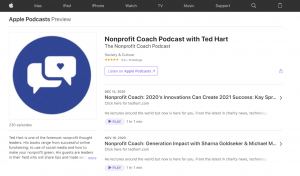 Tune in to learn from the experts tips and tools you can put to work today. Become a show supporter
Best episode
Nonprofit Coach: Storytelling A Centerpiece for Fundraising with Lynn Malzone Lerardi
Ted Hart and his guests help you maneuver through this economic downturn in the charitable sector to greater levels of efficiency and fundraising success, Lynn Malzone Ierardi,JD has been in the gift and estate planning field for more than thirty years. She is a leader in the charitable planning community.
Number of episodes: 36
Host Jeremy Reis
About
This is a great podcast for giving you information and ideas to your fundraising campaign, the host Jeremy Reis has much experience, which makes this podcast a great listen for anyone. Nonprofit Answers Podcast helps you raise more money to help more people. Every week host Jeremy Reis answers your nonprofit marketing and fundraising questions so you can invest precious donor dollars wisely.
From acquiring new donors to nurturing long-term donor relationships, this podcast got the answers to your most pressing questions.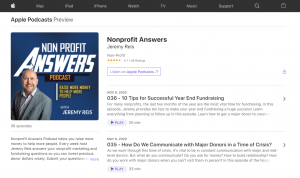 Best episode
013 – How Do I Position the Donor as the Hero?
In this episode, Jeremy answers a question about how to position the donor as the hero in your nonprofit communications. Using examples, Jeremy teaches you how to write active copy that presents an appeal from the point of view of a donor.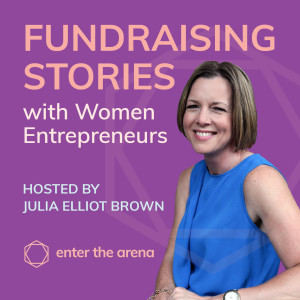 Number of episodes: 40
Host Julia Elliot Brown
About
The podcast always has such incredible female founders from top companies. They share what it's like being a founder and explain how they went about raising investment from Angels, VCs, using crowdfunding etc. It gives real insight into the investment process and how to be a successful entrepreneur, Fundraising Stories is hosted by Julia Elliott Brown, CEO and Founder of Enter The Arena, serial entrepreneur and equity fundraising expert.
Enter The Arena is the organization for female founders, providing investment expertise and business coaching. Enter the Arena empowers female founders to fly through pre-raise and investment, and on to the exponential growth of their business.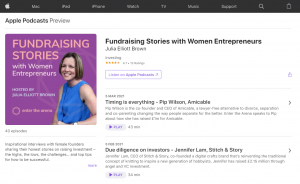 Best episode
Timing is everything – Pip Wilson, Amicable
Pip Wilson is the co-founder and CEO of Amicable, a lawyer-free alternative to divorce, separation and co-parenting changing the way people separate for the better. Enter the Arena speaks to Pip about how she has raised £1m for Amicable.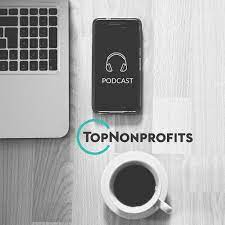 Number of episodes: 20
Host Dr. Rob Harter
About:
The host covers relevant topics that non-profits need to know to help them get through tough times which makes this a Great podcast for those starting, running, or working in a non-profit, Top Nonprofits podcasts are about all things nonprofit marketing, social media, and fundraising.
This podcast is a must listen for anyone working with nonprofits hosting interesting topics and guests.
Best episode
Fundraising During a Crisis (or Any Other Time‪)
In this episode, Claire shares her notes on both the good and bad and she has seen during this particular time of crisis. They may surprise you.
Learn what can you start doing today to help improve your organization's bottom line!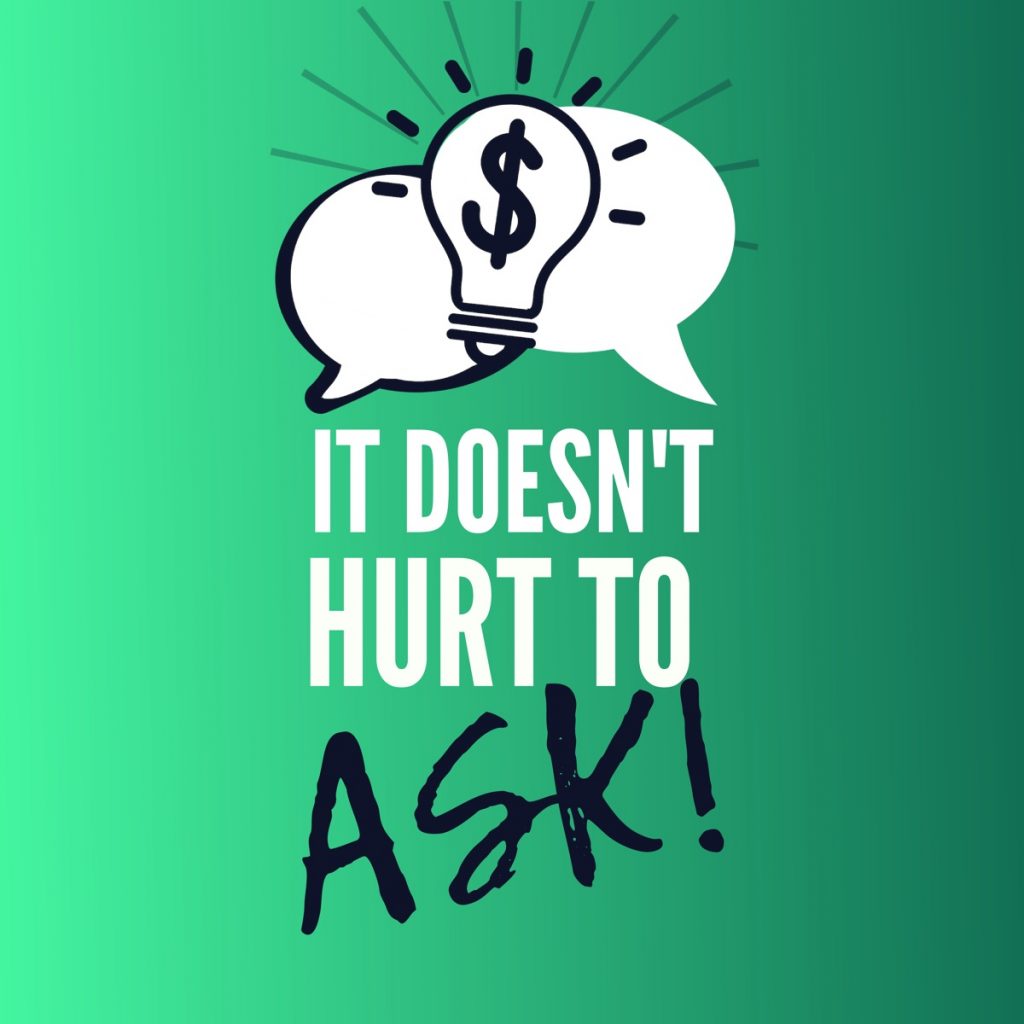 Number of episodes:17
Hosts Cathy Mann & Associates
About
Cathy and editing genius Anne go deep into topics that you have to hear in order to thrive in this sector. This podcast is a game changer. It's hilarious, thought provoking and terrifying all at once, whether you're a professional fundraiser, volunteer on the board of a non-profit organization or you're about to make your first charitable donation, this podcast is for you.
It Doesn't Hurt to Ask! explores the world of philanthropy through a critical lens. While that might sound serious, they have a lot of fun along the way.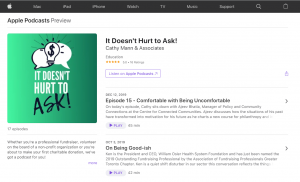 Best episode
What if they spend it badly‪?
Join Cathy and Laura Manning, Executive Director of the Lyle S. Hallman Foundation as they discuss the foundation's shift from program-based funding to providing General Operating Support to some of their grantees. The Lyle S. Hallman Foundation is a real shift disturber with a board that gets excited about doing things differently. Tune in to hear about their approach to values-based philanthropy.
In Conclusion


Podcasts are a great way to "sharpen your fundraising knife" when it comes to learning best practices and getting inspired by the best in class. If you liked this blog, you might love:

https://www.charityauctionstoday.com/p/charity-auction-sites/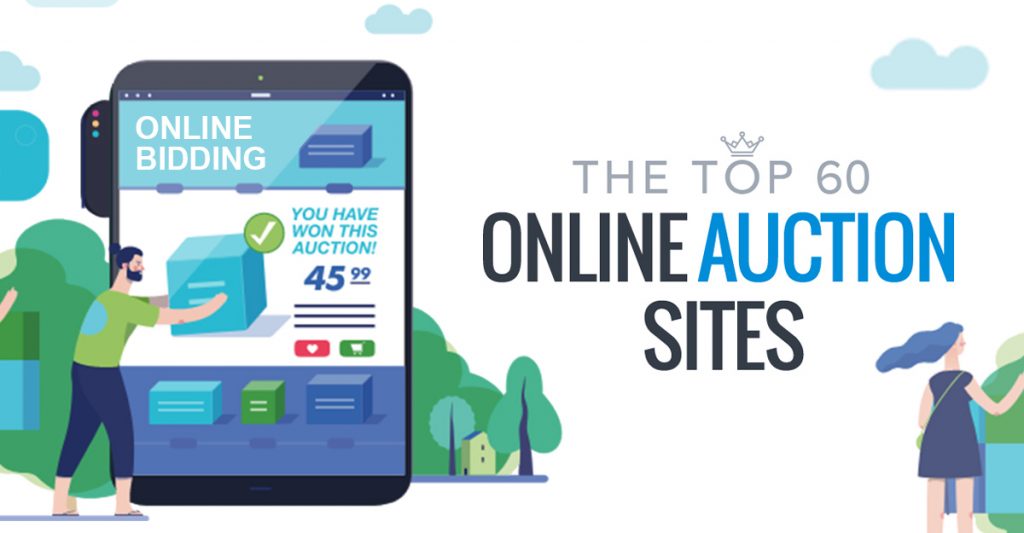 [/et_pb_text][/et_pb_column][/et_pb_row][/et_pb_section]