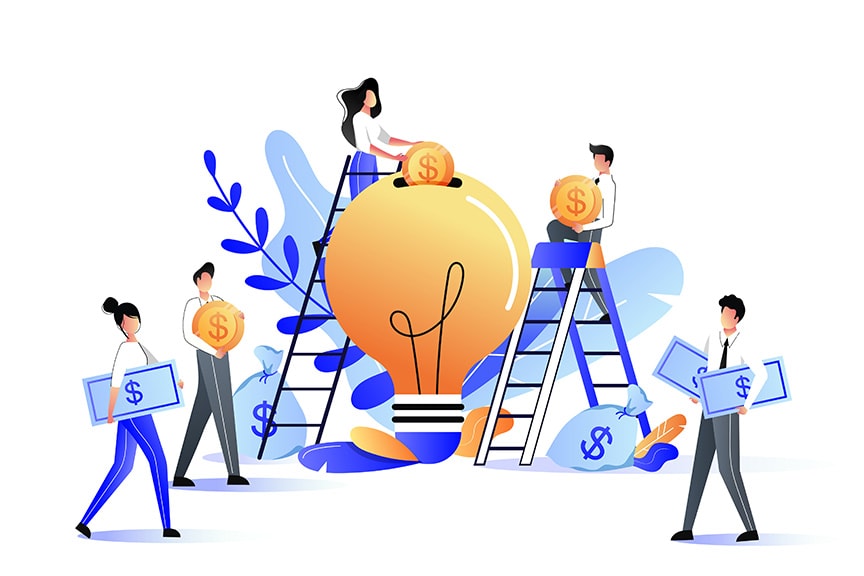 We are happy to share our cheap fundraising ideas with you. These are handy for any organization planning an online fundraising auction.
Why are they handy? Do you mean you need a fundraiser for your fundraiser?
The answer is a hard maybe. If your organization is planning an online auction fundraiser in the near future, we recommend that you use one or two of these cheap fundraising ideas to raise working capital for it.
Undoubtedly, your organization will need to buy items to help prepare for your online auction. And having one or two small fundraisers will help cover incidentals. When auction operating costs arise, you've got the money to cover them.  This way, no one has to dig into their own pockets to cover costs or wait for a requisition to clear before they can get funds from the parent organization.

The ideas listed here are inexpensive and easy ways to raise money. Consider adding your own touches to make the fundraiser personal and, in turn, unique. Read on to see what resonates with your team.
PRO TIP: Increase your fundraising bottom line. While we've given you 21 ideas to raise money, consider selling snacks and beverages at every event. Often you can get snacks and beverages donated, making them pure profit. Plus, your attendees will appreciate having these choices.
1. Bake Sale

Who can resist a bake sale? Not many. We'll tell you right now, without any special abilities, that your bake sale will sell every last morsel! You can thank the "sweet tooths" in your area and their ability to "over-buy" baked goods because "it was for charity!" (Another guarantee is that you will hear that line if you decided on having a bake sale, and they will but a lot of sweet treats.)
Ask your committee or team to find a dozen "bakers" to make goodies for the bake sale. (You know who we mean: Aunt Betty, Mom, Grandma, etc.) Also, ask your team if anyone knows the owners of local bakeries or grocery stores where you can ask them to donate delicious, sugary treats. If someone in your town or city is known for their mad baking skills, like the best fudge (or whatever), ask them to make some for your bake sale as their donation—and publicize the heck of this famous baker to draw a bigger crowd. Cheap fundraising ideas like this take off.
Once you've got the goods under control,  plan your advertising blitz. This can include putting flyers in stores, schools, and churches. You can also advertise it on websites such as the schools or your organization. Also, please put it on Facebook and other social media sites. You can even create a Facebook page for it—be sure to have photos that will make people drool a little. Have your committee members share the posts on their own social media accounts. Tell everyone! And be sure to remind them that if they don't like sweets, they can donate money to your cause. Don't forget to tell friends, family, and neighbors!
When you set up tables to show off your delicious baked goods, make your table appealing. Consider putting a donation jar on the table. Earn even more money by selling coffee, bottled water, or iced tea. Some groups have a "guess how many jelly beans are in the jar" game for people to participate in and win a small prize—a good idea is to ask a store owner for a gift certificate as the prize. Others have a corn hole game where winners can earn a buy-one-get-one-free on cookies.
Be prepared to sell out! This low-cost fundraising idea is usually successful because nearly everyone has a sweet tooth. If your bake sale is a success, you may sell out of your baked goods. Be prepared to sell out and have a plan for what you will do if you do.
2. Arts and Crafts Sale

Are you a crafty crafter? How about people on your auction committee or team? What about family members, friends, or neighbors? Get everyone involved!
Where can you hold your craft sale? Try a pop-up shop in a local business or an Etsy or Facebook store as "places" to house your crafts shops. Consider selling your crafts in multiple places.
Crafts can include fun items like handmade note cards, drawings, coasters, and personalized Cricut items. Or whatever you can find. Search the internet for craft ideas if you need inspiration.
If you like the idea of an arts and crafts sale but have no craft-making skills, consider calling for crafters to sell their handmade items at your craft sale. You can negotiate with crafters to receive a percentage of each sale to go to your project—or with any luck; they'll donate their crafts to your cause.
To ensure a successful craft sale, advertise it a lot. Invite people to attend your craft sale using Facebook and other social media platforms. Be sure to use lovely images of the crafts in your posts. Make flyers and put them in businesses, storefronts, churches, schools, high-traffic city areas, and anywhere else people congregate.
Here are 25 brilliant fundraiser crafts we love.  You might find your favorite ideas here! 
And one more cheap fundraiser idea: Consider a crafty crafter who would give crafting lessons for a small fee. This will draw a crowd.
3. Activity Workshop

What in the heck is an activity workshop?
A popular activity is a "learn to paint" workshop where participants pay an entry fee and are taught to paint their dog, a landscape, etc., on a canvas. Of course, you will need someone to teach attendees how to paint—many fundraisers ask the local learn-to-paint business if they could hire their instructor. Be sure to let them know it's for a charity fundraiser to see what you can work out, payment-wise. 
Try workshops for learning how to rock climb (at a gym), how to crochet, a "Rock, Paper, Scissors" tournament, a scavenger hunt, a tie-dye station, a karaoke contest, a poetry slam, etc. Brainstorm with your committee to see what resonates with your mission. You can have more than one workshop! Make it a day-long celebration with activities, arts and crafts, painting, sweet treats, and drinks. Do you know a band that could play?
How will you get tons of participants? First, advertise it everywhere you can. Invite people to participate by promoting it on Facebook and other social media. Have your friends, family, and colleagues share it on their Facebook feeds. Make flyers and put them in businesses, storefronts, churches, schools, high-traffic city areas, and anywhere else people congregate.
Here are a few tips to help you get started on your activity workshops.
4. Beverage Stand
If you made sidewalk lemonade stands as a kid, you can hone those mad skills and create a "hydration station" for hot summer days or even coffee and hot chocolate when it's cooler. Add ice cream, snow cones, or sweet treats to your menu. Popcorn is always a hit.
Location, location, location
Choose a suitable location to temporarily set up a pop-up shop or beverage stand. Good places to start are near a busy park, a school, or near a high-traffic location. The key to success for this fundraiser is location. A crowded area with high foot traffic means more money in your organization's fundraising account.
Keep in mind the current season and weather. Decorate your stand to appeal to the intended audience in your selected location—if the audience is kids, make it kid-fun. If there's cold in the air and you're selling coffee and scones, make it memorable and attractive.  
Switch it up once winter is here. Opt for coffee, hot tea, hot cocoa, and fresh donut during winter or cold weather. Use seasonal fruits for lemonades and add a few personal touches to the beverages to make them a hit with your customers.
Here are a few hot tips to help have lots of sales:
Price your beverages competitively. You want to price your beverages competitively so that customers are willing to buy them. However, you also need to make a profit, so you need to strike a balance between price and profit.
Promote your beverage sales. Let people know that you are selling beverages at the event. You can do this with signage, posting on social media and by handing out flyers.
Be friendly and helpful. Customers are more likely to buy beverages from a friendly and helpful vendor. So be sure to smile, make eye contact, and answer any questions that customers may have.
Clean up after yourself. After the event, be sure to clean up your beverage station and dispose of any trash properly. This will help you make a good impression on everyone involved.
Have a variety of beverages to choose from. This will appeal to a wider range of customers.
Offer discounts and promotions. This is a great way to attract customers and boost sales.
Be prepared for the weather. If the event is outdoors, be sure to have plenty of cold beverages on hand. If the event is indoors, be sure to have plenty of ice.
Have fun! Selling beverages at an event can be a great way to make some extra money and meet new people. So relax, enjoy yourself, and make some sales!
5. Car wash

Car washes are a classic low-cost fundraising idea, not to mention a super fun way to raise money! Car wash customers tend to tip well for causes, so be sure to have GREAT SIGNAGE about your organization and fundraising goals. People who have an affinity for your cause will surely stop to donate money. You might find that you don't wash a ton of cars, but the donations are plentiful!
Location. Location. Location.
You'll need to find a high-trafficked location with water available and a lot of room for lining up the cars and washing and drying stations. Strip malls can be your best bet. Are there any businesses in the area that might sponsor your organization to house a car wash? For example, some fast food restaurants are closed on Sundays, making their lots available.  Or set up a wash station at a mall parking lot. You know your local area best; where would be a good location for a fundraising car wash?
Be sure to blast your car wash details on social media and ask your friends to share theirs. If you're having it at a high-trafficked area, put signs up to announce the date and time. Will you do it monthly in the summer? Once? Something to consider. Just be sure to advertise it!
You and your team can dress up in costumes to make the car wash enjoyable as you service your customers. Superhero costumes are popular. You can also dress up as a pirate, a historical figure, or an animal.
Consider setting up a drink and yummy treats table to help with the fundraising. Get a few coolers and keep beverages ice cold on a hot summer day.  
6. Boat Wash

Before you say 'boat wash?" you should know that the U.S. has 95,471 miles of shoreline and an estimated 125,000 lakes in the lower 48 states (Alaska has over 3 million!). But here's the kicker—the US has 11.96 million boats registered. So do these numbers make a boat wash sound like a better idea than when you first saw it?
Boat owners have a love for their boats that only a boat owner can comprehend.
One of the tenets of boat ownership is keeping it clean like the day they bought it clean.
People love their boats. They should—they cost enough! They are going to be excited when they see your signs. They'll jump at having you do the washing and vacuuming. You can expect decent tipping, too.
Weekends are perfect for boat washes as most take their boats to the lake. Find a local business that lands somewhere between the lake and back to the local town or entrances back to metro areas. You'll need a location big enough to house a large vehicle with a boat hitched to the back. You'll need access to water spigots too.
Think of other ways to raise money besides the boat washing service. For example, include fun activities or food stalls to increase your funds and keep the customers busy while waiting for their boats to come out of the shower. 
Boat washing tips:
You'll need these supplies:
• Buckets
• Soft washing mitts and sponges
• Hoses with nozzles
• Soft, absorbent towels for drying for no-streak drying
• Microfiber cloth for wiping the dash and interior
• Small, hand-held, battery-operated vacuum to clean the floor
• You can use a window cleaner on the windscreen, as it will most likely have water spots

WARNING!
Do not use anything but mild soap. It can be expensive. A good substitute is one gallon of water and one cup of white vinegar for a safe wash. Or wash with water and rinse well. If you decide to use a cleaner specifically for boats, ask the owners if you can use it on their boat before you wash it.
How to wash a boat
Choose a mild soap. Harsh soaps can strip away the protective wax on your boat's finish. Use a mild soap that is specifically designed for boats.
Use a soft sponge or cloth. Avoid using abrasive materials, as they can scratch the boat's finish.
Start at the top and work your way down. This will help prevent dirt and grime from running down onto areas you've already cleaned.
Rinse thoroughly. Make sure to rinse away all of the soap residue.
Dry the boat immediately. Water spots can be difficult to remove, so it's important to dry the boat as soon as possible.
Wax the boat?  Waxing will help protect the boat's finish and make it easier to clean in the future. If you want to offer waxing, you can make a lot more money at your boat wash. But be sure your clients have something to do and a way to stay cool while you wash and wax their boats.
Wash the boat in the shade. Direct sunlight can dry the soap too quickly, making it difficult to rinse away.
Use a pressure washer. A pressure washer can be a great way to clean a boat, but it's important to use it carefully. Be sure to keep the nozzle at least 12 inches away from the boat's surface and use a low-pressure setting.
Avoid using harsh chemicals. Harsh chemicals can damage the boat's finish. If you need to use a chemical cleaner, be sure to test it in an inconspicuous area first.
Be careful around the boat's electrical components. Don't get soap or water on the boat's electrical components, as this could cause damage.
Take your time. Handwashing a boat can be a time-consuming process, but it's worth it to do it right. Take your time and do a thorough job, and your boat will look and last great for years to come.
7. Charity Sports

There is nothing like a good charity sports event to attract a large group of participants and an even larger group of spectators. This is one of the most attended fundraisers, garnering a sizeable amount of donations.
When people think of fundraising, an image of a jar of change might come to mind. But this fundraiser is so well attended—no change jar and lots of fun doing it. There's competition, exercise, fun, and camaraderie. Everyone wins—the participants, the spectators, and the charity. If you send a press release to local media, expect them to snap a few photos or videos for a "bright" story.
The most common option is to organize a charity run where the participants enter the competition by donating a certain amount. The amount may be an entrance fee or per mile if it is a marathon. The one-time donations from the participants will go to your charity. In addition, participants can ask friends and family to sponsor them by paying a per-mile bounty.
Remember to be creative. How about a costume race where participants can dress as their favorite cartoon or animated characters to run for a cause? Encourage friends and family to participate and bring others along.
You can even organize a race based on running through obstacles. It is a fun way to raise significant dollars.
Here are fifteen charity sports fundraising ideas.
8. Catalog Sales

This involves going door to door and asking people if they want to buy something from the catalog. Remember when your kids sold wrapping paper or candy? Same idea. Mobile and virtual options are available now from many catalog fundraising companies. You can email or post a picture of the items on your social media and fundraise remotely. 
Many online companies specialize in selling fundraising products. Get in touch with them to see their catalogs. Once you have the catalogs, decide what to sell and get your group or volunteers to go door to door to sell the catalog items.
Once a prospect decides to buy a product, the volunteer collects the money and delivers the order.
This is an easy and effective way to collect funds. However, patience and sales skills are usually required to sell the most on the team.
Read more about how catalog sales help in fundraising.
9. Cleaning Services

If you have free time,  you can offer local business cleaning services.
Many businesses need their trash taken out, parking lots cleaned, signs cleaned, and many other little things to be done. This is where you can earn money.
Contact businesses or stores near you and offer them cleaning services. In return, you charge them a fee which goes to your charity. This is a simple form of fundraising, one that requires no additional skills.
Here's how single mom Kari-Lee Shaw fundraises through her cleaning services.
10. Consignment Shop Sales

Find a consignment store near you. A consignment store specializes in selling one person's goods to another person.
We all have many things lying around our house that we do not need. It's like gathering no longer used items from your house to sell at a yard sale, but instead, the consignment shop does all the selling for you! EASY!
Instead of keeping these no longer used goods out of a sense of nostalgia, you can turn them over to consignment stores. Then, when you unclutter the space in your house, these used goods can be helpful to others in need. As a result, it can also bring in money for your charity.
Anything from furniture, apparel, books, and even antiques can be sold in a consignment shop.
Although the shop owner will keep a commission on every sale the shop makes, you can still collect more than when these items are unused.
Check with the shop every few weeks to see if they have sold anything. Keep track of what is going out and how much is coming in, and you have yourself a fundraiser from home!
Here's a beginner's guide to consignment stores.
11. Donation Jars

Not only is this an easy cheap fundraising idea, but it's also enjoyable to do with a group. Everyone brings a jar, cut an opening for money on the lid, and have the designer on your team create a fun label for the jar with an irresistible ask to donate money. Examples are: "Your dollar will feed a hungry child lunch today" or include a photo of a friend with their mom who passed from breast cancer and use the tagline, "My mom died from breast cancer. Save your mom. Donate today." Just devise a clever way to make potential donors want to give money to your charity.
When you position the jars near the checkout of local businesses, ask if you can also leave brochures or flyers about the event.
Once you have permission to put the jars in dozens of popular businesses, collect the donations weekly.
Promote the jars on Facebook and ask friends to share the posts on their feeds. Consider making flyers to display at the businesses too.
Here are five awesome donation jar ideas for fundraising.
12. Fun Games

Can you say, "Game-a-Palooza?"
Make it an afternoon weekend event where several groups such as sororities, fraternities, clubs, and more can create a game day of big fun, food, drinks, and prizes.
Five campus organizations each create a game booth where participants try to play the games to win. You can charge an entrance fee for the event or charge a fee (donation) for each game played. It's up to the teams to determine the actual logistics.
Games can be so fun. Good examples of game-a-palooza fun are:
• Basketball: three hoops in a row
• Basketball: play HORSE or use your university's mascot's name
• Bottle Ring Toss
• Twister
• How many jelly beans are in the jar?
• Bocce Ball best out of three
• Toilet Paper Toss – Get a toilet seat mounted to a wood crate (with some backstop) and buy a 24-roll package of toilet paper. Pro tip: put a rubber band or tie a string around the roll so it doesn't unravel. Participants stand at a specified distance to throw as many rolls of paper into the toilet seat in a given amount of time. If you can get a business to donate (or lend) a full-sized toilet, the game is more fun just from the optics!
• Red Cup Relay – This game is fun and always draws a big crowd. Use water guns in a competition-style game where you set up two lines of rope with a red plastic Solo cup threaded onto each rope through holes cut in the bottom of the cups. Have a contest to see who can squirt water into the cup to push it down the string to the end. Then have participants return the cup to the other end by spraying the bottom of the cup.
If you make an afternoon event, consider drink stands and food booths as an additional way to raise funds.
You'll have to brainstorm with your team to determine whether you charge an entrance fee or by the game to raise money.
Be sure to promote it all over campus, on social media and the campus newspaper and radio station, for starters.
This Pinterest user has 143 different fun game ideas to share.
13. Online Auctions

Online auctions are growing in popularity primarily due to the efficiency of the software, making it easy for organizations to create their own online auction—and even easier for bidders.
An online auction allows your charity or nonprofit organization to reach a global audience, meaning more people will see your auction and the more funds you'll raise.
Plus, fundraiser auctions are easy to set up and manage. They are the best and easiest ways to quickly raise an impressive amount of money.
The key to auction success is having an auction vendor who will walk you through the process, be available when you have questions or need help, charge low fees, and make recommendations to improve your auction.  Charity AuctionsToday checks all of those boxes and many more. In addition, most users appreciate the no credit card needed to get started creating your charity auction.
Convinced? Take our tools for a test drive now: our platform is free to start and setup can take as little as 10 minutes.
14. Raffle

Here is a fun and holiday-driven idea! All you need is a Christmas tree in a public location and a smart promotional plan.
Set up an artificial Christmas tree in a highly trafficked public location like a park.  Post a sign to let your supporters and other community members hang ornaments and decorations on the tree.
Once they have donated the ornaments and decorations, you should raffle them off, starting with the most expensive ones. You can also do this during other holidays like Easter and Halloween.
You can raffle handmade gift cards, homemade chocolates, and even flowers for Valentine's Day. The options are numerous if you know how to pursue them.
15. Pajama Day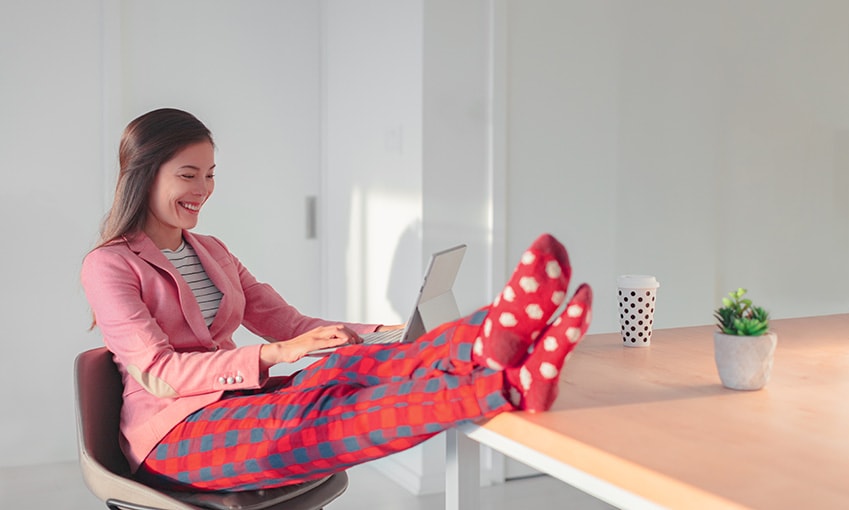 Here is a fun way to raise money from your school, college, or workplace.
Charge your classmates or workmates a small amount so that they can wear pajamas to work or school on a designated day.
You can change it up a little by doing a hat day or a costume day. Then, to entertain and excite them, have contests like 'quirkiest hat," silliest pajamas,' or 'strange costumes.'
This is a fun way to raise funds, and although it may not be as prosperous as some of our previous ideas, it is still the most entertaining, and you may earn a few loyal supporters. 
Supporters are as important as the funds you collect. In addition, loyal supporters are necessary for the long-term success of your charity.
Here's more on how to host a Pajama fundraiser.
16. Change is Here

Many people in your neighborhood are willing to part with the pennies that keep piling up in their pockets at the end of each day.
You and your group members go from door to door and ask people for any spare change they might have to support your chosen cause.
Since you only ask for small change, a few generous souls may give you a few bills to help you.
This idea may sound a little simple, but every penny counts when collecting funds for charity.
17. Recycle

We use a lot of plastic bottles and aluminum cans in our everyday lives. Now you can collect all the recyclables from your neighbors and turn them over to your local recycling center for cash.
Most cities have a recycling day, just like their trash day. You may be wondering why we'd recommend this. There are some recyclables that cities won't accept. Those are what you need to focus on, and give residents time to collect these items for you.
Publicize the campaign in your neighborhood (the Nextdoor app is great for this.) and pick an open space where people can drop off their recyclables. 
Once you have collected the recyclables, take them to the recycling center and collect your money. You can also charge your neighbors a couple of dollars for getting rid of their junk for them.
18. Drink Stands

Everyone likes a thirst-quenching glass of ice-cold lemonade or a refreshing root beer on a hot and sunny day. What about an ice cream float or fresh fruit smoothies? Bottled water, for sure.
Pick an open and public spot in your area to set up a stand. Be sure to get the proper permissions from the city.
Decorate your stand and table attractively. A well-decorated table will make your drinks more appealing to potential customers. Use tablecloths, flowers, and other decorations to create a festive atmosphere.
It would be best to have a small portable freezer to store your ice cream. Other items such as cups, spoons, napkins, and straws are also required.
Once the stand is set up, call out to any passersby and offer them a free drink. If they like it, then ask them to donate something. Come up with creative flavors of your own, and if the first few people like it, more will follow automatically.
Fruit smoothies are a healthier and more delicious option that may appeal to many health-conscious people today.
Boost your earning by selling treats along with your drinks. Cookies, doughnuts, and any munchie are hot sellers.
19. Community Service

Round up a few of your best people to form a team. Now approach the community elders or leaders and offer to do community services for a minimal charge which you will use to fund your charity.
You can do various activities like mowing lawns, helping older people with household chores, cleaning the street, raking leaves, or removing the snow. Not only does the activity benefit the community, but also it helps your cause by raising money.
When the people in your community see your work for the community, they will be more eager to help you with your cause.
They will be more generous with their donations once,e you have earned the goodwill. This requires very little skill, and you can do it on weekends. Split into teams of two or three and assign different jobs to different groups. This way, you get a whole lot done on the weekends.
Here are 91 superb examples of fundraising through community services on Pinterest.
20. Earn Money to Lose Weight

Get paid for each pound you lose and donate it to your organization.
Set a goal. How much weight do you want to lose? Once you have a goal in mind, you can start planning your fundraiser.
Create a Facebook page. This will be your central hub for sharing your weight loss journey and fundraising efforts.
Get sponsors. Ask friends, family, and local businesses to sponsor your weight loss journey. They can donate a set amount of money per pound of weight you lose, or they can donate a flat amount.
Track your progress. This is the fun part—shedding pounds is your donation! Surprise your supporters by reaching your weight loss goal. Weigh yourself regularly and track your progress on your Facebook page. This will help you stay motivated and keep your supporters updated on your progress.
Celebrate your successes. As you reach milestones, be sure to celebrate your successes with your supporters. This will help you stay motivated and on track. Send out an email and post it on your social media page!
Don't give up!  There will be ups and downs, but if you stay focused and motivated, you will reach your goal.
We recommend that you have teams of fiber to seven participants. Each team will have a specific goal, like gaining or losing weight. After forming the groups, each person must find supporters willing to pledge to their cause.
Record the weight of members of each team at the start of the event and keep a note of it. The event will go on for a fixed period, say a month or two, after which each team will weigh in again.
Once the competition is over, teams will collect the pledges from their supporters. Typically, each group can receive $1-5 for each pound of weight lost or gained. This is a lovely way to raise funds, as everyone turns out a winner at the end of the event.
21. Yard Sale

Talk about a cheap fundraising idea, a yard sale, or an online garage sale take first prize. Each is arguably the most popular way to raise funds on our cheap fundraising ideas list. A yard or garage sale gives back by tidying your home since you are removing unused items. What will you do with all the extra space?
You can hold a yard sale at someone's home or a large local space such as a high school gym. Or have an online garage sale, and you can do the entire event without moving from the couch. 
Make a list of all things that you no longer use or need. Then, divide them into categories such as furniture, clothing, antiques, or toys. Ask other members of your organization to do the same and take photos of what they would like to put in the sale.
Advertise on social media, and ask your fundraising committee, friends, colleagues, and family to post the event on their social media, Position posters in your local area to get the attention of as many as possible.
Have the yard sale for an entire day. Saturdays are ideal. Do not bargain or try to sell your items for profit. Remember, they are used, and you are raising money for charity. So, any amount the donor is willing to pay is welcome. Collect your cash at the end of the sale. If you have leftover items, have an online garage sale to sell the items without investing any more time except for adding your items to the auction platform. 
We hope you got some great inspiration from our cheap fundraising ideas. Remember that every little bit counts towards your goals, and there's no shame in starting small. We pointed it out above, but online auctions are a great way to raise money and awareness for your charity if you use the right software (one that won't cost you much, ideally). May we recommend that you take a quick test drive of CharityAuctionToday's online auction platform? It's free to get started.
Finally, easy online auction software
Test drive the best online auction software with your best friend. It's that good and that EASY. 📞 844-234-2335 Mon-Fri 8am – 9pm CST support@charityauctionstoday.com