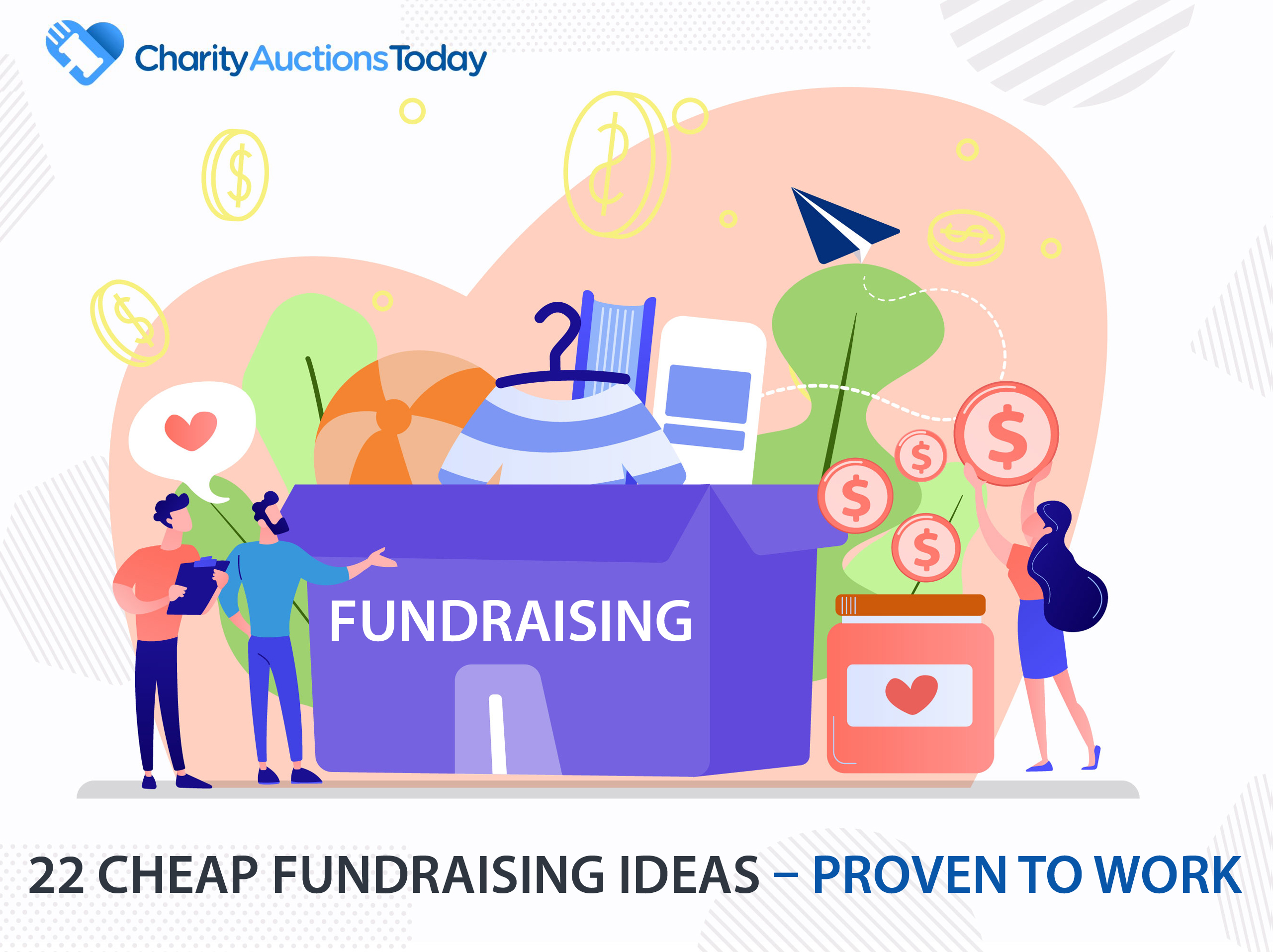 Cheap fundraising ideas help you get motivated to fundraise even during uncertain times. These 22 ideas are designed to inspire you so you can help your school or nonprofit raise funds!
Raising funds for your nonprofit organization can be challenging, especially when you don't have a sufficient budget to throw a large fundraising event. That is why we created the ultimate review guide of the top cheap fundraising ideas updated for 2022.
However, for a fundraiser to be successful you do need to put your mind and heart into it.
Sound a bit difficult?
Don't worry! We are here to help you with a host of ideas for a successful fundraiser.
The ideas listed here are inexpensive and easy ways to raise quite a lot of money for your organization. Feel free to add personal touches with which can take the ideas to another level. Adding your own touches makes the fundraiser more personal and in turn special. So, read on and brainstorm!
Here are a few of our favorites creative and fun fundraising ideas:
1. Bake Sale
Who doesn't enjoy baked goodies like cookies, cakes, or croissants?
The good old bake sale is a tried and tested fundraising method. It has proven itself over and over again when it comes to a good way of raising money for your cause.
The best part of a bake sale is that it attracts both young and old supporters alike which ensures a successful fundraiser.
Tell friends and family of your idea and seek help from them.
If you are a promising chef, then this is just the thing for you. Show off your baking skills to your neighbors and friends. Who knows, they might offer you a baking job at their kid's next birthday party.
Add a few personal touches to your cakes or cookies and don't forget to think outside of the box. Come up with interesting activities for participants. The winner of each activity can take home a baked goodie. Set up tables and lay out the baked foods that people may purchase.
Find out more about how to run a profitable bake sale fundraiser.
2. Craft Sale

From cakes to crafts, funds can be raised with almost anything. A craft sale in your back yard can also help you raise funds if done properly.
As part of your charity or organization, you can create a craft or art sale. Simply present different crafts that you handmade or pictures you have drawn.
Even if you are not an artist, do not fret.
You can hold a weekend craft and art shop for kids. Or you can allow other artists to rent a tent and sell their art and crafts.
All in all, if you have the proper planning and vision, then this is a very lucrative way to raise funds. Don't forget to advertise beforehand so that people know when and where the event is taking place. Spread the word among friends and family and use social media platforms for wider coverage.
Here are 25 brilliant fundraiser crafts we love.
3. Activity Workshop
If you have had some good creative ideas for a while now, then this might be the best time to make use of them.
Activity workshops are fun and provide a great way to raise money for charity. Sit down and come up with a few great innovative ideas for activities that will be interesting and captivating. Then make a solid plan to execute your ideas. Once set up, advertise among your closest friends and family. Social media is very useful at times like these.
Here are a few tips to help you get started on your own activity workshops.
If you cannot come up with ideas, then start with an existing idea and proceed from there. Keeping your target customers engaged in the activity is the key to success here.
You can build activities outdoors, weather permitting, and allow for space between. One fun idea is a painting workshop where each person can leave with a canvas, paints, brushes and an easel.
4. Beverage Stand
When done right, a beverage stand can add a lot of funds to your charity.
First, choose a suitable place to set up shop or your beverage stand temporarily. Good places to start are near a busy park, a school, or beside a busy road.
Where there is a crowd, there will be more money!
The next thing you have to keep in mind is the current season and weather. Decorate your stand so that it looks nice and attracts more public attention.
You can set up a stand to sell ice cream, snow cones, lemonade or cold drinks during summer or a particularly hot weekend.
Switch it up once winter is here. During winter or cold weather opt for coffee, hot tea, doughnuts, and hot drinks. Do not be afraid to innovate. Instead of coffee, you can also sell hot chocolate or hazelnut flavor coffee with coco chips. Use seasonal fruits for lemonades and add a few personal touches to the beverages to make it a hit with your customers.
Read about "A Taste of Colorado" to know how to do fundraising using beverage stands.
5. Car wash

Get your group together and set up a car wash in your community or local area. You will need a lot of open space for this.
Have an open field or a parking lot and also be sure to get the right permissions if required.
You can do this car wash once a month or weekly during the summer if you need yet more funds. Advertise your fundraiser as advertising is key.
To make the car wash interesting, you and your team can dress up in costumes as you service your customers. Superhero costumes are very popular as always. You can also dress up as a pirate, or a historical figure or even an animal.
New and curious ideas can easily turn a boring car wash into a truly entertaining fundraiser. Include a few activities for people to take part in as they wait. You can also set up food stalls and watch the food disappear into hungry mouths.
Read more about car wash fundraiser and how it actually works.
6. Boat Wash

Yeah, you read that right.
Boat washing is the same as car washing except for a small difference in what you have to wash. If you happen to live close to a water body or in a community full of fisherman and boatmen, then this is just the thing for a fundraiser.
Form a team and put together a concrete plan for a boat wash. You can make a few hundred dollars per weekend by offering to clean boats for people.
As mentioned earlier, be imaginative and think of creative ways to set up this boat washing service. Include fun activities or food stalls to increase your total funds and keep the customers busy while they wait for their boats to come out of the shower.
7. Charity Sports

There is nothing like a good charity sports event to bring in large funds.
It is a healthy idea and participants can also enjoy themselves while they are raising funds for a charity.
The most common option is to organize a charity run where the participants enter the competition by donating a certain amount. The amount may be paid for participating or per mile if it is a marathon. The one-time donations from the participants will go to your charity.
Remember to be creative. Set up a costume race, where participants can dress up as their favorite cartoon or animated character and run for a cause. Keep prizes for the first three place holders and encourage friends and family to participate and bring others along.
You can even organize a race based on running through obstacles. These can take place on a certain Saturday or Sunday of each month. It is a fun way to rake in dollars.
Here are fifteen charity sports fundraising ideas.
8. Catalog Sales

Here is something relatively new.
This involves going door to door and asking people if they want to buy something from the catalog. Mobile and virtual options are available now from many catalog fundraising companies. You can email or post a picture of the items on your social media and fundraise remotely. 
There are many companies online who specialize in selling fundraising products. Get in touch with these companies to check if they are offering such a catalog. Once you have the catalogs, get your group members or volunteers to go from door to door. Have them try to sell a few of the products in the catalog.
All they do is simply go to a house or email neighbors and convince the members of the household to support the cause by ordering something. Once they have decided on a product the volunteer collects the money, fills up the catalog, and delivers the order.
This is a very easy and effective way to collect funds. However, patience and convincing skills are usually required to collect more funds.
Read more about how catalog sales help in fundraising.
9. Cleaning Services

If you have free time in your hand, then you can offer local business cleaning services.
Many businesses need their trash taken out, parking lot cleaned, signs cleaned, and many other little things to be done. This is where you come in handy.
Contact businesses or any stores near you and offer them cleaning services. In return, you charge them a fee which goes to your charity. This is a very simple form of fundraising, one that requires no additional skills. All you must do is clean up and clean up well.
You can easily find spare time on weekends to clean and raise funds at the same time. Who would have thought that cleaning can be rewarding?
Here's how single mom Kari-Lee Shaw fundraises through her cleaning services.
10. Consignment Shop Sales

Find a consignment store near you. A consignment store specializes in selling one person's goods to another person.
We all have many things lying around our house which we do not need.
Instead of keeping these unused goods out of a sense of nostalgia you can turn them over to consignment stores. When you unclutter the space in your house these used goods can be helpful to another in need. As a result, it can also bring in money for your charity.
Anything from furniture, apparels, books and even antiques can be sold in a consignment shop.
Although the shop keeper will keep a commission on every sale the shop makes, you can still collect more than when these items were lying around unused.
Check with the shop every few weeks to see if they have sold anything. Keep a track of what is going out and how much is coming in and you have yourself a fundraiser from home!
Here's a beginner's guide to consignment stores.
11. Donation Jars

This one is just so simple it is by far the cheapest fundraising ideas on the list.
Get a few large jars with large openings. Make a sticker for each jar and write down the name of the charity you are collecting for. Mention what the charity is about and add some information for people to read.
Then, visit the local shops nearby and ask the vendors if you can put the jar up on their shop counter. Put up as many jars as you can and check back once every week to see what the jar has collected.
After a month, collect all the donations and put the jars back in the shops to collect more donations for the future.
This is a prosperous option as there is no limit to how much you can collect. Once you have enough money, empty the jar and put it back thus continuing the cycle. A nice and hassle-free way to collect good amounts of cash.
Here are five awesome donation jar ideas for fundraising.
12. Fun Games

Fun games like guessing games are always a good way to raise funds.
It not only draws a large crowd of all ages but also makes donating to charity enjoyable for the participants.
Get your team together and plan a few games where participants pay a few dollars to participate and get to take home attractive prizes if they win. Do not spend too much on the prizes as that will defeat the very purpose of fundraising.
Keep the games interesting so that they appeal to a wider crowd. The more crowds you can draw in, the more funds you will raise. Games like, guess how much a vegetable weighs or how many coins in a jar are simple and fun to play. The prize is an added motivation for the donors.
This Pinterest user has 143 different fun games ideas to share.
13. Online Auctions

Sign up your organization today with CharityAuctionsToday.com to enjoy a wide range of benefits without any listings or monthly fees. This can be done remotely and without in-person meetings, so it's an ideal 2020 event.
Internet auctions are growing in popularity primarily because it allows your charity or nonprofit organization to reach out to people globally.
Free auction sites like Charity Auctions Today provide valuable tools for fundraising that you might normally have to pay for setting up. Instead, you can set up your own auction in less than five minutes. 
This not only brings in large amounts of money but also makes your charity well known to many. Do not worry if you have nothing worthwhile to sell. Partner with a drop shipping company who will offer you many items to sell without any upfront costs or the need to maintain an inventory. Put up an item for auction and when someone wins the auction, all you do is order the item at wholesale price, enter your customer's address and the shipping company will deliver the product right to their doorstep.
Even better than the ease of operation is that you get to keep the total profit for your charity. Learn more: how to start an online auction.
14. Raffle

Here is a neat idea! All you need is an open space and the right holidays.
This is how a raffle works.
Set up an artificial Christmas tree this winter in your backyard or the local park. Post a sign and let your supporters and other community members hang ornaments and decorations on the tree.
Once they have donated the ornaments and decorations it is time for you to raffle them off starting with the most expensive ones. You can also do this during other holidays like Easter and Halloween.
You can raffle handmade gift cards, homemade chocolates, and even flowers for Valentines' day. The options are numerous if you know how to pursue them.
Read more about six outstanding raffle destinations.
15. Pajama Day

Here is a fun way to raise some money from the school, college or your workplace.
Charge your classmates or workmates a small amount so that they can wear pajamas to work or school on a designated day.
You can change it up a little by doing a hat day or a costume day. Have a few contests like 'quirkiest hat' or 'silliest pajamas' or 'strange costumes' to keep them entertained and excited.
This is a fun way to raise some funds and although it may not be as prosperous as some of our previous ideas, it still is the most entertaining and you may just earn a few loyal supporters.
Supporters are as important as the funds you collect. Loyal supporters are necessary for the long-term success of your charity.
Here's more on how to host a Pajama fundraiser.
16. Change is Here

There are many working people in your neighborhood who are willing to part with the pennies that keep piling up in their pocket at the end of each day.
You and the members of your group go from door to door and ask people for any extra change they might have in their pockets to support your chosen cause.
Furthermore, since you are only asking for small change, a few generous souls may end up giving you a few bills just to help you out.
This idea may sound a little simple but when it comes to collecting funds for charity, every penny counts.
There is also an app that helps people donate their change to charity and get tax deductions. Download it here.
17. Recycle

This is a great way to collect funds and clean up the environment at the same time.
We use a lot of plastic bottles and aluminum cans in our everyday lives. Now you can collect all this recyclable waste from your neighbors and turn them over to your local recycling center for cash.
Publicize the campaign in your neighborhood and pick an open space where the people can drop off their recyclables. Be careful not to spill harmful waste into the environment.
Once you have collected the trash take them to the recycling center and collect your money. You can also charge your neighbors a couple of dollars for getting rid of their junk for them.
Learn more about recycling for a cause.
18. Root Beer Stalls

Everyone likes a cold ice cream float or a refreshing root beer on a hot and sunny day.
Pick an open and public spot in your locality and set up a stall there, with all necessary permissions of course.
You will have to get a small portable freezer to store your ice cream. Other items such as cups, spoons, napkins, and straws are also required.
Once the stall is set up call out to any passersby and offer them a free drink. If they like it then ask them to donate something. Come up with creative flavors of your own and if the first few people like it then more will follow automatically.
Fruit smoothies are a healthier and more delicious option which may appeal to a lot of the health-conscious people today.
Weber's Superior Root Beer Fundraising might be a case in point. Learn more about it here.
19. Cycle Races

If you happen to live near open fields in the country or happen to have a large open space near your neighborhood then you and your group can organize cycle and motorbike competitions to encourage more young people to donate for a cause.
Plan an obstacle course for a cycle race or freestyle bike event.
Advertise the event as early as possible so that a lot of people get to know about it beforehand.
Participants can enroll by paying a small one-time fee. This will bring in a lot of the young people who are otherwise not much inclined to donate for charity. The bike race or the stunt event will give them an excuse to donate for a good cause while having fun.
You can also have team races where friends or family members can form a team of three or four people. Put the teams up on a roster on the day of the race and allow people to bet on their favorite team or participant. This will help you raise a lot of funds for your organization.
Here are three nonprofits cycling events that will amaze you.
20. Community Service

Round up a few of your best men and women and form a team. Now approach the community elders or leaders and offer to do community services for a minimal charge which you will use for a good and honest cause.
There are a host of activities you can do like mowing lawns, helping the elderly with household chores, cleaning the street, raking leaves or removing the snow. Not only does the activity help the community but also it helps your cause by raising money.
When the people in your community see the work you are doing for the community they will be more eager to help you out with your cause.
They will be more generous with their donations too once you have earned the goodwill. This requires very little skill and you can even do it on weekends. Split into teams of two or three and assign different jobs to different teams. This way you get a whole lot done on the weekends.
Here are 91 superb examples of fundraising through community services on Pinterest.
21. Health is Wealth

We all have friends in our group who want to lose weight.
If you are trying to lose or gain weight, then this is the best way to do so. Form a few teams comprising of two members each.
Each team will have a certain goal like gaining weight or losing weight. After the teams are formed they will have to find supporters willing to pledge to their cause.
Record the weight of members of each team at the start of the event and keep a note of it. The event will go on for a fixed period of time, say a month or two, after which each team will weigh in again.
Once the competition is over, teams will collect the pledges from their supporters. Each team can collect $1-5 for each pound of weight lost or gained. This is a very nice way to raise funds as everyone turns out a winner at the end of the event.
Here's more on how you can lose weight and support your favorite charity.
22. Yard Sale

This is arguably by far the most popular way to raise funds on this fundraising idealist.
Getting rid of things you don't need anymore is a great way to raise funds for your cause.
Now a yard sale does not even require you to go somewhere. Your backyard is the perfect place to start.
Make a list of all things that you no longer use or need. Divide them into categories such as furniture, clothing, antiques, or toys. Ask other members of your organization to donate too.
Advertise on social media, among friends and family, and put up posters in your local area to get the attention of your neighbors.
Have the yard sale for an entire day. Do not bargain or try to sell your items for profit. Remember they are used and you are raising money for charity. So, any amount the donor is willing to pay is welcome. Collect your money at the end of the sale and put up another yard sale a month later if you still have items to sell.
Here are top tips for planning a fundraiser yard sale.
Fundraising is a great way to raise money and awareness for your charity.
However, a fundraiser should be done with the best of intentions for it to be a success.
Be patient and brainstorm with your group to come up with new and exciting ideas. Make donating exciting and interesting and your collections will increase exponentially.
The proceeds from your events will go to the charity of your choice or your own non-profit organization. Be smart and active and you will be able to raise huge funds with just a little patience.
Happy fundraising! Be sure to download your own copy of Charity Auctions Today complimentary auction blueprint if you'd like to take a charity auction for a test drive.