If you've been tasked with creating an online auction to fundraise for your organization, this is a perfect way to begin the selection process for your online auction platform.
This is a list of the top 20 online auction sites, not in any particular order, each linked to their homepage for your convenience.
While we think you should save a lot of time and use Charity Auctions Today, you may want to take a look at several before committing to one.
PRO TIP: When comparing sites, be sure to pay attention to what their fees entail. This way, you can compare apples to apples. Some have performance fees, and others charge a transaction fee, plus a percentage of your total. 
Each platform listed is linked to its website to make it easier for you to vet.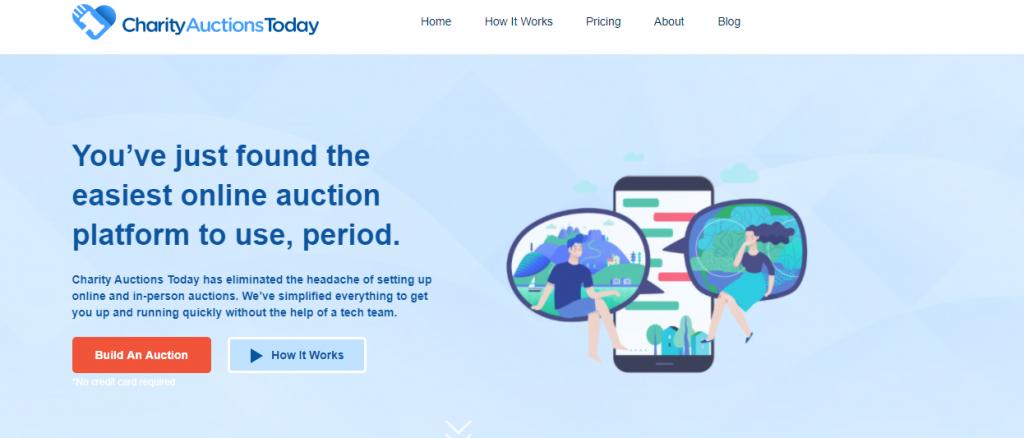 Our top features are:
1. Low-cost, high performance
2. Easy to navigate and create your auction
3. Our personal support and training ensure your auction's success. Support is free.  
What is a list of auction sites without eBay? eBay is undoubtedly the largest auction site on the internet and prides itself as the biggest online shopping mall.
eBid has a large database of auctioneers and bidders. eBid also offers competitive fees and user-friendly seller features.
LiveAuctioneers offers a wide array of auction items, from jewelry and cars, to collectibles and more.
QuiBids highlights their best and most recent deals right on their homepage, so you can begin bidding without having to scour through countless listings!
BidGoLive was mindfully crafted to help its users find a vehicle. With its thoughtful search features, BidGoLive is among the industry leaders in virtual auto auctions.
With over 25,000 professional auctioneers and 13 million auction buyers, AuctionZip is one of the world's largest online auction marketplaces. Using their intuitive platform, you can easily register as an auctioneer or a bidder.
BiddingForGood is a reputable online charity auction site that can help any organization reach its fundraising goals. They have helped countless charities secure much-needed funds!
Sotheby's is a global corporation that has established itself as one of the world's best and largest brokers of fine and decorative art, jewelry, real estate, and collectibles.
Ohio auctioneers and bidders – this one is for you! Auction Ohio is a highly-regarded, one-stop-shop auction platform.
Established in 2001, Autorola is one of the largest, internationally recognized online auction platforms for car dealers.
Auctria is a web application that lets you create a very powerful, but easy to use, auction. You can run silent, live or virtual auctions at an affordable rate.
Artsy hosts the world's leading gallery sales and fine art fairs. Check out their page for current and upcoming art auctions!
CharityBuzz online auctions bring together hundreds of the world's most inspiring luminaries and beloved brands to support incredible causes or projects around the world.
GiveSmart specializes in building and developing online auction fundraising sites for hundreds of people around the world.
EIG Property Auctions provides comprehensive information on property auctions, including photos, guide prices, and auction results.
Based in Derbyshire, England with other valuation centers all over the United Kingdom, check out Hansons website for auction information, antique valuations, and upcoming events.
Established in 1967, Ruhter has consistently been a recognized leader in Nebraska-based land auctions, commercial equipment auctions, estate auctions.
Established in 1967, Ruhter has consistently been a recognized leader in Nebraska-based land auctions, commercial equipment auctions, estate auctions.
Invaluable is one of the largest live online auction sites, specializing in fine art, jewelry, collectibles, and furniture. You can bid in real time from any part of the world.
Would you like to create a demo auction on Charity Auctions Today? It will take five minutes, and no credit card is needed. Take a test drive now!