An
online charity auction
is a great way to
raise money
and awareness. Virtual auctions break down,
streamline
and eliminate the physical limitations of traditional auctions such as
geography
,
time
,
presence
,
space
, and a
small target audience
.
Online charity auction software makes it possible to run a fundraising event from the comfort of your home or office. Your school or nonprofit can raise funds with charity auction software remotely, even when in-person events are a challenge to hold.
Various auction sites provide buyers and sellers with platforms powered by different types of auction software. If you are planning a charity auction, you've probably started searching for a suitable and intuitive charity auction software site.
But, what makes one online charity auction software site better than another?
Well, it depends on your goals, for some it can be the
cost
and for others, it can be the ease,
authenticity
and
user experience
. To give you a better idea we've compiled a guide of the top
12 online fundraising sites
that use
charity auction software
.
*Prices below are subject to change.
Stay to the end for bonus content: 7 Easy Steps to Solicit Charity Auction Items & Sample Letters Asking For Donations
CharityAuctionsToday is a mobile and online auction company that provides a unique fundraising platform for individuals, nonprofits, schools, and businesses so they can raise more money for the causes they care so much about.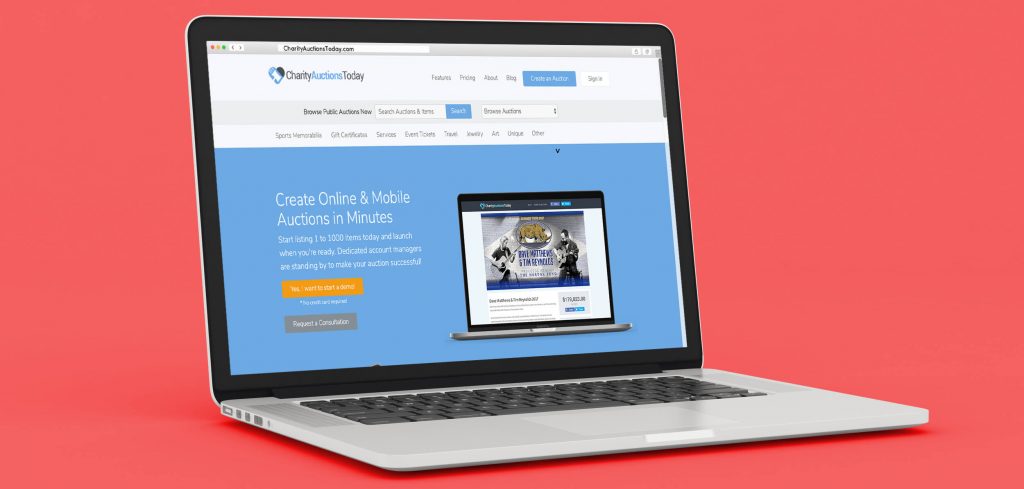 It only takes 5 minutes to set up an auction with assistance every step of the way. Set up an auction for FREE and only pay a 5% performance fee or select a prepaid plan for only $497. Great features of this platform include that it works flawlessly across all devices and risk-free auction items are offered for your online fundraising.
The best part of CharityAuctionsToday's free plan is you only pay if you actually raise money.  If you don't raise anything, you owe nothing.  It's completely risk free! 
Customize your fundraising efforts with hundreds of event features.
24Fundraiser.com was acquired by Charity Auctions Today to better fulfill their mission of providing nonprofits and schools with the best online options when it comes to their fundraising needs and event management fundraising software.Set up donation and campaign pages for free with pricing based on items sold.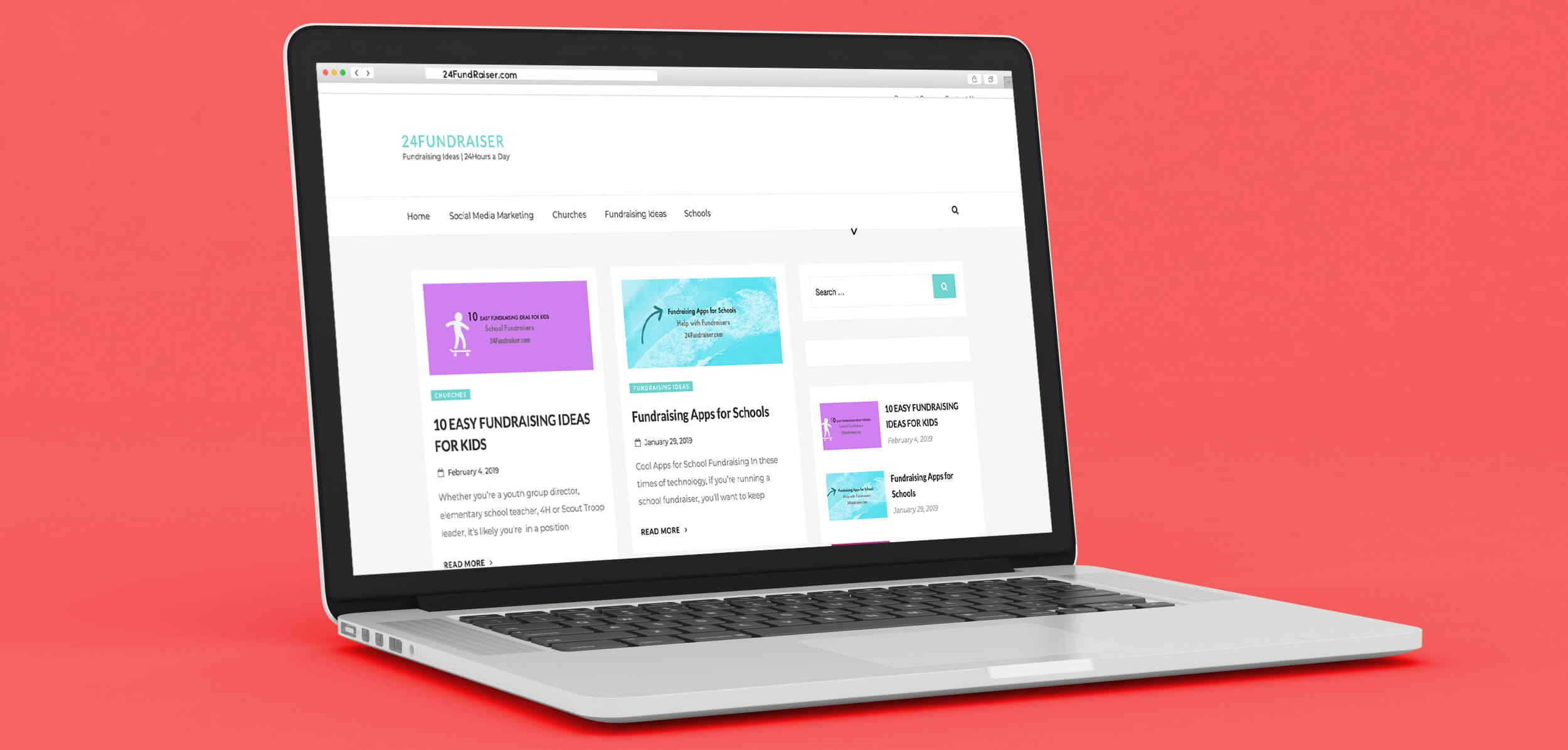 Fund a need, create teams to fundraise together. Start a campaign for a special event, such as a golf outing. Register and collect payments, check in golfers, collect donations, sell sponsor ads, and run a mobile auction all from one page. You'll hit a hole in one when you see how much more money you can raise using 24Fundraiser. Also, use their services to collect tuition or dues for your organization. They offer online auctions, donation forms, help with event set up, ticket sales, donor management, campaign pages, website buttons, integration, and donor processing.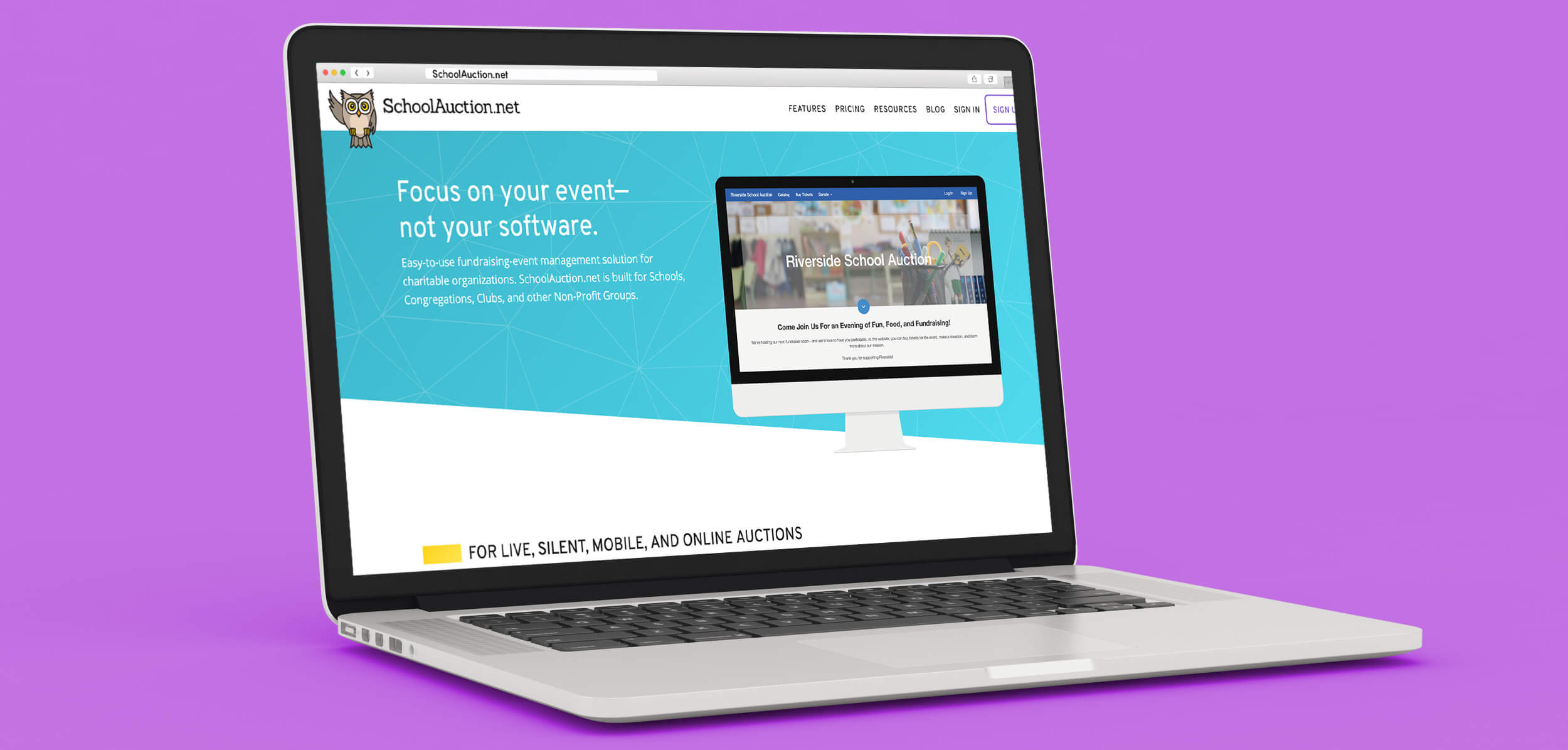 School Auction offers charity auction software services for school, non-profits, and any company that wants to do a fundraiser. Plans run from $1500 to $2500 per year based on your needs and donor data. A standard auction includes a gala, online, and hybrid auctions with unlimited bidders. For unlimited support via phone, you'll need shell out the $2500 dollar upgrade.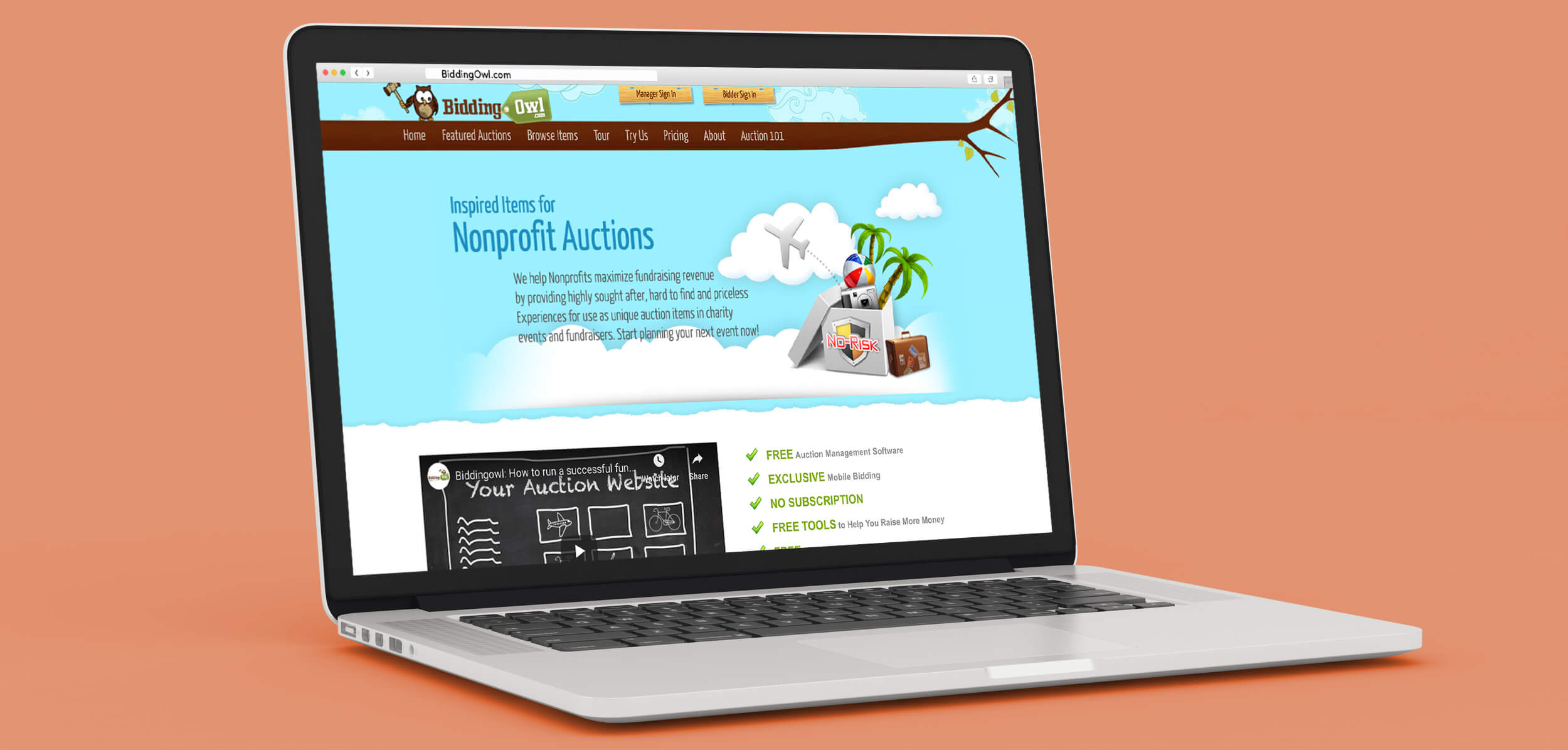 BiddingOwl is a start-to-End Auction Management System that offers silent, live, and online auctions. They also offer mobile bidding at your event, dedicated fundraising support and fully integrated credit card processing. BiddingOwl.com pulls charity and shopping together with the internet – providing bidders with a site that allows for great shopping experience for great causes. Silent and Live online auction software services are free with a 5% performance fee.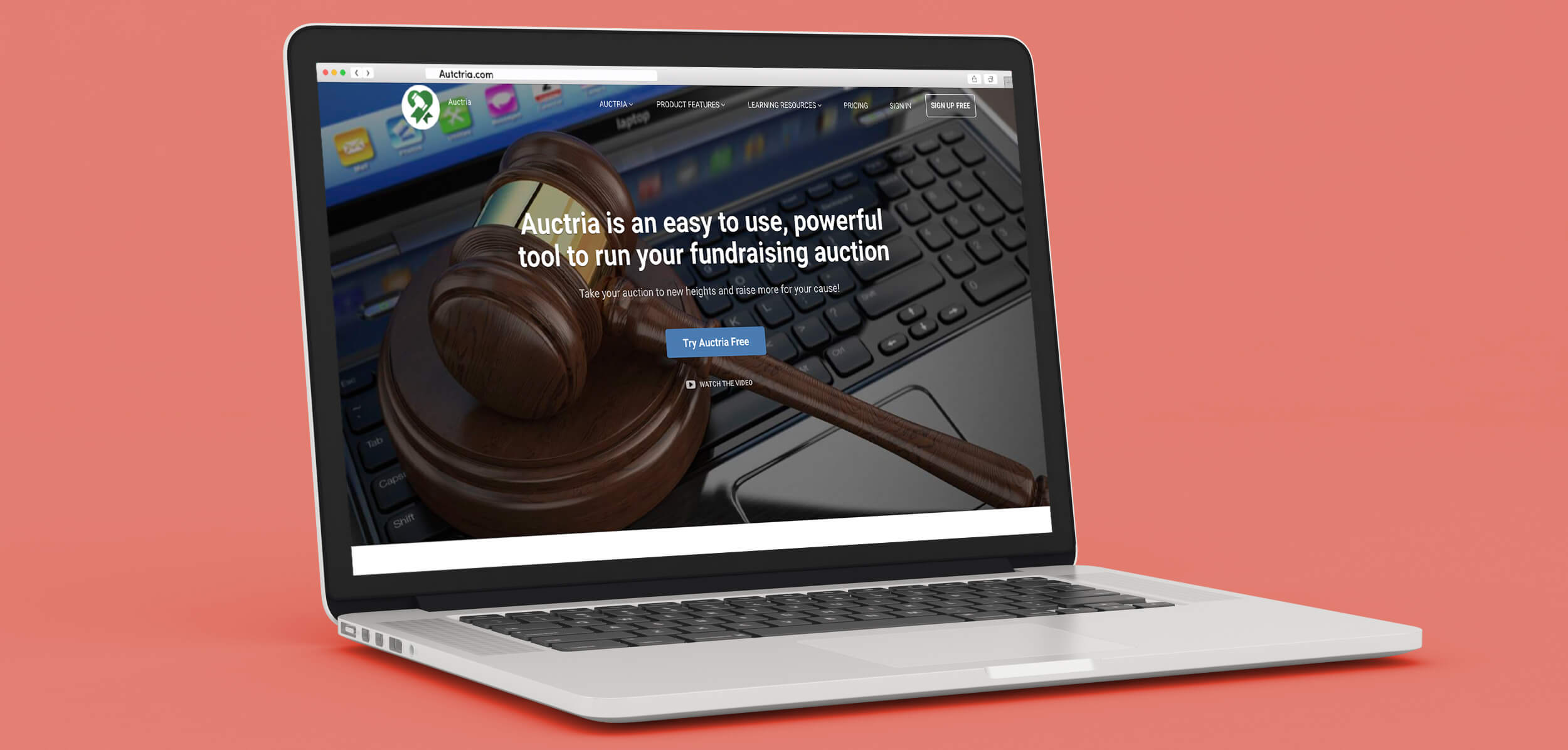 CharityAuctionOrganizer is a Canadian charity auction software company dedicated to providing affordable tools to help non-profits of any size run successful fundraising auctions. Their software was born out of the need to handle an annual school auction that had grown too big to be shuffling pieces of paper or Excel files around. They wanted a solution that kept track of the details, and helped ensure an efficient auction event but didn't cost an arm and a leg. They offer a variety of plans ranging from free for 30 auction items; one-time vs. annual services that range in pricing up to $2500.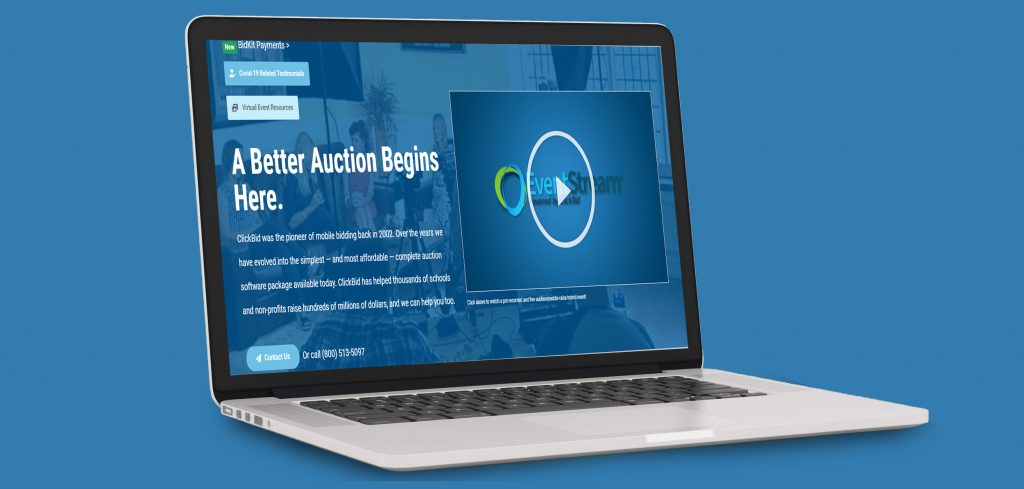 ClickBid started in 2002. It helps schools and nonprofits raise funds with hybrid events. Using their live auction and live video services, you can run silent, live, raffle and fundraising from the donor mobile devices. A basic annual license runs $795 for up to 4 events. It is designed with add-on packages including live streaming the event; ticket pages; and landing pages.
No more clumsy and complicated spreadsheets. No more having to print, email or publish a spreadsheet to others working on the auction only to have it immediately out of date.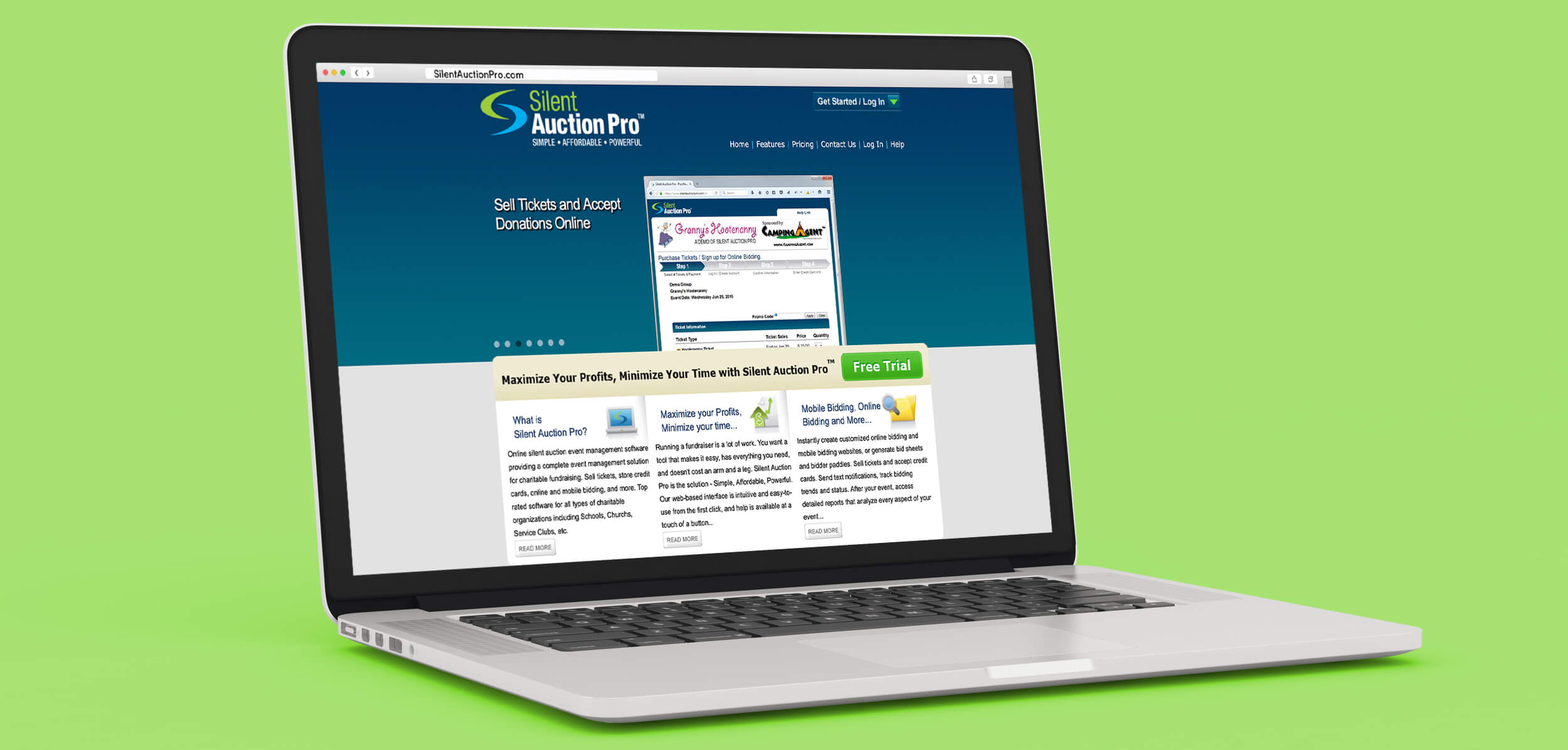 SilentAuctionPro was designed from the ground up to be an Internet-based, multi-user team environment. Any group member can access the system from any Internet-connected computer. Includes branded receipts, bid sheets, and more. The pricing is per event. All pricing quoted is per event with ranges from $99 to $800. If you use SilentAuctionPro for multiple events in the same calendar year, they offer a 20% discount on your 2nd event and 30% discount on the 3rd and subsequent events in the same calendar year. You'll have to tally everything up to see if this is the best pricing option for your fundraiser.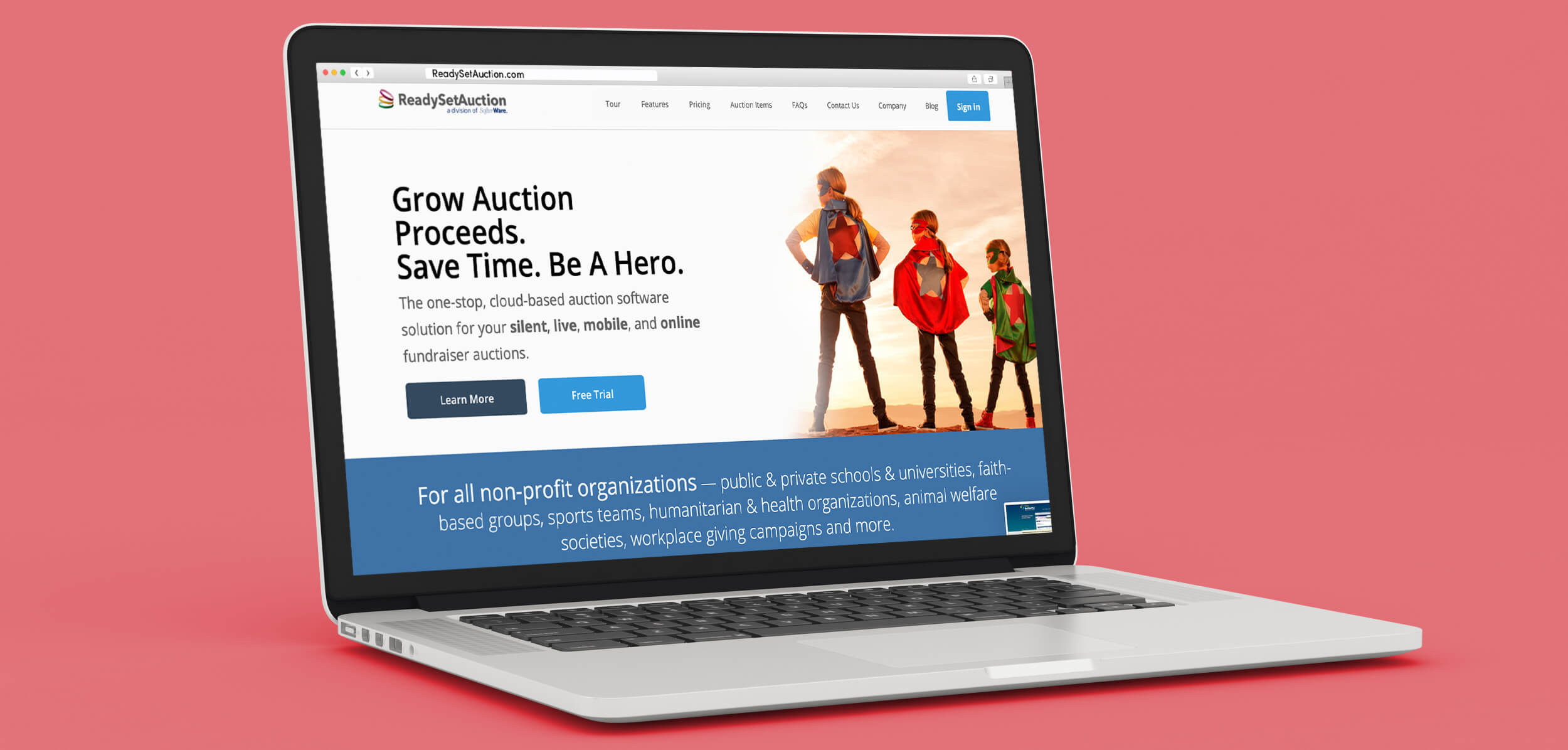 With ReadySetAuction, a division of SofterWare, you can keep track of every type of donation you receive. The easy-to-use packaging tool makes combining donations into baskets quick and easy. And because ReadySetAuction accurately tracks the remaining quantity of every multiple-quantity donation, you and your team will never be confused about how many of each donation is left to package. They offer mobile bidding, and printable receipts too. A basic auction starts at $1099 per year. Add all the bells and whistles for $1999.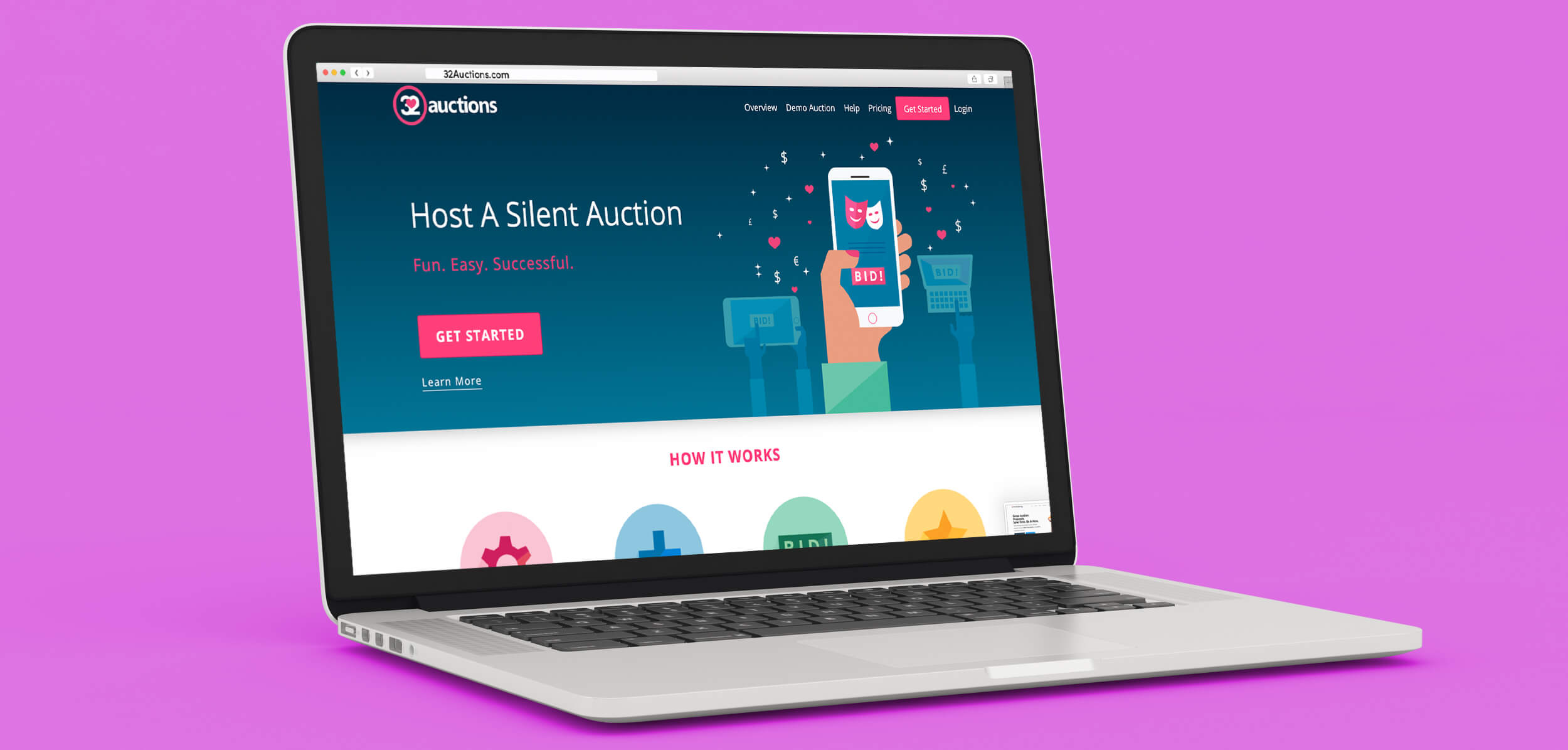 With minimal information necessary, you can create an account and have a silent auction ready to go in a matter of minutes. They've made it easy to set up and run your silent auction online. 
The auctions at 32Auctions are private, giving you the ability to determine who bids based on who you share your auction URL with. Having a private auction allows you to invite a trusted network of participants. The people who join your auction are those who are interested in seeing your organization raise money to reach your goals. You can start a free auction with 20 items, up to 100 items for $80, or a live event with 200 items for $160. Be careful which one you choose, some of them don't offer custom branding.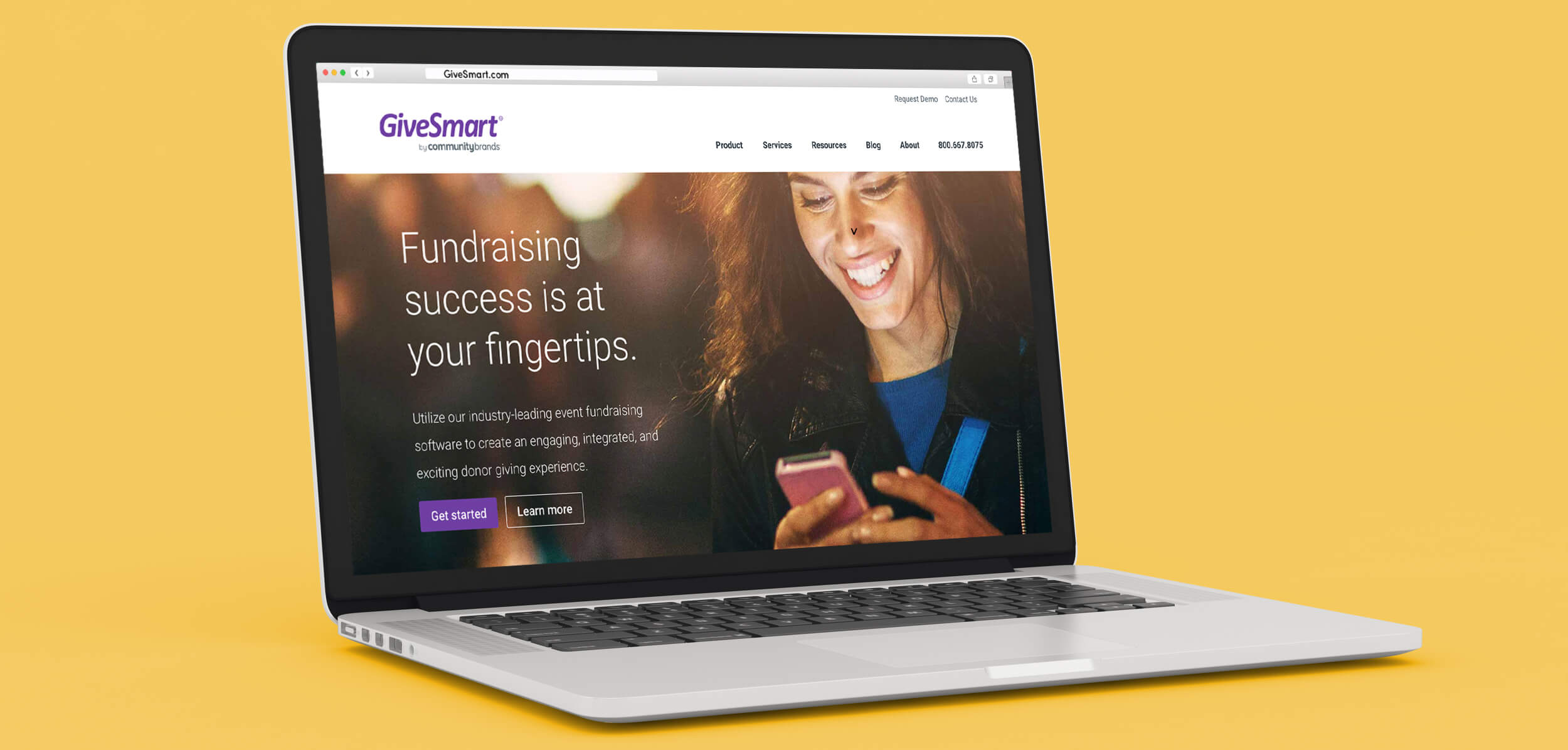 A dedicated Event Coordinator from GiveSmart is on hand the moment the planning begins–advising on everything from selecting the right items to starting prices to event timelines. With you throughout the entire process, the GiveSmart Event Coordinator becomes an invaluable part of your team. They secure, collect and protect all payments made at your event, give you open access to all the numbers, and release funds in as little as ten days. Pricing is not provided by GiveSmart, you'll have to contact them for pricing information.
A pioneer of mobile bidding in the market, they share experiences gleaned from thousands of events to make sure yours is poised to hit your goals.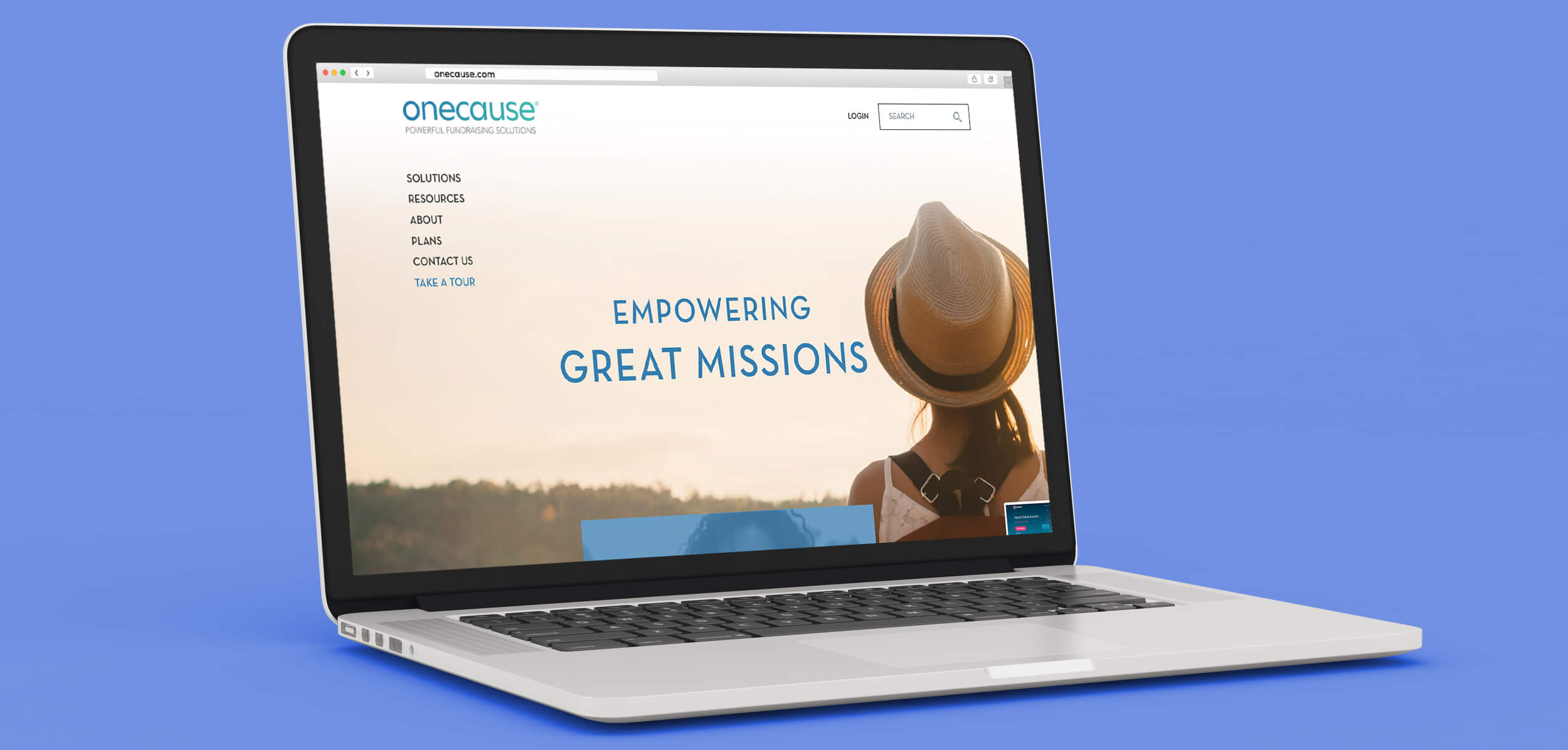 With more than 8 years of industry knowledge and a team of more than 250 fundraising professionals, their US-based account management and support teams are ready to assist you. Through phone and email support, an online knowledge base filled with helpful videos, web-based guided tours, you'll always have a place to turn for guidance. DIY options start at $1995 to $3995 a year. You can also get a custom quote based on your needs.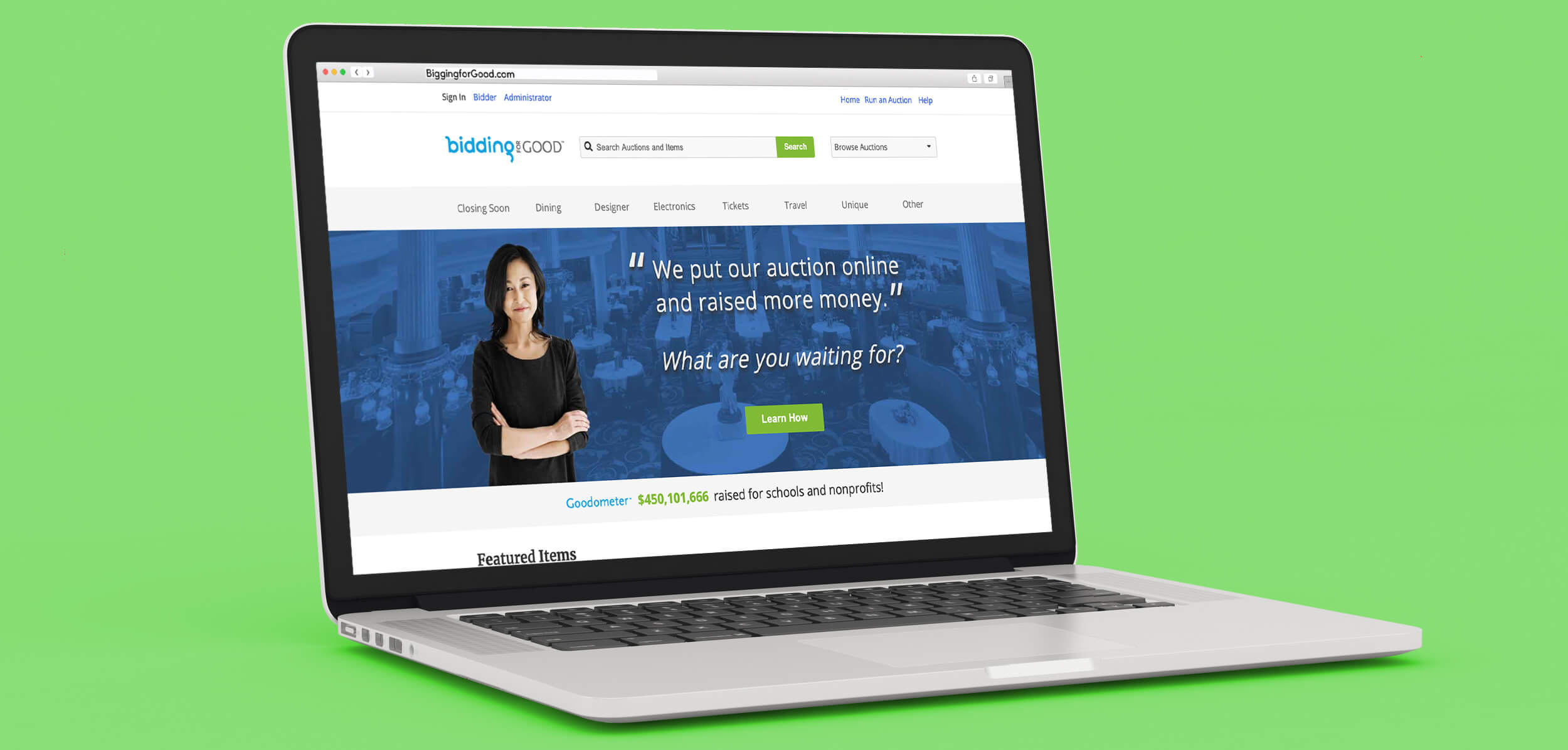 BiddingForGood is a charitable eCommerce company that offers an online auction platform where consumers can create fundraising events for their businesses and achieve great results. The software used at BiddingForGood works with computers, laptops, tablets, and mobile phones. With the help of their customers and shoppers in the bidder community, they've created a new category of shopping, Charitable Commerce™. Standard online auction services start at $600 a year with a 5% transaction fee.
Other Online Silent Auction Fundraising Tools Notables More information coming soon…
13. Accelevents
14. Handbid
---
Charity Auction Software: In Conclusion
As you can see, most charity auction software sites offer a similar option. Depending on your needs, pricing ranges from free to $4000 per year — plus credit card or performance fees. Review each fundraising website carefully to ensure you choose the site with the best pricing and options for your fundraiser. Don't fall for advertising gimmicks or hidden fees. Here's more detail on the software created by Tom Kelly for his mom, when she was looking for an easy way to raise funds for her favorite cause.
When if comes to features, make sure your next solution can handle:
Ticketing, CRM, Management Solution, Online Bidding, Payment Processing, Procurement, virtual events, allows you to place bids, and sell tickets.
How Auction Software Works on CharityAuctionsToday
One Auction Platform For All Your Devices
It doesn't matter if you only have 1 item that someone donated or 1000 items. The Charity Auctions Today platforms functionality makes it easy to get your items online and generating bids quickly.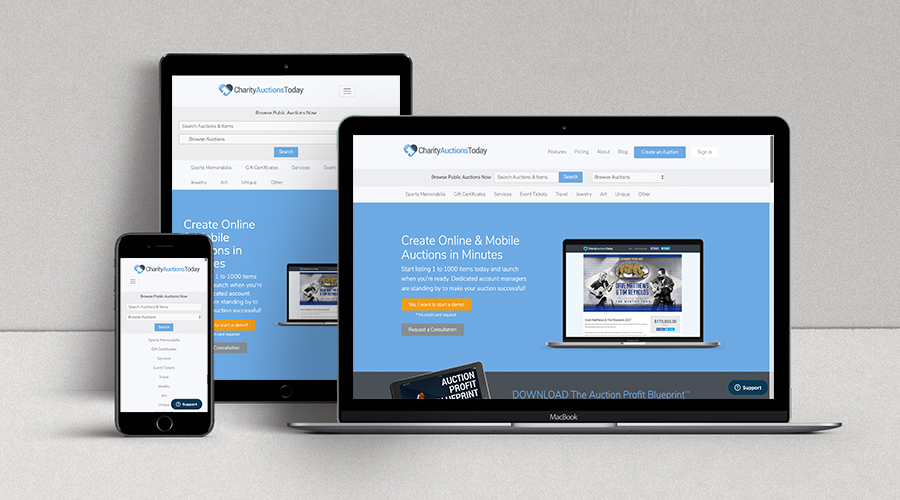 ---
Why Run an Online Auction?
Online auctions
are a great way to get items online quickly to generate
handbid
. It is also less expensive then running a live
silent auction
. Bidders can bid from anywhere in the world.
---
Creating Auctions is Easy
The Auction Setup Wizard only takes 5 minutes to complete and your auction is ready to add items.
---
Is it really that easy?
Yes, we took years of data and found all the pain points people had when creating online auctions. We take the stress out of creating auctions and built our platform around the need to simplify the process.
---
Choose an Auction Plan
When you're ready to start using Charity Auctions Today, choose an Auction Plan and tell us how you would like to receive auction payouts. We can Direct Deposit all funds into your bank account within 48 hours, or you can Request a Paper Check by mail.
---
Are there any hidden fees?
No, all of our
nonprofit organizations
pricing
,
messaging
and fees are laid out on our
pricing
page
. You can choose a free plan where we just take a small
performance fee
or, if the auction is going to raise over 20K, we have pre-paid plans to help lower the costs.
---
Upload Items
There are 3 ways to add items into our system.
Enter items one by one.

Import items in bulk.

Create an auction link and have your donors submit items online. Once you edit and approve, items will be live without hassle.
---
What if I don't have all my items yet, can I still use your auction tools?
---
Design Your Auction Website
The auction designer has all the customization tools you need that will create a great looking auction every time. Choose between 12 predesigned themes or have your designer match the look and feel of your website.
---
I'm not a designer, do I need to hire a webmaster?
No problem, you don't need a webmaster to design beautiful auctions on our software. That's why we created 12 pre-designed themes. Just click on the design you like and preview it in our design editor. Again, we make things easy 
---
Share Your Auction With The World and Start Accepting Online Donations
When setting up your auction can you choose between a public or private auction. A public auction will list your auction on our website and be available to our bidder community. A private Auction is only available to bidders who receive your auction link. With built in Social media tools, you can unleash your auction to anyone you wish.
---
What if I don't know anything about social media?
That's Okay! The best thing about our site is your bidders will take care of that for you. We placed social share buttons throughout your auction to promote sharing. You can just sit back and relax while your bidders share the auction for you.
---
Outbid Notifications
Any time a bidder is outbid, our system will send them an out bid notification email. If the bidder opted in to receive text notifications from us, we will also send an outbid text notification with a link directly back to the item. This will allow bidders to rebid from anywhere. [/fusion_text]
---
Are outbid text notifications free?
Yes, we don't nickle and dime you for every little thing. We have a vested interest in your auction succeeding. We will help you any way we can to make sure its successful.
---
End of Auction Process
When the auction ends, the system will generate and send invoices by email and text message. As bidders make a payment, invoices will be marked as paid in real time. To speed up invoice payments you can force bidders to have a credit card on file before they bid.
---
Is CharityAuctionsToday the right choice for me?
Yes, we started in 2007 and know what is takes to help our clients run successful auction. As you probably learned by now, our platform is the easiest to use. It's time to to take the next step and join the Charity Auctions Today family!
---
The auction designer has all the customization tools you need that will create a great looking auction every time. 
---
Bonus Content
7 Easy Steps to Solicit Charity Auction Items
To solicit items you can use for a charity auction, create a committee to manage the solicitation process, brainstorm with your committee members, list possible donors, write an effective solicitation letter, distribute the letters, follow up with phone calls, and send thank-you notes.
Charity auctions are a great way to raise funds and to improve the morale and unity of the members of an organization. There are many charity online auction websites that can help you in preparing for this kind of event. One of the secrets of a successful charity auction is to have unique items that will entice and encourage guests to spend. To do this, you will to need to solicit the various items that you can auction off. Here are some steps that you can follow:
Create a committee to manage the solicitation process
Recruit people to help you out with the solicitations. Have a meeting with the people who are helping out with the preparations for the auction and ask who among them can join a subcommittee in charge of the solicitation process.
Brainstorm with your committee members
Once you have a group of dedicated members who can help you gather items for the auction, conduct a brainstorming session with them. Important topics that you should tackle include whether you are open to any donation or only items of a particular type, whether you will be auctioning individual goods or packages of different things, and other questions.
List possible donors
Consider the owners of local businesses, community members and other people whom you think will be willing to contribute a product or service. You should also ask members of the group to recommend any connections that they have. Make sure the list includes the prospect's phone number, mailing address, e-mail address, and other means of contact.
Write an effective solicitation letter
Draft a solicitation message that you can use for your various correspondence. The message should include a brief background of your organization, the organization's vision and objectives, the reason behind the solicitation and why you are organizing an auction. You should also put the details of the event and whom to contact in case the recipient has any other questions. If you have a specific item that you are hoping the business or person will donate, you can include it in the message as well. Ask the head or chairperson of the auction to sign the letter.
Distribute and send the letters
When the letters are ready you can divide up the total number of prospects among the members of your group and distribute accordingly. To make things easier and more convenient, you can opt to email prospects that are located out of town.
Follow up with phone calls
After the letters are sent, you can call the person or establishment to inquire if they have received the letter. This will also allow you to negotiate better with your prospect in case they have a counter proposal.
Send thank-you notes
Once you receive items for the auction, don't forget to send thank-you notes to the donors. This is both standard business practice and a way of keeping open lines of communication with your donors.
In addition to external donors, you can also ask auction committee members to contribute an item or service for the event.
Auction Charity Idea Discusses The Many Advantages Of Online Auctions 
What if you could raise money for your non profit 24 hours a day, 365 days a year?  Visualize this scenario.  You have an open door auction in which you never have to leave home.  Guests don't have to be concerned about scheduling conflicts and can attend whenever they wish.  You don't have to pay any rental fees for your location or hire a staff, and donors around the nation can easily participate at any time.  They can even bring their friends and family.  You can watch those bids roll in and you didn't have to pay a dime to set up your event.  
Does that auction charity idea sound too good be true?  It is true!  Online charity auctions are the wave of the future, allowing your non profit the ability to raise money all year long, selling anything you desire, with very little to no out of expense.  
With online auction charity ideas, sponsors, bidders, staff, and donors can all participate from the comfort of their own home.  No matter where your donors are, they can join in and have access to your online events through a simple internet connection.  Additionally, thanks to email and other telecommunications options, you can easily give your potential supporters the individual attention they deserve, inspiring them to donate to your cause, and making it a much more personalized, thrilling experience.  Having this online presence also makes it much easier for you to really explain your charity and its' cause, providing your constituents with everything they need to know to become fully aware of your organization and its' efforts.  
Your non profit or charity can host live auctions, silent auctions, or you can simply run them throughout the year as an additional means of fundraising.  If you have other staff members working on these projects with you, they can work from a distance as well.  This ability alone gives you an opportunity to recruit volunteers in different states who can promote your charity in their area.  
So, how do you get started with you auction charity idea?  You don't need to be a proficient web designer or programming master to run online auctions.  There are no hassles of trying to build your own auction website or hire someone.  We've done all the work for you already so you can get straight to business.  At IDonateToCharity.org, you can set up a free storefront where you can customize your home page, insert your logo, mission statements, and other information, and begin creating fundraising auctions.  With the ability to upload images and text, you can equip your auctions with full previews and descriptions of your items, all of which you can host with no listing fees.  Because there are no space or time restraints, the possibilities are limitless.  
We also offer a variety of other useful auction tools, free articles, as well as several other, unique fundraising opportunities you can host at our site, such as treasure hunts, poker tournaments, raffles, and so much more!  In addition, we've partnered with a wonderful dropshipper, giving your non profit access to over 200,000 items marked up to 75% off retail!  By signing up free, you can utilize these products and sell them at your auctions with absolutely no out of pocket expense!  
There are many similar services available on the internet, many of which require you to pay monthly membership fees, listing fees for auctions, or other upfront fees.  At charityauctionstoday.com, we offer these things free of charge so your organization can focus on raising money, not paying money.  You also have the option of going beyond our free services.  We have several upgraded packages and features available, all at affordable prices that your foundation can utilize.  These include bold and featured listings, rates for those who wish to put up more than 1000 auction items, other promotional tools, and so forth. 
Sample Letters Asking For Donations
Sample letters asking for donations should bear perfect words, sentences and phrases to create letters of unique ambience and make the difficult task of asking donation easy. The secret of success in writing fundraising letters     is exposed when a donor will volunteer to give from genuine caring rather than from persuasion, guilt or pressure. 
That is why to write Sample letters asking for donations is a ticklish issue and to be handled with utmost care. Some of the salient points about how to write a perfect fundraising letter is given below for a prospective writer to have a look-
The first objective is to have the reader's attention. This part should never be overdone. Pleasantries should be included and the reader to be addressed as if you are talking to a friend. 

Next, state the cause of the program and credentials of the charitable organization. This part is essentially important and should be the longest of a fundraising letter. Roughly speaking 150 words should be accommodated in this paragraph identifying critically the need and explaining at the same time how the organization is going to effectively fulfill the need.

In this paragraph, the contribution to be sought. This part of the fundraising letter should be concise and to the point. There should be around 50 words in this section, listing the benefits of supporting the program and its cause. And then, ask for a specific donation amount. If the donor has contributed earlier, explain how his earlier charitable contribution has helped the cause so far but the need is still there and that's why the contribution is sought. 

If necessary, an additional page may be inserted to use photographs or other evidence to validate the above narrations and keep the reader's interest intact. Reference to the insert must be made in the fundraising letter.

Thanks giving part will be a statement of gratitude in polite and subtle language which if properly done will make the contribution of the donation a foregone conclusion. However, expression of gratitude for the donor/reader's generosity for having given the time to read the letter and consider, should be explicitly forthcoming in this section.  

The concluding section should be formal and courteous. Wishing the reader well will leave a good impression in his mind regarding the cause for which the letter is written. 

Last but not the least, signing the letter is very important. The reader should get to know that the request is coming from a real person in authority, not any impersonal organization. 
If you want Sample letters asking for donations, using CharityAuctionsToday.com to raise money online Is the best way to go. They provide all the Donation letter you need to solicit donations and give you an easy platform to collect money through donation pages.