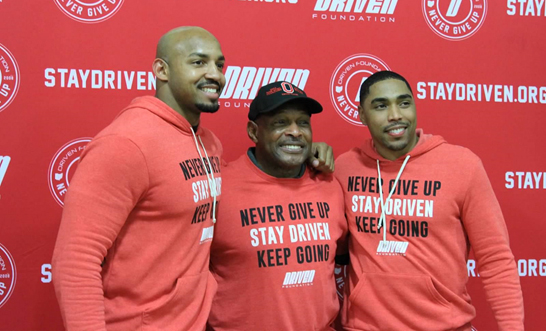 In 2009 Roy Hall was a 3rd year player in the NFL and was keen to use his position and platform to make a difference. "As a sporting celebrity 'paying it forward' is important and makes a difference in my community."
Roy joined forces with his Ohio State University friend and fellow football player Antonio Smith to create a football camp. At one training session they met a woman in her late 60s with five young boys, from 9 to 15 years old. She shared the story of how she came to be looking after her five grandchildren after their mum was sent to prison and their father had died. Providing food, housing, and financial stability in this situation was tough and Antonio and Roy decided to help.
NFL Wide Receiver Roy Hall Uses Online Auctions to Raise Funds in Fight Against Hunger and Dependency
"All we had created at this point was a football camp – after this encounter we started to focus on basic human needs to combat poverty and build hope. One in five children and one in seven people in Ohio struggle with hunger," says Roy.

Roy himself was raised by his single mum and understood the hardships some families were facing in Cleveland. His mum worked two jobs and they had to ask extended family members for financial help again and again over the years: Bills, eviction notices and threats of debt collection were piling up.
The Driven Foundation
Fast forward: Since 2009 the Driven Foundation has provided over 1 million pounds of free food to over 8,000 families, distributed 2,500 backpacks with school supplies to students in need, and leads 12 youth development and character-building programs throughout Ohio.
Additionally, their powerful speakers travel around the country, helping audiences reach their goals and add value to their teams through their ELITE leadership and discipline strategies. Today, they partner with leaders and innovators in every industry, from Fortune 500 companies to youth groups to make a difference.
Roy also hosts a self-improvement podcast that is well worth a listen. You can find episodes on iTunes as well as your favorite podcast app.
The Challenge
Before the pandemic the Driven Foundation had undertaken a small number of fundraising activities through small scale offline events, but the virus brought those to a standstill. "With over 40,000 non-profit organizations in Ohio, all competing for donations, it's hard to compete and to find new ways of enabling people to make meaningful donations," Roy says.
However, Roy found a perfect solution: When he wondered what good he could do with his children's abandoned Lego bricks and looked into online auctions, he found CharityAuctionsToday.com. Roy signed up and quickly created the "Driven Foundation LEGO Auction to Feed Families".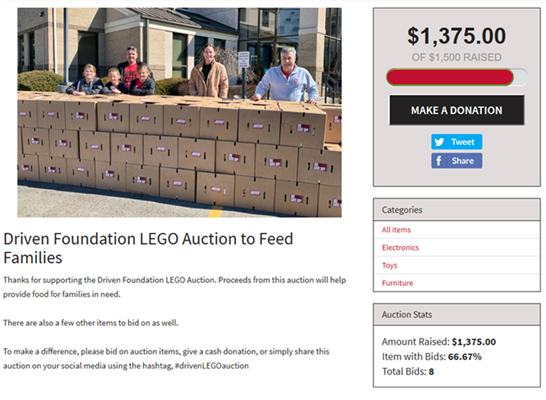 "Charity Auctions Today levels the playing field, because it's now possible to send contributors and supporters to a dedicated site, where they can easily bid on things they'd love to have. It's a really simple way to raise funds."

The Result
Roy sold all his LEGO bricks. But more importantly, he raised much needed funds and has created a new way for supporters to donate their own items to the Driven Foundation's online auctions.
The platform is designed to be easy to use, quick to upload content and integrates with Stripe, enabling people to bid and donate via credit card. And, because the platform allows people to make donations without having to bid on an item, it provides additional fundraising opportunities.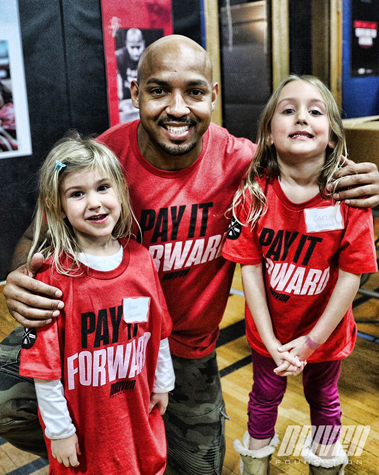 Charity Auctions Today has proven to be the perfect partner for The Driven Foundation, providing a new platform for the former NFL fundraiser's organization to raise awareness, and provide supporters with opportunities to contribute to the organization's work.
With a simple user interface, social links to share and a credit card integration, the platform is now an integral part of the organization's fundraising strategy.
"I was really impressed with the donations aspect of it. At first, I was not aware that it was possible to make a donation without bidding on an item. I loved how easy it was to create your own auction site and I was impressed with the way I can add my own sponsors."
Ready to start your success story? Create an online auction with Charity Auctions Today in minutes:
Let's get started, it's super easy.
Oh yeah, you don't need a credit card to get started either.