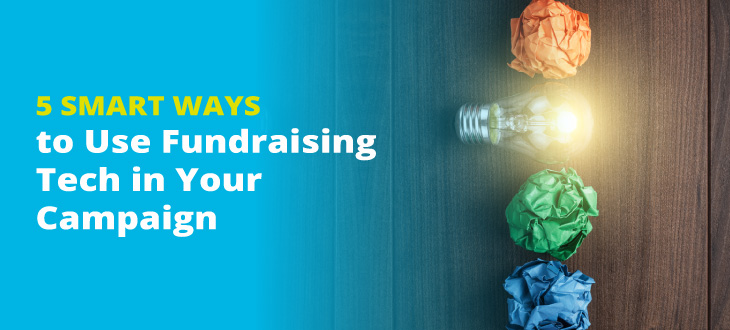 Everyone knows that fundraising is one of the most crucial parts of your organization's strategy. No matter if you're fundraising for a sports team, a nonprofit, or for something else entirely, raising money is vital to reaching your goals.
Nowadays, there are a thousand and one ways to raise money. Between the newer, technology-based methods and the traditional in-person asking tactics, it's not hard to get overwhelmed by all the options!
That's why we've compiled this list of our favorite ways to incorporate fundraising technology into your campaigns this season. Asking for donations in person should remain part of your strategy, but with fundraising tech you can reach out further and faster.
What are the best ways to use fundraising tech in your campaign?
Update your online donation page

Try mobile giving

Use auction software

Market matching gifts

Open an online storefront
For each point, we'll break down what technology you'll need, why it's effective for fundraising, and how you can use it to improve your fundraising strategy. If you're ready to go, let's dive in!

1. Update your online donation page
The cornerstone of any fundraising campaign is your online donation page. No matter what online donation platforms you use to draw people in, your online donation page will be crucial to your overall fundraising strategy.
To make sure that your online donation page is up to snuff, make sure that you're working with a strong CMS, or content management system. These types of software solutions can vary from a whole website builder to a system that just maintains your donation page and payment processor.
Once you have a donation page that you can be proud of, share it with as many people as possible. You can:
Tweet, DM, or post the link to your donation page wherever you have a

social media presence

.

Include the link on fliers, receipts, or letters detailing your mission. Make sure to use a short and memorable URL, like your campaign slogan.

Tell people in person or over the phone where they can find your donation page.
An online donation page steps up your fundraising strategy because it allows you to accept donations through more than just cash or check, and it allows your supporters to donate from wherever, whenever.
A best practice for your donation page is to ensure that it's mobile-optimized, or mobile responsive. This way, if someone tries to donate through their smartphone, they'll find an easy-to-use and secure webpage.
Now that you've built yourself a strong foundation for your fundraising campaign, we can move on to the more specialized types of fundraising technology that you can use to rock this season's goals.

2. Try mobile giving
In the previous section, we mentioned how people might want to make their contribution through their phones. But in addition to a mobile responsive donation page, you can offer fundraising technology solutions that make it even easier to give through a smartphone!
Mobile giving software is a solution that enables donors to make gifts through their phones by sending text messages, emails, or using an app!
The actual delivery system depends on which mobile giving software your organization or team invests in, but one of the most common—and one of our favorites!—is text-to-give software. The text-to-give provider gives you a dedicated phone number, which you can then distribute to your supporters.
Then, your supporters text the number with either a keyword or the number of their donation amount (for example, someone who wants to give a $20 donation would just text "20"). Then, depending on the provider, your supporter will receive a response that includes a link to a donation page, a pre-written email, or other donation vehicle.
The supporter completes the form or sends the email, and the donation is made! It's that easy, and everyone can do it. Some providers even just tack on the donation to your phone bill at the end of the month.
Mobile giving is popular among all age groups, especially for school fundraising campaigns, because donors can give even when they don't have access to a computer, like parents at a PTA meeting.
Now, to make your mobile giving fundraising strategy as effective as possible, follow some of these best practices:
Include preset donation amounts in your mobile donation form.

Diversify your mobile giving marketing strategy.

Send immediate thank-you messages after the donation is made.
Mobile giving can be a fun and easy way to engage supporters in your fundraising campaign from anywhere!

3. Use online auction software
Fundraising events are a stellar way to engage your supporters in learning more about your mission and getting to know them personally. But fundraising events can be difficult and expensive to host!
That's where fundraising software comes in. With online auction software, you can have all the fun of a charity auction with none of the stress of finding a venue, hiring an auctioneer, and arranging for catering.
To make the most of this fundraising strategy, invest in a smart online auction platform that allows you to upload your items with pictures and set a minimum bid. Then, advertise your items to your supporters and open the bidding wars!
Donors get to bid for the items that they want the most, and your cause benefits from their competitive spirit. But what types of items inspire donors to bid big?
Vacation Packages

Food and Goodie Baskets

Experiences (massages, restaurant gift cards, etc)

Artwork
Post these fun prizes online, and then send out the link to your online auction! Set a time limit and then encourage your supports to bid. Your timeline should be long enough to allow your donors time to see everything, but short enough to inspire a sense of urgency.
As another best practice, ensure that you choose an online auction software that supports mobile auctions, as well. Smartphones and tablets are important ways for your supporters to be able to reach your online auction! Plus, they can keep bidding on the go if someone tries to out-bid them.
Don't forget to include your mission statement on your homepage so people are reminded of what they're bidding to benefit. For help making your mission statement as catchy and engaging as possible, pop over to this mission statement guide from Snowball Fundraising.

4. Market matching gifts
While this tip is applicable specifically to 501(c)3 nonprofit organizations, it's so lucrative and easy that we would be remiss not to mention it.
Have you ever heard of matching gifts, or a matching gift program? A lot of nonprofits don't even try to market this strategy to their followers, because they think that marketing matching gifts to their supporters is more trouble than it's worth. That's not true!
First, matching gift policies are programs through which an employer matches the gift that an individual employee makes to a nonprofit, effectively doubling the employee's original gift. All the employee has to do is submit a form, usually online, with the donation information.
Instead of having to do all the research on matching gift policies yourself, invest in matching gift database software! This software solution allows you to introduce matching gifts to your supporters at a convenient place in the donation process.
A matching gift database is a research tool that donors use to learn about their own eligibility for matching gifts, as well as their employer's minimum, maximum, and ratio information.
Depending on the type of software you invest in, you can include matching gifts databases in different places along the donation process:
Link to a database in your thank-you email or from your donation page.

Embed a database search tool in your donation page or on the front page of your website.

Embed a database search tool in your thank-you email!
Don't forget to include information about matching gifts in your newsletter and other supporter communications, like common matching gift policies and where to learn more.
Once your donors know what these gifts are and know how to look up their employers' programs, they'll love to help you meet your fundraising goals through submitting matches.

5. Open an online storefront
Merchandise fundraising is a fun and easy way to raise money for a cause. But it could be even easier if you were able to sell your products through an online storefront!
Step one is to find a provider that can print your slogan, fundraiser name, or design on fun and useful items, like the following:
t-shirts

water bottles

sweatshirts

coffee mugs

stickers
Whether you work with the provider to create your design or if you use an existing one, make sure that it is high-quality, legible, and exciting.
Step two differs based on your provider. Some providers of merchandise will also set you up with an online storefront hosted through their website. If your provider doesn't, you should invest in a fundraising software that offers a storefront feature.
The reason that it's important to use fundraising software for this tactic is so that when people purchase your merchandise, you can offer them the option to make a donation to your cause as well as buy your gear.
Some providers work specifically with fundraisers to handle production, storefront creation, and delivery to maximize your cause's profits. To read more about a provider like this, learn how to sell t-shirts online with Bonfire.
Merchandise sales are an especially useful fundraising technique because every product that you sell becomes an advertising campaign for your mission. Any time your supporter wears your shirt, they market your cause to everyone who sees them.
Fundraising technology can make raising money for any cause so much easier. With these five suggestions, you can become a champion tech-savvy fundraiser in no time.
Special thanks to John Killoran for this article.
Take a Test Drive
Our auction platform is free to start and our customers say it's the easiest to use.