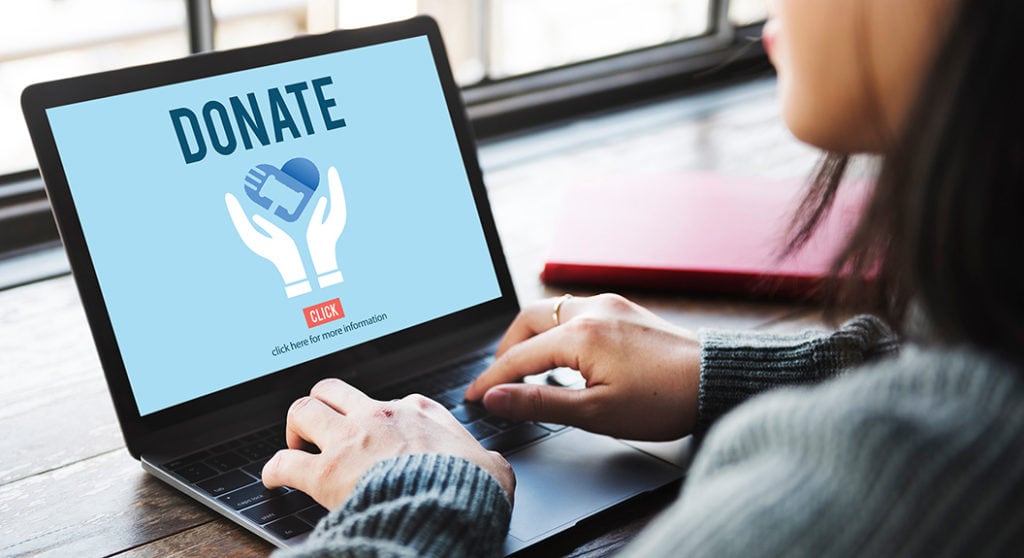 The only magic needed to turn charity auction bidders into recurring donors is something inherent to all of us—it's kindness.
Since we all have kindness to spare, just add a little bit of planning, dedication, and strategy, and your monthly donor program is ready to ignite.
Read on and learn why monthly donors are critical to your organization.  Plus, we'll get you on your way to donor success with three sample emails you can customize to send to your donors. 
Why You Need Monthly Donors
Picture this: you've just pulled off a successful charity auction and have a whole new group of bidders just waiting to become nonprofit donors. Of course, you could solicit them right away to make a donation. Or you could play the (only slightly!) longer game of cultivating monthly donors!
The past few years have seen a huge uptick in the growth of monthly nonprofit donors. In fact, in 2015, revenue from monthly giving increased by 24 percent, while revenue from one-time giving only increased by 18 percent. Monthly giving programs are becoming the rule in nonprofit fundraising, not the exception, and there's no better time to jump on board than now!
But before we get started, let's talk about why monthly giving programs are on the rise. What makes them so appealing and beneficial to nonprofits in practically every sector?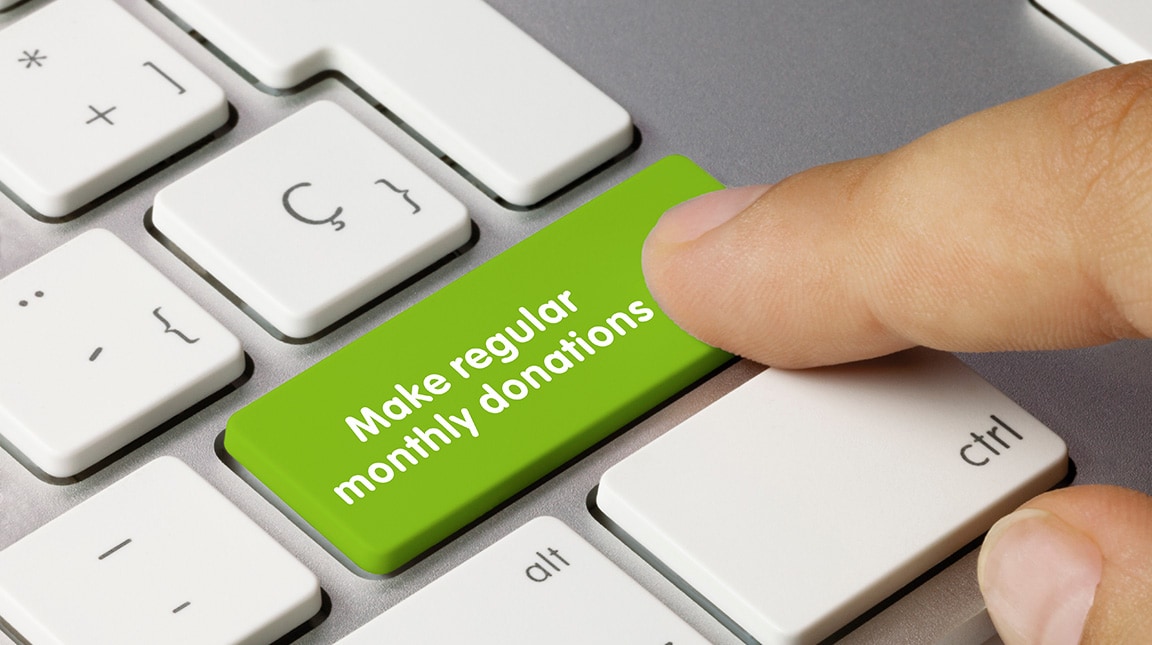 1. Monthly giving programs reduce lapsed donors
Did you know it actually costs less money to retain existing donors than to find new ones? For most nonprofits, enrolling supporters in an automatic monthly giving program reduces gift and donor loss and proves to be a cost-effective approach to stop donors from lapsing. Instead of asking for a donation over and over again, you only have to convert donors once!
2. Monthly giving programs keep donors engaged
Even if you're just sending a thank you email each month, recurring giving programs give you at least 12 touchpoints with your donors each year. By using these opportunities to engage with your donors and invite them into a deeper relationship with your work, you can create more informed and motivated advocates than ever before.
3. Monthly giving programs help create a reliable stream of revenue
One of the most common challenges for nonprofits is the uncertainty of ongoing revenue. You might see the largest amount of gifts one month and receive only a few during another. This inconsistency can make it hard to budget or plan ahead because you're never quite sure when the next gift will arrive. Monthly donors are the obvious answer to this. By building a stable group of recurring supporters, you can remove the guesswork, always planning on a certain, reliable stream of revenue.
---
Now that you know why monthly donors are essential to the sustainability of healthy nonprofits, let's talk about how to cultivate them! Lucky for you, if you use online auction platforms like CharityAuctionsToday, you already have a ready-made group of donors to cultivate. And with three simple emails, you can turn auction bidders into monthly donors quickly!
Sample Emails to Send Donors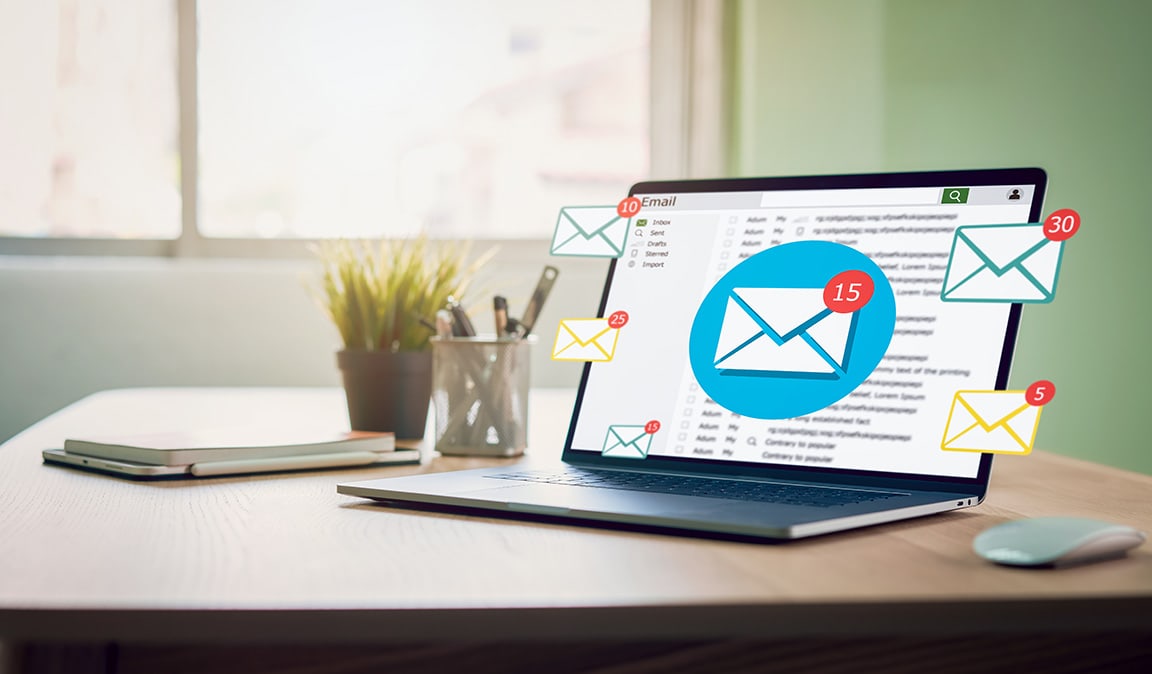 Email 1: Say Thank You…And Mean It!
This one's a bit of a no-brainer but is so essential, we have to say it: the two most important words you can say to most recent auction bidders are "thank you." Whether you're sending an automatic email or a handwritten note, bidders should know how valuable their contribution was to the success of your auction and your nonprofit as a whole. Here are a few tips to help you send the right message:
Make sure it's genuine! Donors aren't stupid – they know when you're being insincere or just saying thank you so you can turn around and ask for more money. Make sure your appreciation comes across loud and clear, and don't include a solicitation in this first email.
Talk about the bidder, not about yourself! Use language like "because of YOU" or "thanks to YOUR support." Show them tangible examples of what their support accomplishes and make sure they know that none of it is possible without them. By showing donors the direct impact they make through the power of their donation, you can help them envision what even more investment might accomplish.
Get creative! Whether it's a thank-you note from a beneficiary, a quirky video from your staff, or homemade cookies delivered to a major bidder's doorstep, nothing shows a donor love better than a unique take on the classic thanks.
Email 2: Make the Introduction
A week or so after you say thank you, it's time to introduce auction bidders to your monthly giving program. Since this email is all about conversion, it's important to cover three things in your invitation:
The Name of Your Monthly Giving Program
Who doesn't love being part of the in-crowd? Giving your monthly giving program a name may sound overly simple, but it's actually essential to the growth of your recurring donor base. When your program has a name and your donors have a title, it lends an air of exclusivity and significance to those who are a part of it. Plus, it makes donors feel like they're part of something bigger, not just another faceless check in the mail.
The Tangible Impact of Monthly Donors
You showed auction bidders the tangible impact of their contribution in your thank-you email, now is the time to show them what they can do through their continual support. And what's the best way to convince someone to give $30 to your nonprofit every month? Show them exactly what can be accomplished with $30 every month. Just like auction participants want to bid on something tangible, recurring donors want to give something tangible. Create a "giving inventory" that includes varying gift amounts and what they cover. Maybe $10 per month buys a coat for one person visiting your homeless shelter. Maybe $25 provides a week of meals. Maybe $50 covers the cost of job training. Whatever you decide, tell donors exactly what their monthly contribution will mean for the population they're passionate about. It won't just inspire them to give, it will encourage them to keep giving because they know what's at stake if they stop!
The (Easy!) Signup Process
If it takes someone more than a minute to register their recurring gift, chances are good that they'll walk away from it altogether. After you convince bidders to become monthly donors, make it quick and painless for them to set up their recurring gift. Create a clear call-to-action in your email that sends them directly to a branded donation page. On that page, make sure you give a quick recap of the giving options (so they don't have to go back to their email to figure it out) and include a one-click option to make their donation recurring. You may even want to let donors choose what day they want their donation made each month. Give donors the control to set up their recurring donations and not have to think about managing them again.
Email 3: Follow Up
You've successfully turned an auction bidder into a monthly donor. You're all done, right? Nope! There's one more important email – or rather a series of emails – you need to send in order to keep your recurring donors informed, engaged, and fulfilled in their ongoing giving. A few ways you can follow up with donors might include:
Create exclusive content. Segment your monthly donors by the amount they give and provide updates specific to what they are supporting each month. Send newsletters that keep them in the loop of what's going on in the field. Celebrate the victories – big and small – that are accomplished because of their ongoing support.
Send them some swag! Believe it or not, soft t-shirts will go a long way in donor relations! Plus, branded collateral is a great way to get the word out about your nonprofit organization!
Talk them up on social media. Create targeted groups of monthly donors who you know are active on social media and send them a shout-out. Those little gestures of Facebook or Twitter love will go a long way in the digital world we live in!
Make them promoters. Create materials that will help current recurring donors recruit new ones in organic ways. Give them a badge for their social media account or blog. Create social posts and email templates to encourage their online networks to get involved. You can even start a peer-to-peer fundraising campaign for them to advocate on your behalf!
Invite them to upgrade. Hopefully, over the course of your follow-up and engagement emails, you've proven to donors that their gift is essential to the sustainability of the work they care about. Once a year, invite supporters to increase their monthly donations. Show them how much more they can accomplish with just a few extra dollars, and they'll have no problem increasing their support.
How much effort (time and money) should be put toward donor retention, and how much attention should be paid to finding new donors?
Here's something to consider about the most efficient way to allocate your time. When you hear someone say, "We had a 35% increase in donors this quarter," realize that the statement is incomplete until you know what their donor retention numbers are. In other words, if they have a 35% increase in donors, but zero retention of existing donors, they are in the red. If they can't keep existing donors, the number of new donors is meaningless. 
According to Virtuous, a responsive fundraising software company, 76% of donors don't give a second time, which means new donors are a must to balance the ebb and flow of existing donors. That's a good number to keep in mind as you allocate time and money toward donor outreach.
Software solutions company for nonprofits, Bloomerang, has recent research stating that most nonprofits investing the same amount on acquiring new donors as spent on creating meaningful touches with existing donors can result in higher rates of return. The touches they mention include sending friendly emails and thanking donors as though they're your only donor. In other words, kindness and appreciation go a long way in the retention and acquisition of donors.

We'd like to thank Kindful, an innovative nonprofit CRM that passes your data from our platform to theirs seamlessly to help your nonprofit turn data into performance. They gave us sample emails for you to use with donors and the accompanying tips. 
No matter the size of your nonprofit, Kindful can help manage your data across platforms for a bigger impact. They're offering our readers a free trial to see how the smallest teams can do big things.
---

"Sending donors a payback gift for their contributions is counterintuitive to what is an altruistic practice. People choose to give because they want to do something good—not because they expect to be rewarded for the effort. "

—SoftwareAdvice.com 
What Do Donors Want?
This is an excellent question for nonprofits to understand, even when their nature is to give to others. We know they don't want payback for their donations.
We learned from Software Advice what donors want from nonprofits, and it's not payback. As the quote above eludes, donors don't expect anything. But they've discovered that many nonprofits feel the need to give donors a payback. Software Advice completed a survey* and learned that 67% of respondents said no to payback gifts. Additionally, an abstract in the Journal of Economic Psychology suggests payback gifts may even lead to decreased donations. 
We recommend that you read the Software Advice survey* that was created to help understand how to turn one-time donors into repeat donors. It's a thoughtful complement to the "turning bidders into monthly donors" information you just read, plus the information is beyond helpful. It will definitely help with decision-making in your never-ending quest for donors.
Here are a few takeaways from the Software Advice survey* that you can use right away to make donor-related decisions.
Donors Want Impact Stories
They want impact stories. They want to know the impact of their donation.  By impact, they mean success. If your nonprofit has been successful, the propensity for repeat donors is strong.
Impact stories are success stories—just what donors want to hear. Your impact story can be told from start to finish, documenting the blood, sweat, and tears poured into your fundraising campaign. You can have a story within a story by featuring something prolific or touching that one of your volunteers experienced.  Try to create an emotional bond with the reader—make the donor feel like they were part of this memorable success story. 
Take a look at this impact story guide and check out the tips on how to write an impact story, And remember, an impact story will reach hundreds or thousands of potential donors, making it your best "salesperson."
Key Findings of Software Advice's Survey
Sixty percent of donors want impact stories to see how their first donation makes a difference.
A personalized letter is the preferred outreach method for 46 percent of donors.
Thirty-five percent prefer nonprofits wait seven months before asking for another donation.


---
Types of Updates Donors Want to Receive
60% Impact and success stories
17% More nonprofit news
15% Hear about upcoming events
8%  Know campaign goal status
Preferred Outreach When Thanking Donors
46% Personalized letter
35% Email
11% Social media post
8% Phone call
When Nonprofits Should Ask for Another Donation
35% 7-12 months
28% Over 12 months
21% 3 to 6 months
15% Less than 3 months
---
*Software Advice surveyed a random sample of 2,833 U.S. adults, collecting a minimum of 500 responses to each question. Software Advice 2014
Our Online Auctions Accept Donations, Too!
Supplement your donations with a CharityAuctionsToday silent auction. Take a test drive and create your online auction in less than five minutes! Learn how easy it is to make money.