How do You Start an Online Auction
Are you trying to set up a fundraiser for a school, PTA/PTO, a friend in need, your favorite charity?  Where do you start? Where do you go for online fundraising auction services? How do you find auction items for your fundraiser? Don't worry, we're here to tell you how do you start an online auction fundraiser. It's easy, and we'll guide you through it step by step.
First, you'll need to try it out. Keep this page open, and open your demo auction in a new window so that you can refer back to this step by step online auction tutorial.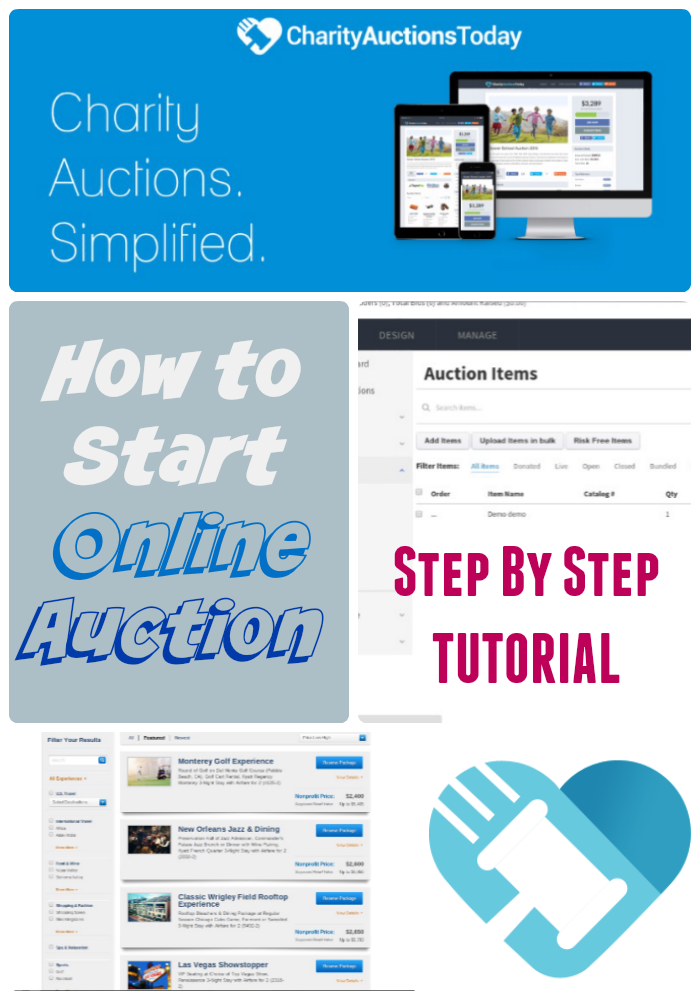 Step One: Click to sign up for a charity auction account.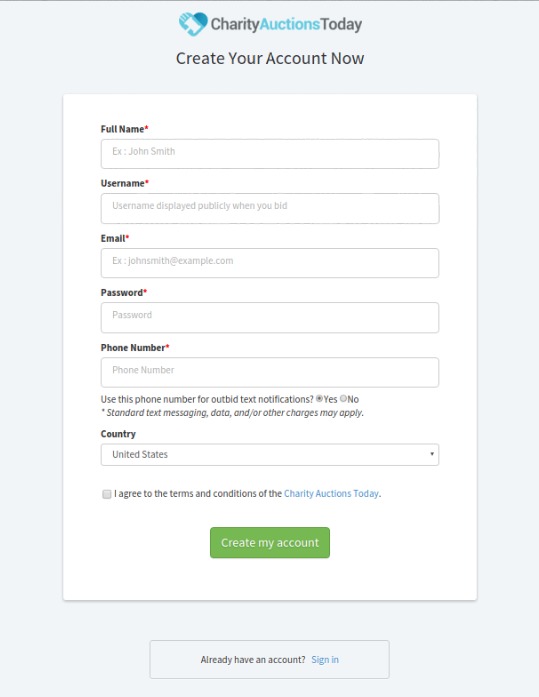 Step Two: Confirm your email. After you get this message, check your email, click the link, and you're good to go!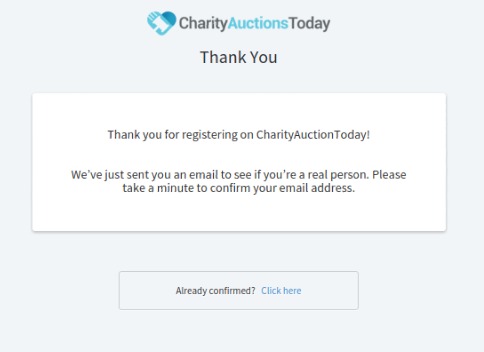 Step Three:  Sign in with your username and password.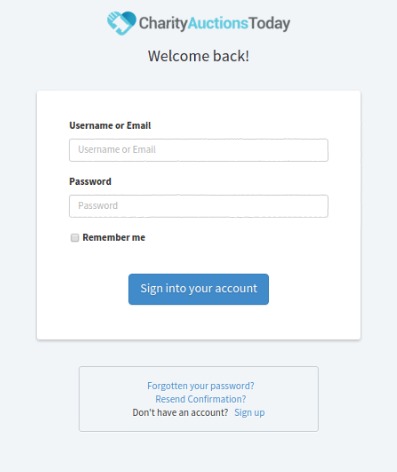 Step Four:  Welcome to your personal dashboard!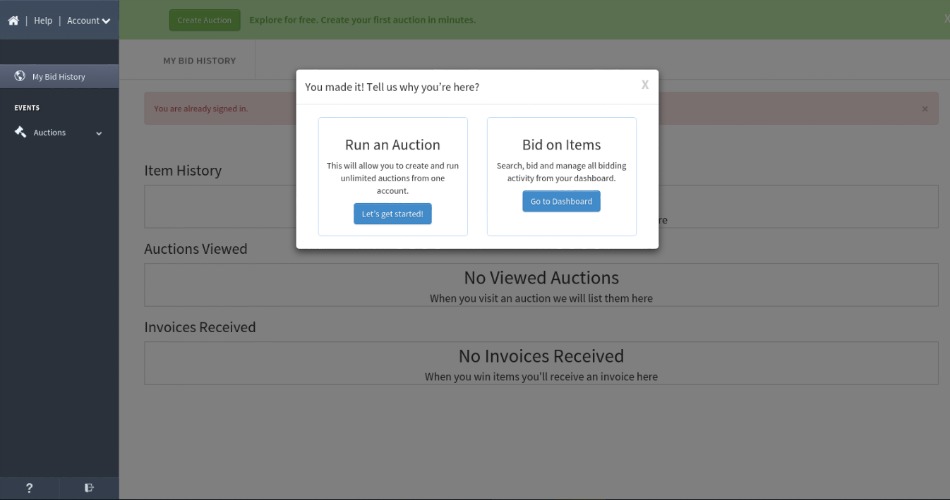 On the left of the screen, there's a sidebar. To set up an auction, scroll down to events and then click the drop down arrow next to 'auctions'. When the drop down list appears, click manage auctions.
Step Five: On the next screen, click inside the 'create an auction' box.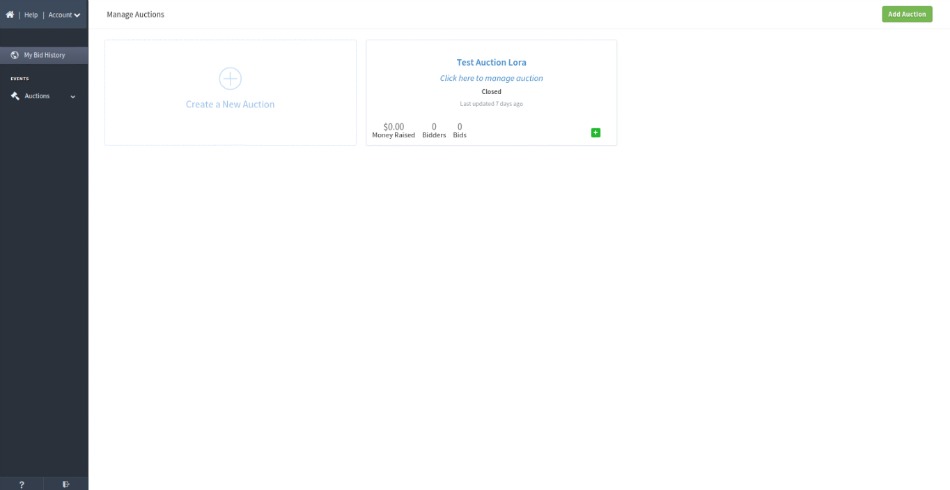 Step Six: You made it! Fill in the blanks to create an online auction fundraiser.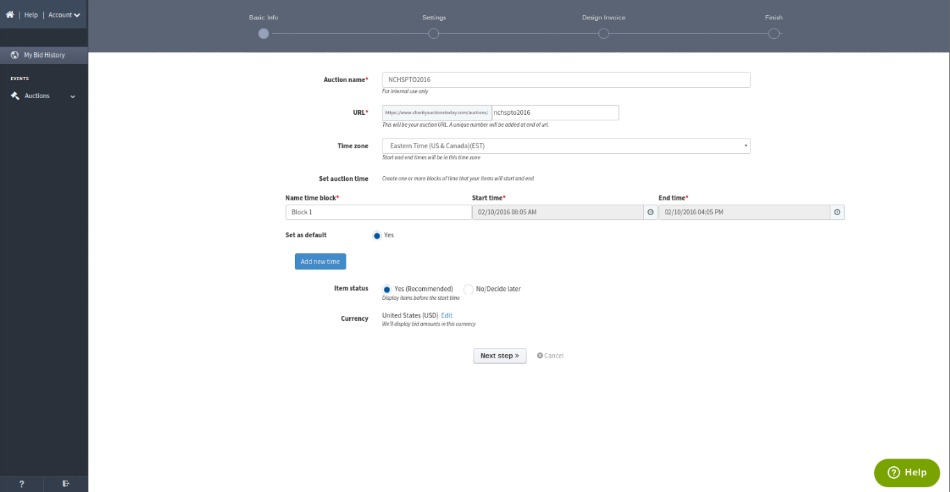 Name your Auction. Use the name of your fundraiser. Something you will promote and share. Keep it short and simple.
Create a URL: The URL is auto generated when you type name your fundraiser.
For example: NCHSPTO2016
Don't forget to choose your time zone.
Name the Block of Time, no need to get creative- just label them Block 1, Block 2, Block 3. This is set to define when your auction item (s) will go live and end.
Item Status – Click 'Yes' to show your item in your dashboard.
Make sure you pick the proper country currency.
Now, click to the next step.
Step Seven: Here's where it gets complicated for some. It's not difficult, but you might be unsure what to do. No worries,  you can always edit your mistakes.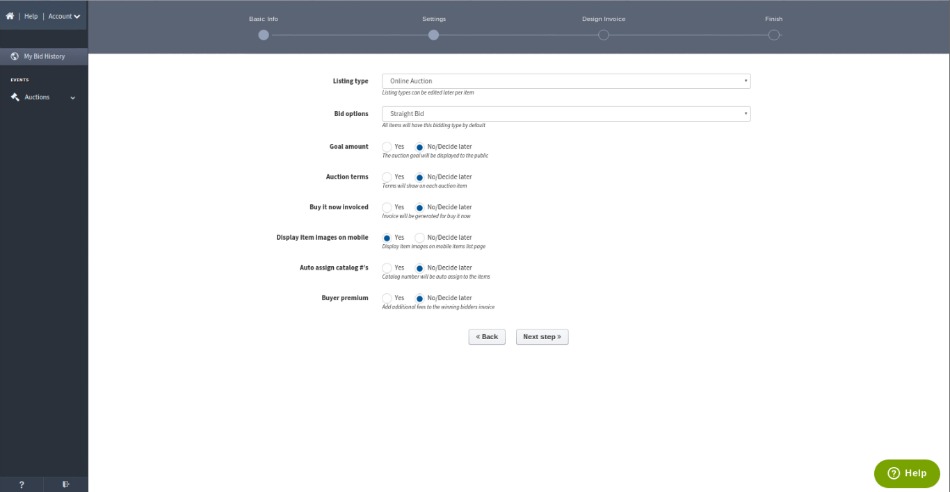 Listing Type: From the dropdown menu, choose Online Auction or View Only. More than likely, you want to choose Online Auction. View Only is for showing off your auction items. You might want to let people see items before a live event or you might want to preview items online before your auction begins. You decide.
Bid Types: Straight Bid or Auto Bid. Choices, choices, choices. Straight Bid allows the bidder to place a bid of their choice. Autobid updates the bid for the next bidder, based on the last bid.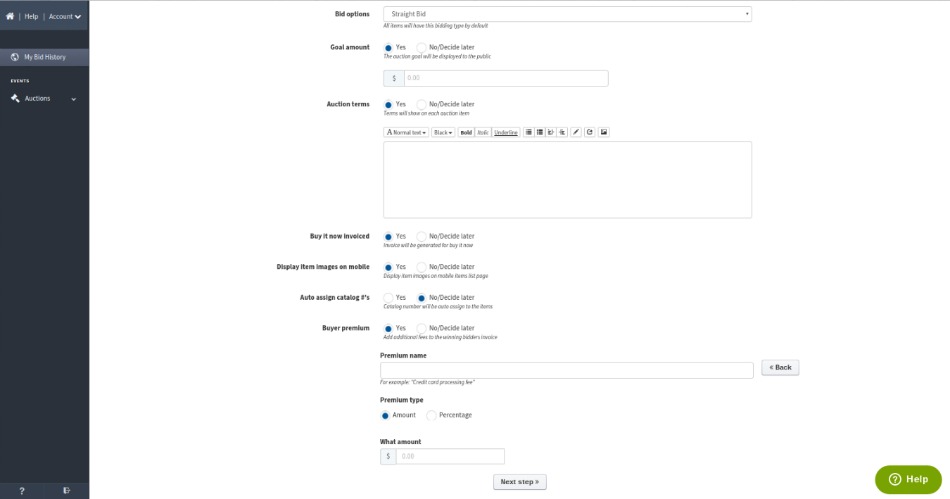 Goal Amount: Display the bid goal to the bidder. You may choose not to display or if you are unsure, decide this option later. If y0u choose to display the goal amount, a box pops up for you to enter the bid goal.
Auction Terms: Display the terms on every auction item. This is recommended, but you can choose not to display the terms. If you choose to display the terms, have the information ready and fill in the box. If you don't have the info on hand, choose no/decide later to move on to the next page.
Buy it Now Invoiced: Choose to send an invoice to those who click with a 'buy it now' price.
Display Item Images on Mobile: Of course, you want to promote in every way possible.
Buyer Premium: Do you want to add fees to your item? For example, a credit card processing fee? Click 'yes' and name your premium. You will be prompted to fill in the amount. Not sure? Click no/decide later and check with your committee.
Click to move to the next step.
Step Eight: Upload an image and fill in the information needed for invoicing. You will need to fill in the details.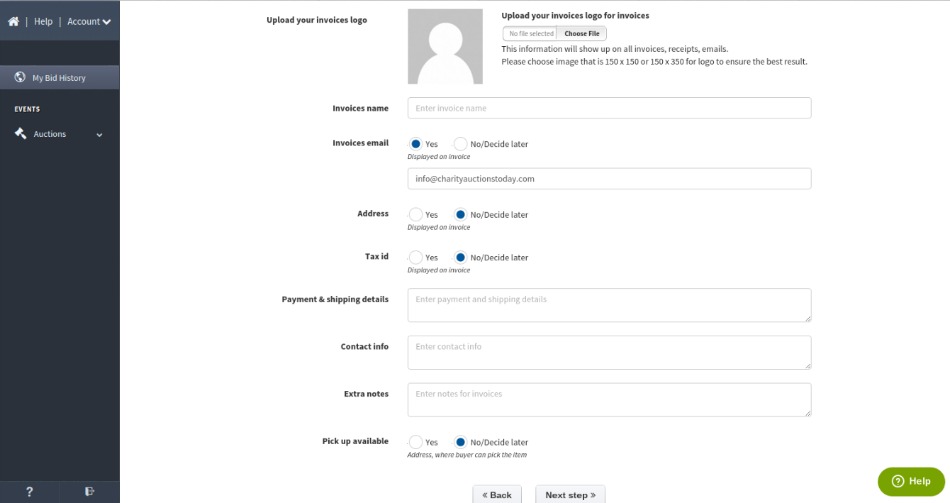 Payment and Shipping Details: When is payment due. Are there shipping costs? When will the item (s) ship?
Extra Notes: This is a good place to thank your donor.
Pick Up Available: Will the item ship or will you have a time for pick up at a specified location?
Click to move to next step.
Step Nine: Your Auction has been configured successfully. Yay!  Save and exit.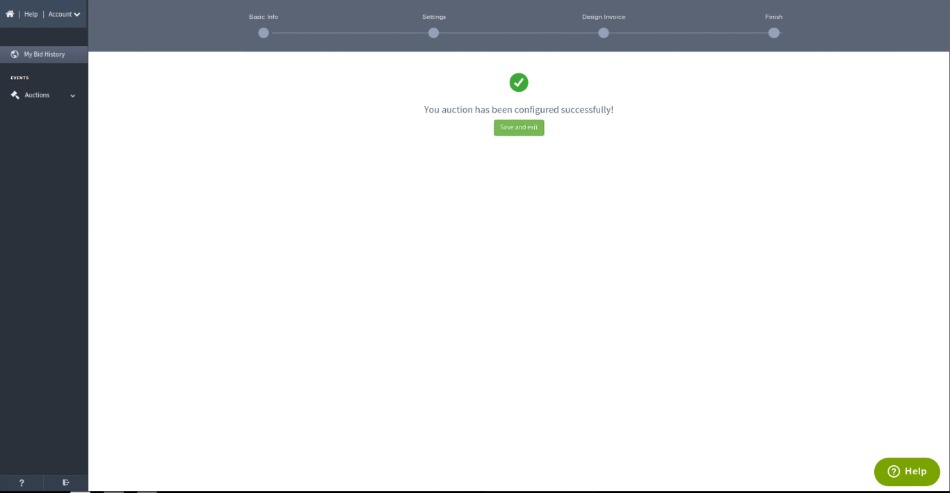 BOOM! Your  auction is all set. You're ready to add auction items. This is demo auction, so you're only able to add two items. Before moving to this step, have good quality images of your auction items and detailed information about them. Already activated? Scroll down to the next section.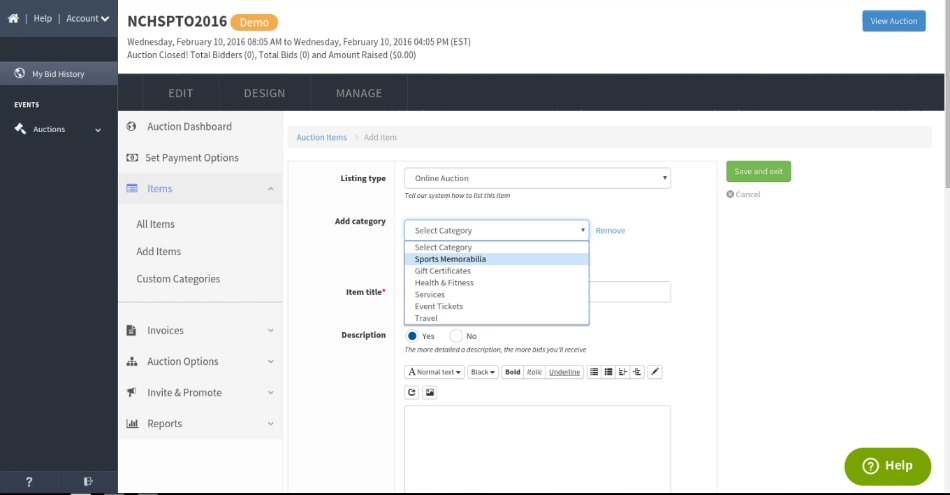 There are many options to choose. Some of them are confusing to beginners. So, we've added an explanation of each option.
Listing Type: You already chose this when setting up your demo auction.
Add Category: Click to show drop down menu. Assign a category for your item. Where does it fit best?
Item Title: Create a clear, concise title, but make it intriguing so that they will want to click for more infomation. Yep, this part is hard! So, if you have a gift basket donated from a chocolate store you might say something like, "Chocolate Lover's Dream Basket".  It is short and concise, nothing confusing. We know it is for chocolate lovers and we know it is a basket. They'll want to click to see more details.
Item Description: What is it? Who donated it/Where did it come from? List the items inside the basket. Use brand names, sizes, and retail values. Be as detailed as possible.
Auction Time: You already chose that during set up. To change it, you will have to edit your Block or add another one in the set up feature.
Starting Bid: What price will the item start at? Make it low enough to entice bidders but not too low. Make it an integer, 1 not $1.00.
Add Buy it Now: What price do you want for this item? Make it more than the retail value, this is for charity! Click for the drop down.
Blind Bid: This hides the bidder history. It can make the bidding more exciting. However, some bidders like to see the bids and get into biddng wars. This can dramatically increase the end bid.
Add Quanity: Do you have 1 item or several?
Item Value: What is the retail value?
Shipping Costs: Will you add shipping costs to the invoice? Will you ship? Have this amount figured for each item. Shipping can get pricey. You can also require bidders to pick up their items at the end of the auction.
Set a Reserve: What do you need to make a profit on the item? Sometimes you purchase items for your auction, make sure the reserve is for more than your cost.
Bid Increments: Custom or Default. Choose your own increments or use the default setting. You might want to create you own increments to make it more interesting. Perhaps, the school has an number, IPS#32 or the auction is for a favorite sports figure, jersey #48. Create custom bid increments with those numbers in mind.
Popcorn Bidding: Prevents auction sniping in the last few minutes. Say what? What is popcorn bidding? Popcorn Bidding gives all bidders an equal chance of winning an auction by extending the end time of the auction if a last minute bid is placed. Any bids placed in the last five minutes before the auction ends will extend the auction by three minutes.
Catalog Number: Assign a number to your items to keep track for accounting purposes and taxes.
Hide Item: This is optional, you won't need to use it unless your item has been sold or isn't available for some reason.
Add Donors: Display who donated items. Click yes for a box to fill in details. Some donors wish to remain anonymous others want the exposure.
Upload Images: Yes, you should upload images showing the item from various angles.
It is time to save and exit. Did you fill in everything correctly? You are about to find out. It will not approve the auction for saving until you have properly filled out the form.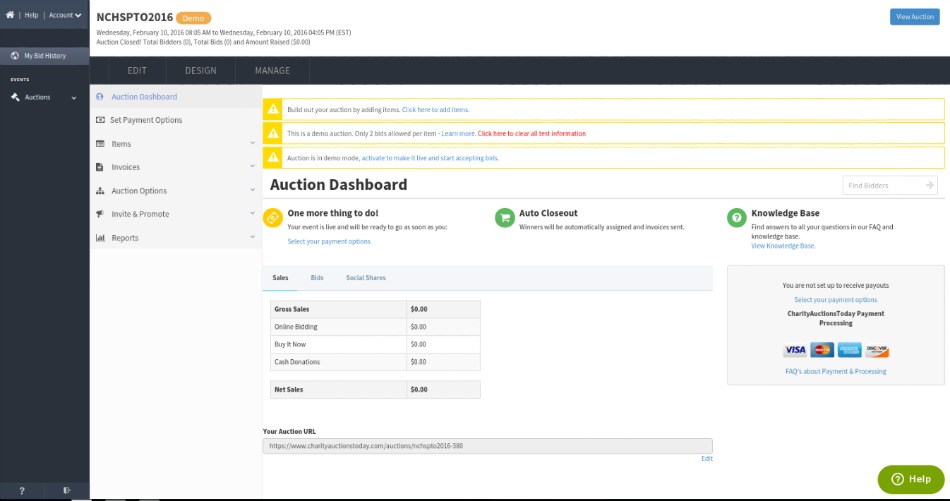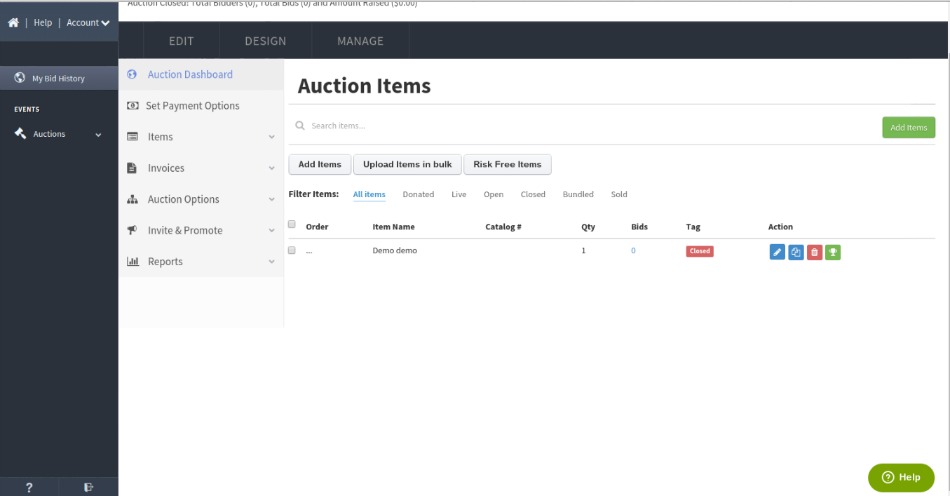 Now, your dashboard is saved. You can add more items- See the green box in the upper right corner.  You can also add Risk Free items. See the gray box in the center above your auction. If you don't have items or want more items for your auction, we've got you covered! Just click the box and choose a package. It is risk free, if it doesn't sell, you have nothing to lose, if it does, you get a portion of the proceeds!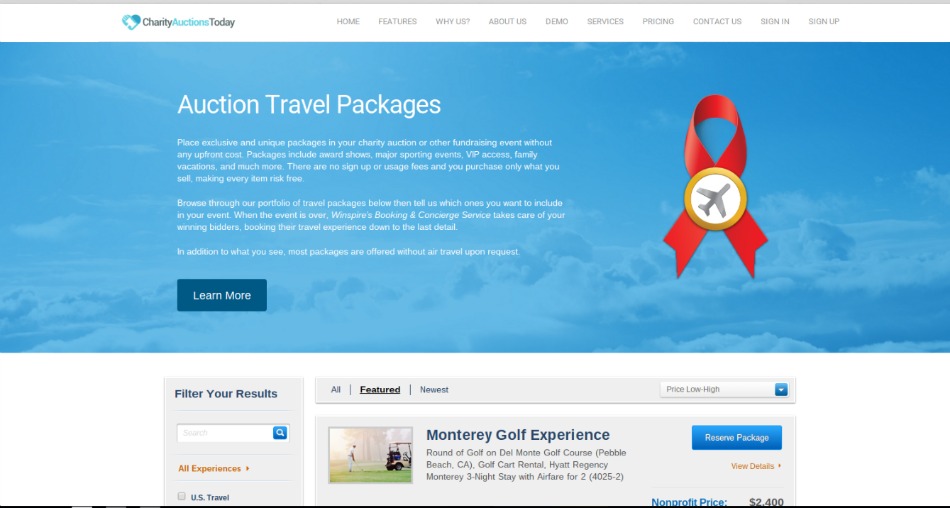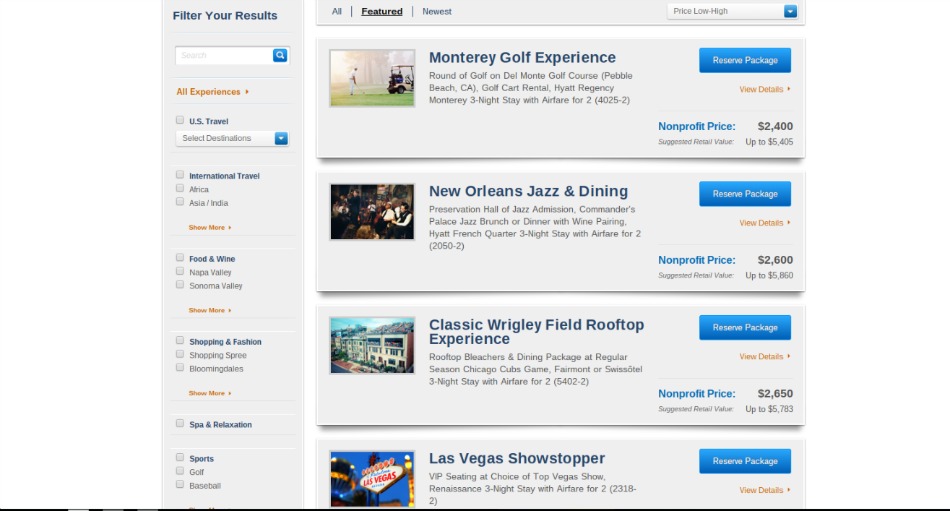 Wow. That was easy, you don't even have to get items donated.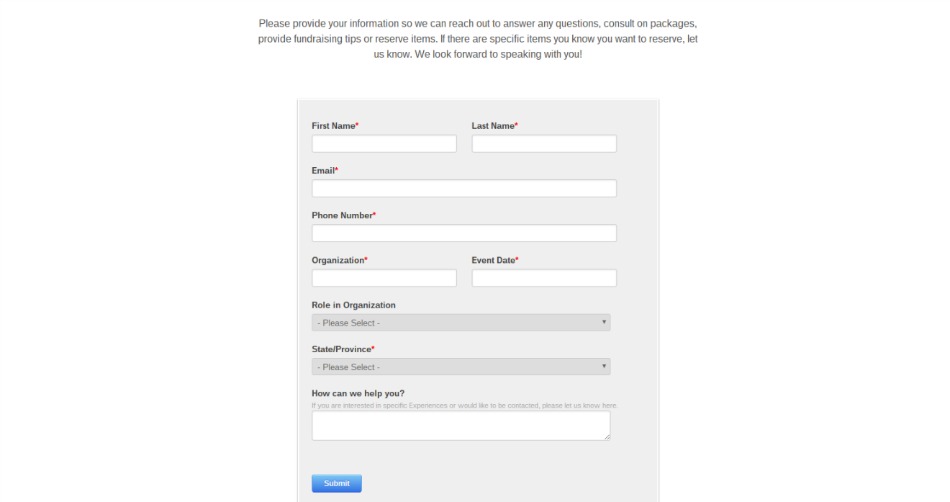 Congratulations, you did it! If you have questions, contact us- Just click the green help button in the lower right corner of your screen. Send us a message. We'll get back to you asap. Impatient? You can call if you want.