Knowledge Base > Auction How-To's > Bidding FAQ's > Turn on/off Popcorn Bidding
When popcorn bidding is enabled, an item will stay open after your auction time block closes if (and only if!) there is bid activity within 5 minutes of the auction closing. The item will remain open until there is no bid activity for 5 full minutes, at which time the item will close. Follow these steps to activate popcorn bidding on individual items:
Step 1) Click 'Auctions,' then 'Manage Auctions.'

Step 2) Click on the name of your auction.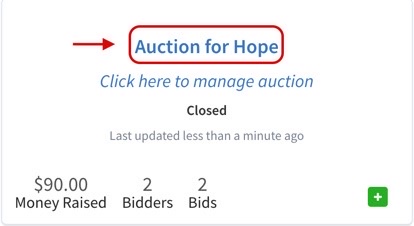 Step 3) On your auction's Dashboard, click on 'Items,' then 'Add Items.'
Step 4) Scroll down until you see the 'Popcorn bidding' option. Click either "Yes" or "No" to turn that function on/off. Once all changes have been made, click 'Save and exit.'