Knowledge Base > Auction How-To's > Bidding FAQ's > General FAQ's > Update Profile Information
Follow these steps to change your account information on the CharityAuctionsToday platform:
Step 1) After logging in to your admin account, click 'Account,' then 'Account settings' in the top, right-hand corner of your screen.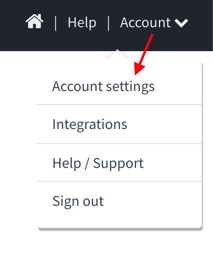 Step 2) On this screen, you can change contact information and log-in credentials. Once all correct information has been entered, click 'Save changes' at the bottom of your screen.