Knowledge Base > Auction How-To's > How do I manually assign winners to live items?
If you have items that sell offline, you can enter those items back into our system to generate invoice. Those items will be added to any open invoices from your mobile auction.
Step 1) All bidders must already have a bidder account. If they don't please see: "How To Add Attendees" below
Step 2) When your item is closed or listed as a "View Only" item, you will see a green icon with a trophy. If this icon is not available, edit the item and change the "Listing Type" to "View Only".

Step 3) You will see two fields, enter the bidder name and high bid amount. When adding the Bidder Name, it will display a list of registered bidders to choose from.

Step 4) When you hit the Assign Winner button, it will generate an invoice or add the item to an invoice already created.
How to Add Attendees
Step 1) If you need to add bidders into the system on the fly, you will need to add them as an attendee.  This section is located under Live Event Options > Attendees.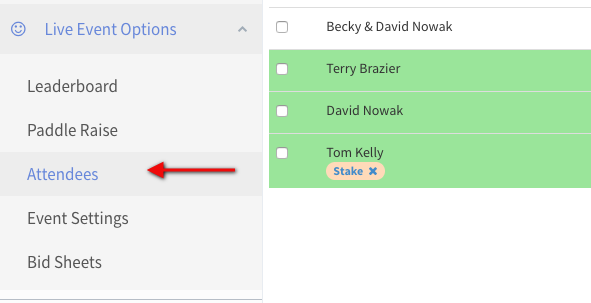 Step 2) Click Add Attendees

Step 3) Once an attendee is added into the system, you can go back to the "All Items" page to assign that attendee as a winning bidder. When you click on the Trophy you will see a couple changes.
The "Bidder Name" box changes to "Attendees Name or Bidder Number". This will search all the attendees in the system. If you want to switch back over to search for bidders, click the "Assign Winner to bidder".