Knowledge Base > Auction How-To's > End of Auction Reports
I need a list of winning bidders' contact details. Where do I find this information?
You can run a variety of reports for record-keeping at the end of your Auction. To reach the reports section you will click Reports > Auction Reports. From the pull-down you can choose the desired report. Below you will find the most common reports.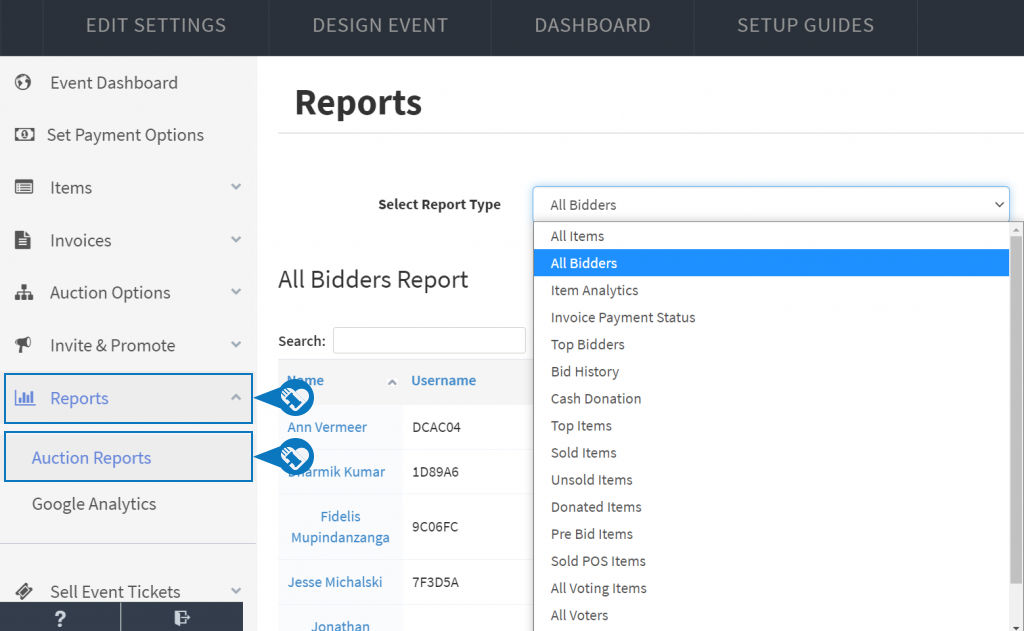 Sold Items –Recommended Report. This will provide all the details of your winning bidder with the item sold and how much the winning bid was. This is a good report to have as you will get all the email addresses, phone numbers, and shipping addresses of your winners to use for shipping or to contact them about next steps regarding the item won.
All Items: View all the details concerning your items that are listed in your auction, including but not limited to Item descriptions, current bids, and donor details.
All Bidders: A record of all registered bidders' details, including name, email address, and if they have financial details on file. Great for reaching out and thanking your participants.
Item Analytics: How did each item perform? Who won? How many bids did it receive? How much did it sell for? A good report to sort which items were won with buy it now or through active bidding.
Invoice Payment Status: A report that outlines the date and time of invoice payment can be helpful for accounting purposes.
Bid History: View the bid history of each item in your auction, showing the name of the bidder, how much was bid, and on what date the bid was placed.
Cash Donation: Shows the individuals who donated to your cause through the Make a Donation button.
Unsold Items: After the auction closes, you can view all the items that were not sold.
Donated Items: A detailed item list with name, starting bid, and the details regarding who donated the items.
Pre-Bid Items: List of all pre-bid items, which is great if you only wanted to view items with a pre-bid tag.