Knowledge Base > Auction How-To's > Bidding FAQ's > Add Retail Value of Items
As auction admin, you can add the retail value of your item(s), or simply list them as "priceless." Follow these steps to add the retail value to your auction page:
Step 1) Click "Auctions," then "Manage Auctions."

Step 2) Click on the name of your auction.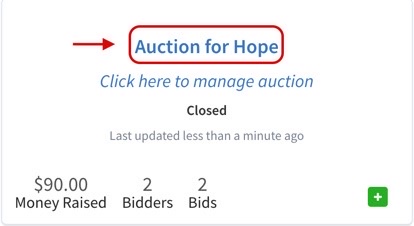 Step 3) On the left-hand side of your auction's Dashboard, click "Items," then "Add Items."
Step 4) If you would like to add the retail value of an item, click "Yes" then enter the dollar amount in the space provided. When all correct information has been entered, click the green "Save and exit" button at the top of your screen.