A golf tournament fundraiser checklist is a lifesaver for everyone on the golf tournament fundraiser committee. In fact, at the end of this article, you can download the checklist to share with your committee.
If you're thinking of hosting a charity golf tournament fundraiser, you're in for fun and camaraderie, as those who play golf tend to be obsessed (in a good way) about the game. The love for the game guarantees no shortage of foursomes and entry fees.
Keep reading to inspire your own golf tournament fundraiser checklist or to download one we've prepped for you.
Entry fees are a huge source of funding for your charity golf tournament: the more golfers you can invite, the more satisfying your fundraising numbers will be. It's important to know how many golfers you can allow to play.
Here Are Some General Guidelines:
Consider the size of the golf course. How many players can comfortably play on the course at the same time?
Think about the time of day you're holding the tournament. Will you be able to start and finish on time if you have too many players?
Factor in the cost of the tournament. How much money do you need to raise?
Consider the number of sponsors you have. How many players can you accommodate with the sponsorships you have?
It's important to strike a balance between having enough players to raise a good amount of money and not having so many players that it becomes difficult to manage the tournament. By following these instructions, you can determine the ideal number of players for your golf tournament fundraiser. Our best advice is to read the recommendations made by Golf Tournament Management by American Golf Corporation, where they provide numbers and logistics.                                              
Organizing a successful charity golf tournament requires meticulous planning and execution. Our Golf Tournament Fundraiser Checklist will walk you through the essential elements of a golf tournament fundraiser checklist, ensuring your event runs smoothly and achieves its fundraising goals.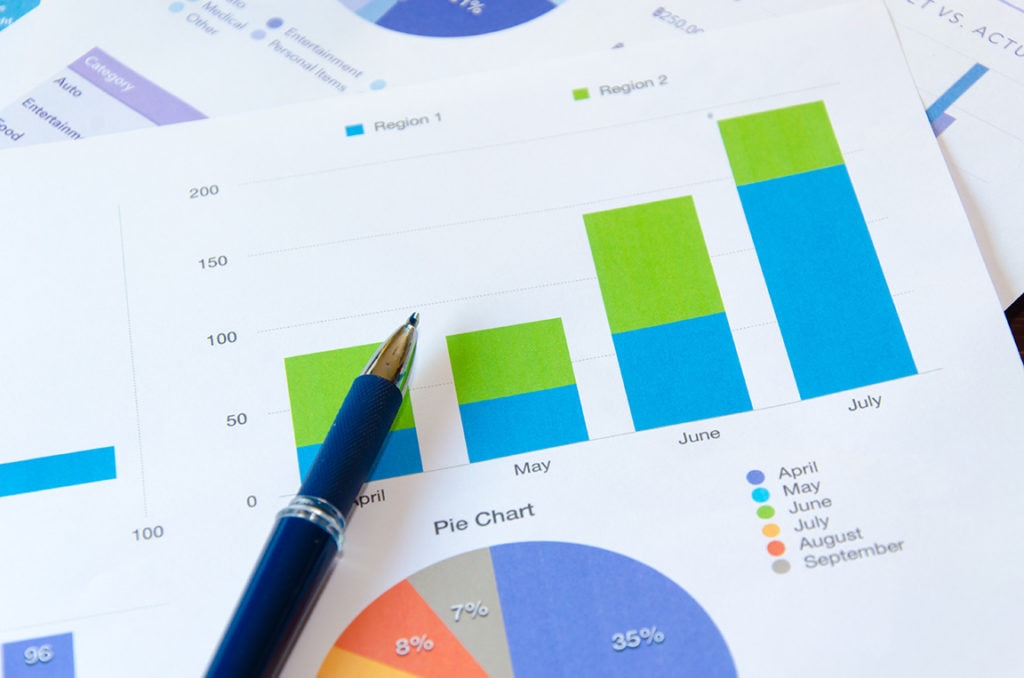 Set Achievable Goals for Your Golf Tournament Fundraiser
The first step in planning a successful golf tournament fundraiser is setting achievable goals. These could be related to revenue generation, attendance numbers, or the amount of funds raised for your cause. Have clear targets that guide all other aspects of event planning.
Identifying Key Performance Indicators (KPIs) for Your Golf Tournament Fundraiser Checklist
To measure the success of your event, identify relevant key performance indicators (KPIs). These can include metrics like total donations received, number of participants, and sponsorship levels achieved. Track these KPIs closely to gauge how well your fundraising efforts are progressing and make necessary adjustments along the way.
Strategies for Setting Realistic Fundraising and Participation Goals
Analyze past events: If this isn't your first rodeo organizing such an event, look at data from previous tournaments as a starting point.
Benchmark against similar events: Research other charity golf tournaments in your area or those supporting similar causes. Get an idea of what kind of turnout and funding level might be feasible. Ask around or perform a Google search to reveal what fundraisers have taken place in your area during the past few years. Reach out to the organizations for a fact-finding conversation.
Create tiered goals: Instead of having one daunting overarching goal, break it down into smaller, more manageable milestones. This makes the process less overwhelming and provides multiple opportunities to celebrate successes along the journey.


Secure Sponsorships from Local Businesses and Corporations
Sponsorships can boost your fundraising efforts and make you look engaged in your community. Partnering with local businesses and big corporations not only helps with fundraising but also provides credibility for your event. But how do you approach potential sponsors without sounding desperate, and what makes a sponsorship package irresistible?
How to Approach Potential Sponsors

The secret to securing sponsorships is crafting a pitch that makes sponsors go, "Wow, I need to be a part of this." Show them how your event will give them exposure and align with their brand values. Do your homework on each sponsor so you can tailor your proposal.
Start by targeting companies that have sponsored similar events or are known for being charitable. (If you decide to perform a Google search as mentioned above, take note at that time regarding the companies that sponsored their events.) This guide on who to approach for sponsorship will give you the inside scoop.
Creating Irresistible Sponsorship Packages  
Tiered Packages: Give sponsors options so they can choose how much they want to spend. It's like a menu but for sponsorships.
In-kind Donations: Some companies prefer giving products or services instead of cash. These goodies can be used as prizes and make everyone happy.
Promotion Opportunities: Show sponsors how their logos will be everywhere—at the event, on social media, in the local newspaper and TV stations, ads and pro shops, etc.  
Silent Auction Donations: A terrific package for a local company or business to get a lot of promotional mileage is by having a silent auction comprised of nice donated items or collections such as a "Golf Package" that includes greens fees, visor, ball, tees, towel, cart, and club cleaning, etc. Use CharityAuctionsToday's platform to host the silent auction AND use the raffle feature, too.
To create packages that sponsors can't resist, check out these tips on building effective sponsorship packages. They're like magic spells for getting sponsors.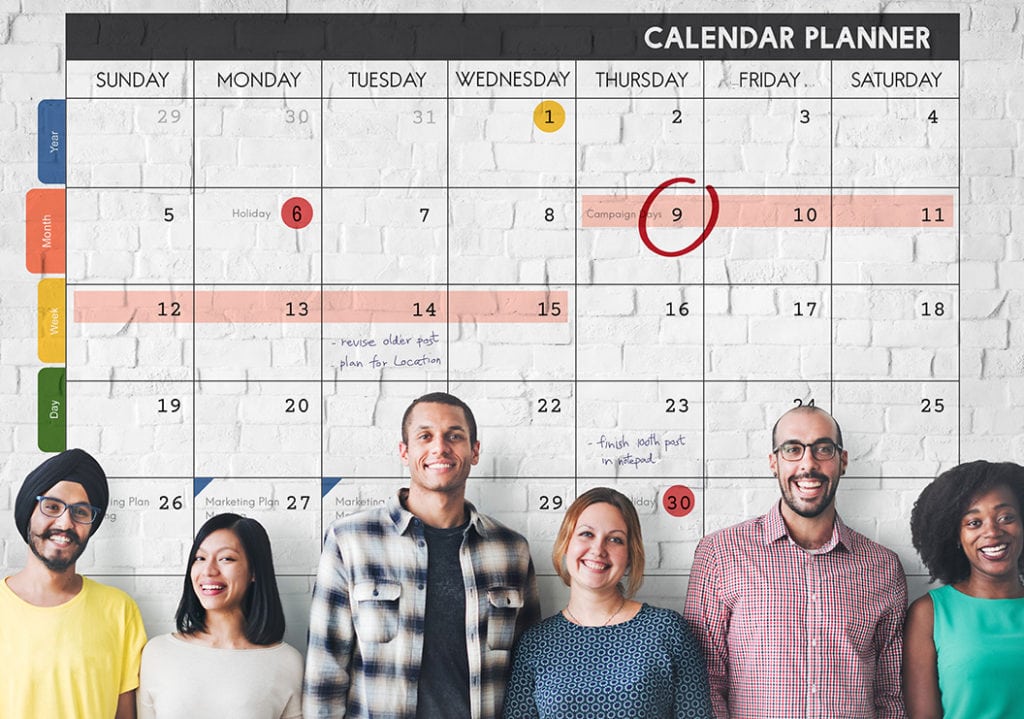 Form a Dedicated Committee with Clear Roles & Responsibilities
The success of your golf tournament fundraiser depends on a passionate and dedicated committee. A well-structured team with clear roles can streamline the planning process.
Defining Roles Within a Golf Tournament Committee
A typical non-profit board structure may include positions like Chairperson, Treasurer, and Secretary. But for a golf tournament fundraiser, you need roles like Tournament Director, Volunteer Coordinator, and Sponsorship Manager. Everyone should know what's expected from them.
Recruiting Enthusiastic Volunteers
Find passionate individuals willing to dedicate their time and energy. Reach out through social media platforms and local community groups. Clearly communicate your cause to motivate potential volunteers.
In addition to defined committee roles, you can have general volunteers helping with registration desk management or serving refreshments. Use VolunteerMatch to connect with interested volunteers in your area.
Involving people who genuinely care about your cause ensures smooth execution and creates an environment filled with positivity and enthusiasm — essential for a successful fundraising event.
Those who golf are typically wild about the game and are known to recruit their spouses, older children, and friends to volunteer, so be sure to add a short blurb about this on the flyers and webpage for tournament players.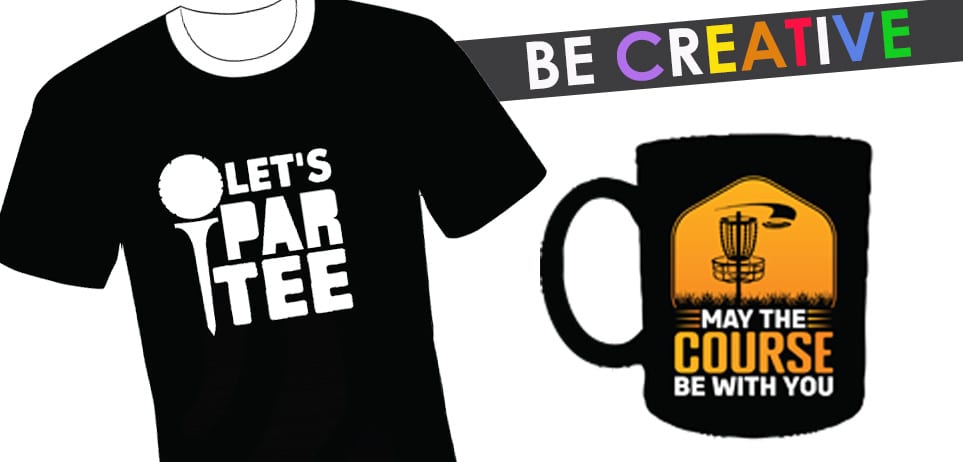 An engaging theme can make your golf tournament fundraiser stand out and resonate with potential participants and sponsors. It adds excitement, making it easier to market your event while enhancing the attendee experience.
Tips for Selecting Relevant Themes
Selecting a theme is more than just picking something fun or trendy. Consider factors like:
The interests of your target audience —If you're targeting corporate professionals, a competitive theme might be appropriate.
Your cause— Reflect on the mission of your nonprofit organization. A wildlife conservation charity could opt for an "Eco-Friendly" or "'Wildlife Safari" theme.
The time of year – Seasonal themes like "Summer Fiesta," "Autumn Harvest," or holiday-themed events can add relevance and appeal to your tournament.
Remember, the chosen theme should permeate all aspects of the event —from invitations to decorations. Consistency creates an immersive atmosphere that captivates attendees from start to finish.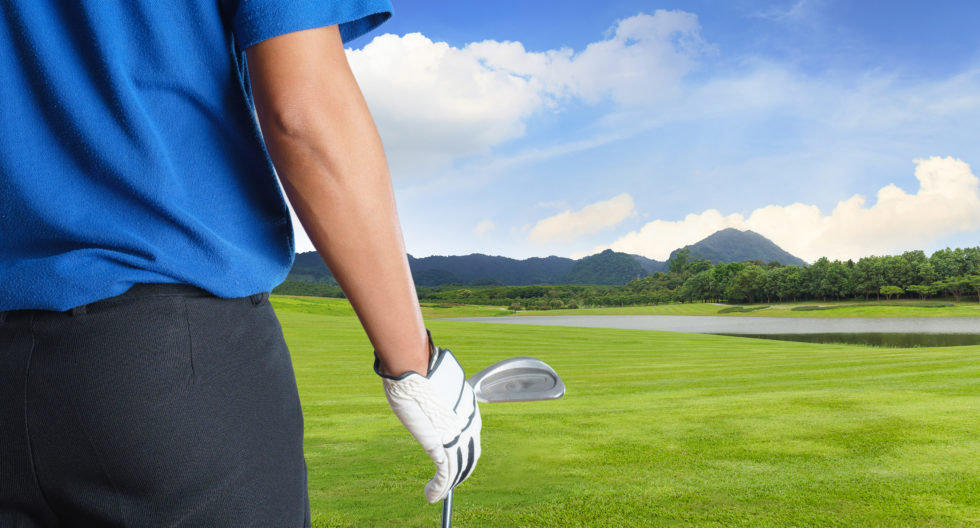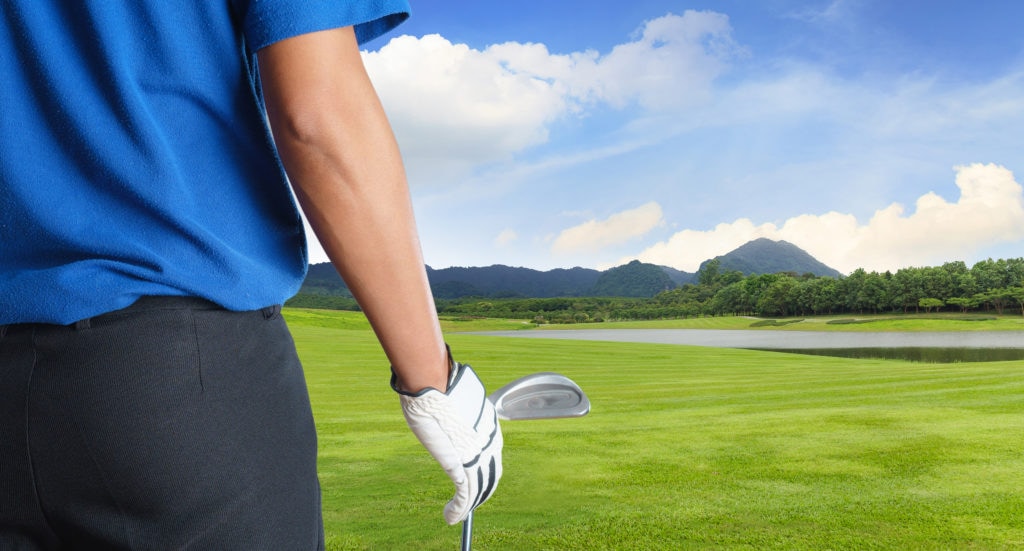 Select the Perfect Golf Course and Time
Choosing the right location and date for your golf tournament fundraiser is a hole-in-one decision. (Haha!) Find a venue that fits your budget and guarantees a good time, attracting more attendees and boosting your charitable earnings.
Factors to Consider When Picking a Golf Course
Before settling on a golf course, consider what you need. Think about accessibility, available facilities, course size, food, beverage, amenities, and cost. Also, check if the golf course can handle big events or has any restrictions that might cramp your style.
Easy Access: Make sure the location is a breeze for all participants to reach.
Amenities Galore: Look for venues that offer food services and equipment rentals to amp up the participant experience.
Budget Bliss: Keep an eye on your wallet and ensure the rental cost doesn't break the bank.
Timing is Everything
Choosing the ideal date for your event is an essential factor, as much as finding the best golf course. Avoid scheduling your outing when other major local events are happening, as they might steal your potential participants. Also, consider the weather — warmer months are ideal for outdoor fundraisers like golf tournaments when people are itching to enjoy the great outdoors. Timing is everything.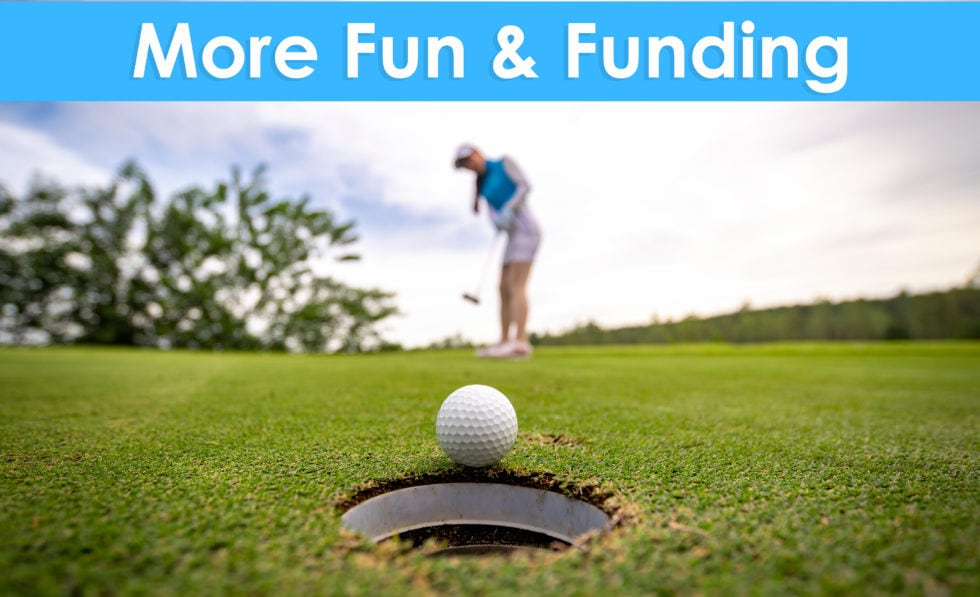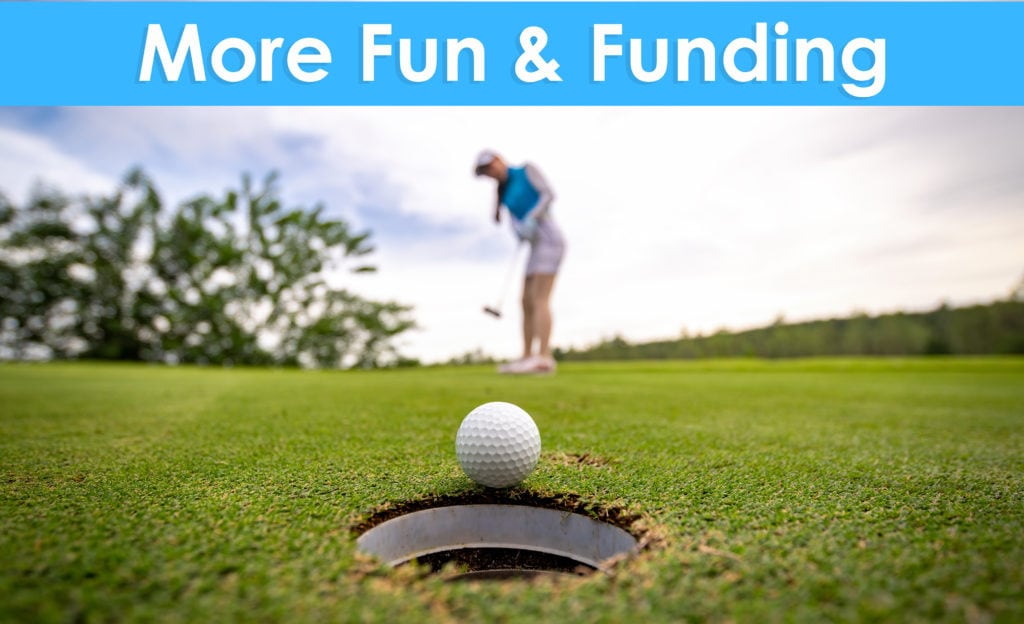 Generate Extra Donations During the Golf Tournament Fundraiser
Don't just rely on foursomes and entry fees for your golf tournament fundraiser. Get creative and make some moolah during the event itself. Here are some clever ways to boost your revenue and have a blast while doing it.
Get Competitive with One-on-One Contests
Challenge Accepted: Spice things up with one-on-one contests that require an entry fee. Participants gain a chance to win, and you increase your funds for the cause.


Hole-in-One Thrills: Who doesn't love a hole-in-one contest? Charge folks for a chance to win epic prizes and watch the cash roll in. Learn more about Hole-In-One Insurance to offer BIG TICKET ITEMS for a hole-in-one.


Caddie Auctions: Auction off the chance to have a pro caddy by their side. Use online platforms like CharityAuctionsToday to reach more people and make it rain for your charity.


Silent Auctions: As mentioned above, companies can donate merch, packages, etc., to be auctioned off during the golf tournament fundraiser on CharityAuctionsToday's platform.
Raffles: Everyone loves raffles! They're a spectacular way to get more donations, and you can do it with CharityAuctionsToday's platform! 
These fun activities will make your event unforgettable while helping you reach your fundraising goals. Just remember, plan ahead and stay organized— success doesn't happen by accident.
But wait, there's more. Consider selling cool merchandise or offering tasty food and drinks at the venue. Every little bit counts when it comes to supporting your cause.
To ensure maximum participation in these money-making shenanigans, promote them like crazy on social media and have your emcees hype them up throughout the day. Let's make it rain, baby.

Promote Your Event Effectively
Successful promotion is crucial for any fundraiser. Flyers raise local awareness, while social media channels offer a wider digital reach. An online page for ticket purchases and donations adds convenience for supporters near and far.
Leverage Digital Platforms for Best Outreach
Harness the power of social media platforms like Facebook, Twitter, Instagram, or LinkedIn to boost your event's visibility. Engage potential attendees with regular posts about your golf tournament fundraiser, including cause details, updates, and teasers to build excitement.                 
Email marketing is another effective tool. Send newsletters with event updates to keep it top-of-mind for interested individuals and attract new participants.
A dedicated website or landing page serves multiple purposes: it's a one-stop shop for tournament information, offers easy ticket purchasing and donation options, and showcases transparency in fund usage.
Extend outreach with online advertising through search engine ads or sponsored content on relevant websites/blogs.
Remember, consistency, clear messaging, engaging content, and driving participation are key to achieving your goals.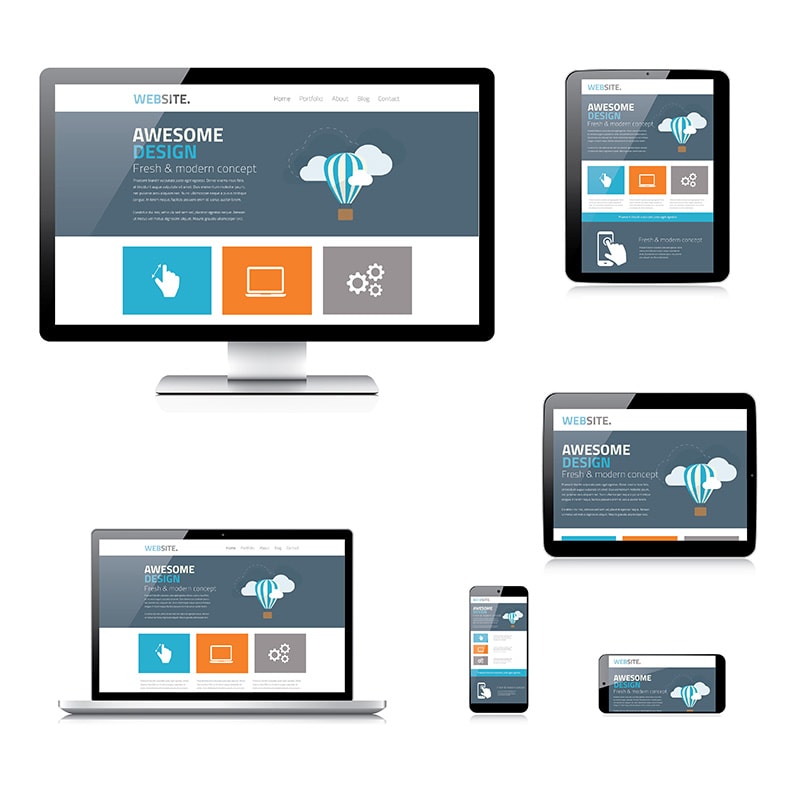 Use Tech to Boost Engagement at Charity Golf Tournaments
Technology is the ace up your sleeve for ramping up participant engagement at charity golf tournaments. With mobile bidding and live streaming, we can make the experience smoother and more enjoyable.
The Perks of Streamlining Processes and Enhancing User Experiences
Mobile bidding lets players bid from their phones, making it a hole-in-one for convenience. Even those unable to attend in person can still contribute, making it a great advantage for all.
And let's not forget about live streaming. By broadcasting your event online, you'll have supporters worldwide teeing off with excitement, all from the comfort of their homes or offices.
If going virtual is more your style, consider adding interactive elements like Q&A sessions with celebs or virtual tours of the course. These unique touches will keep attendees engaged and make your tournament a real standout.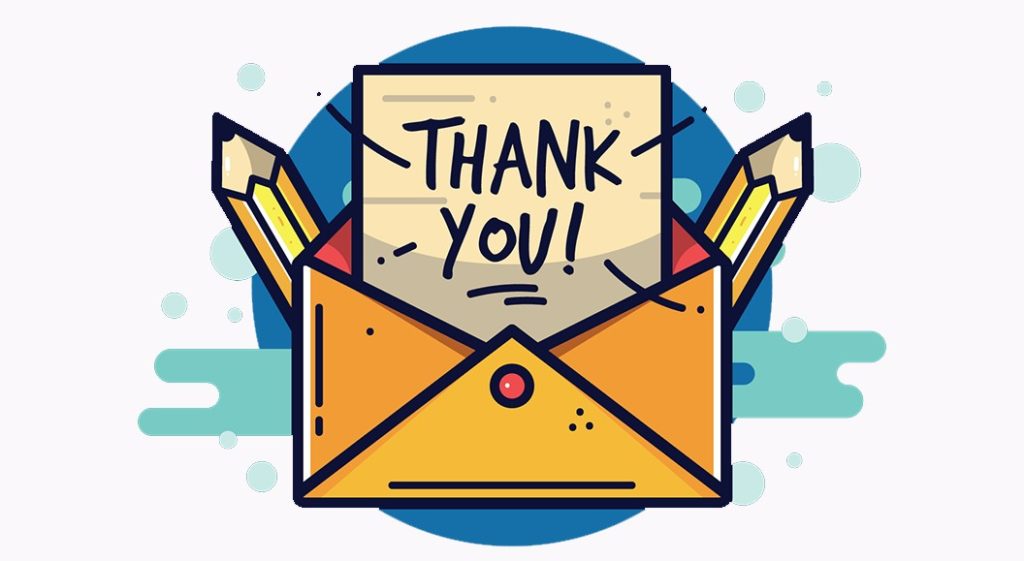 Maintain Donor Relationships Post-event Through Personalized Thank-you Letters and Surveys
Don't drop the ball after your golf tournament fundraiser. Keep those donors happy with personalized thank-you letters and surveys.
Express your gratitude with a sincere thank-you letter, like a warm embrace for their benevolence. It's like a warm hug for their generosity.
But don't stop there. Get their feedback through post-event surveys. It's like a reality check for your fundraising efforts.
Effective Strategies to Nurture and Sustain Donor Relations Over Time
Gather Feedback: Use online survey tools like SurveyMonkey to hear what they really think.
Show Appreciation: Go beyond "thank you" and share impact stories or updates about how their donations are making a difference.
Frequent Communication: Keep them in the loop with newsletters and social media updates.
Promote Recurring Giving: Make it easy for them to keep giving by setting up recurring donation options on your website.
Use the insights gained from these interactions to refine future fundraisers and exceed expectations. It's a win-win.
How will you say 'thank you' to your sponsors?
Golf Tournament Fundraiser Checklist to Manage Your Event
Need a golf tournament fundraiser checklist? Identify KPIs, create sponsorship packages, define committee roles, recruit volunteers, and use technology to streamline processes. Take a look at the golf tournament fundraiser checklist we created so that you won't miss a step as you create a successful golf fundraiser for your cause.
This golf tournament fundraiser checklist will help you plan and execute a successful fundraising event with a timeline to:
Set achievable goals
Secure sponsorships
Form a dedicated committee
Choose an engaging theme
Select the right location and date
Generate additional revenue during the tournament
Promote the event effectively
Use innovative technology to enhance participant engagement
Maintain donor relationships post-event through personalized thank-you letters and surveys – and your golf tournament fundraiser will be a hole-in-one!

Make extra money with contests, raffles, and our favorite, a silent auction.
Take a look at CharityAuctionsToday's platform
while you're thinking about the best fundraising opportunities.
Or sign up for a demo.