Multiple Plans
to Fit Your Needs
FREE Plan
5% Commission Fee
Unlimited Auction Items
Email & Text Message Notifications
Phone & Email Support
Sponsor Logos
BUY IT NOW Items
Online & Mobile Auction Features
Unlimited Bidders & Bids
Stripe, PayPal Pro, or Checks
Custome Bulk Text Messages (+$297)
Standard Plan
2% Commission Fee
25 Auction Items
Email & Text Message Notifications
Phone & Email Support
Sponsor Logos
BUY IT NOW Items
Online & Mobile Auction Features
Collect Offline Cash/Checks
Unlimited Bidders & Bids
Stripe, PayPal Pro, or Checks
Custome Bulk Text Messages (+$297)
Pro Plan
2% Commission Fee
100 Auction Items
Email & Text Message Notifications
Phone & Email Support
Sponsor Logos
BUY IT NOW Items
Online & Mobile Auction Features
Collect Offline Cash/Checks
Unlimited Bidders & Bids
Stripe, PayPal Pro, or Checks
Custome Bulk Text Messages (+$297)
Ultra Plan
1% Commission Fee
250 Auction Items
Email & Text Message Notifications
Phone & Email Support
Sponsor Logos
BUY IT NOW Items
Online & Mobile Auction Features
Collect Offline Cash/Checks
Unlimited Bidders & Bids
Stripe, PayPal Pro, or Checks
Custome Bulk Text Messages (+$297)
What is the commission fee?
The commission fee is a fee we charge to use our platform. If you select our free plan, we will charge a 5% commission fee on the total amount raised. In that case, if you raised $1000, we would collect a $50 commission fee. All fees can be passed onto the winning bidders so you can potentially pay 0% in fees.
How much are credit card processing fees?
We partnered with Stripe, PayPal and WePay to process credit card payments. They usually charge nonprofits a 2.2% +.30 a transaction. Both Stripe and PayPal accounts can be created from your Auction Dashboard or you can bring your own accounts.
Can you mail me a check?
Yes, we can collect funds and mail you an auction payout check. Your organization will need to go through an approval process and a $25 check request fee will be added when issuing a check.
What happens if items don't sell?
If items do not sell, you won't be charged any fees. It's completely risk free to run an auction on our site. You only pay a fee if your item sells.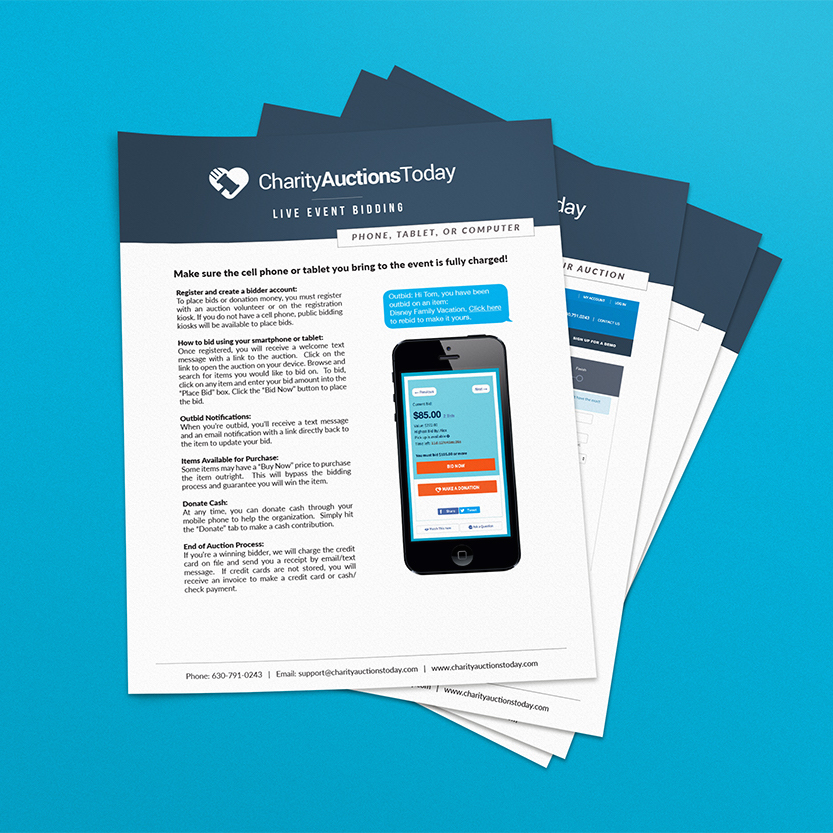 Download a FREE Report
Ditch The Bid Sheet – 10 Reasons Why You should go Mobile for your next silent auction and how to do it.